There's a song by an English indie band called Space who gained notoriety for their smash hit song "Female of the Species" with a few lines that probably fits well with Darlington Raceway which go like this:
Shock shock horror horror
Shock shock horror
I'll shout myself hoarse for your supernatural force
The female of the species is more deadly than the male
Every NASCAR driver and team will find out just how treacherous the "Lady In Black" truly is, as she's inviting, has corners which she embraces the cars, but if one gets too close to her (or runs against that wall), she might fight back with what's called a "Darlington Stripe." Much like Hall and Oates once sang, "She's a maneater" and she sure loves to feast on those Goodyear tires (as usual at this track, though) and loves sheet metal. However, she can be tamed and if one can treat Darlington as Bryan Adams reminded us how to love a woman, well, she rewards the racer and team back with a victory so monumental, it's like marrying the love of your life. Is that enough music references for one racing article? Thought so.
Whether it's a Labor Day classic or a Mother's Day tradition and now an oddly placed date on the NASCAR Sprint Cup schedule, Darlington offers some of the best racing all year long. Sure, speed is awesome and handling is key here, but this is a place where the driver truly has a say on how their day turns out. Patience is key as a driver has to absolutely be aware of the long race that awaits them at this 1.366 mile egg-shape speedway.
Turns one and two seem so inviting to go double wide, but rarely does this work while turns three and four are interesting to watch as drivers will try about any lane possible to pass for position. Did I mention how tires are important here as well? Well, taking four fresh Goodyear tires at Darlington is like taking a nice shower before going to work - refreshing!
As a friend once said, it's "onward and upward" for the NASCAR teams as they take on their next challenge on the Sprint Cup trail and make no mistake - the one that finds their way into Victory Lane will have earned it and shown their critics that they have what it takes to win in the most elite form of stock car racing. Who takes the checkered flag at "Lady Darlington?" Before we reveal those, Track Talk and TPF panelist Matt Kacar fires up four great Trending Topics to the crew, which includes Shelby Parrack, Ashley Hobbs, Nick Brincks, and yours truly. Let's get to those right now, shall we?
Trending Topics by Matt Kacar
Question 1
In the Texas race, Dale Earnhardt Jr. hit a wall that has no safer barrier. Why do you think there are still no SAFER barriers covering all the walls of every track?
Parrack : I wish I could come up with a logical answer to this question but I cannot. There's no reason or excuse for this at all, it seems someone needs to hit a non safer barrier area for it to be made into a safer barrier. Instead of being proactive, they are being reactive and this is not a good thing when safety and lives are involved. I know the cars are super safe but they should be "better safe than sorry" in any way possible.
Hobbs : Track owners are cheap plain and simple. They will spend millions on upgrades at the tracks for the fans, which is just fine and dandy, but they do the bare minimum for the drivers. There should be no question that tracks need to have safer barriers around the entire inside and outside of the track. Sure, a driver may rarely crash into the wall in the 1 section of the track, but so far, that's where the crashes seem to happen. It should be worth the investment at every track to make sure every driver comes back each year.
Brincks : The tracks are being cheap, plain and simple. It's inexcusable.
Tiongson : I think the panel has spoken here - it's unfortunate that the tracks would rather focus on a big TV set than focusing on the actual track and placing the safety paraphernalia that's sorely needed. Sure, Earnhardt put himself in that mess by going low, but it doesn't mean that he should've smacked into the actual wall instead of the SAFER wall absorbing the impact that he took at Texas this past Monday.
Question 2
We have now gone seven races with no repeat winners in the Cup series. Is it becoming more likely that we will have more then 16 winners by the time the Chase starts?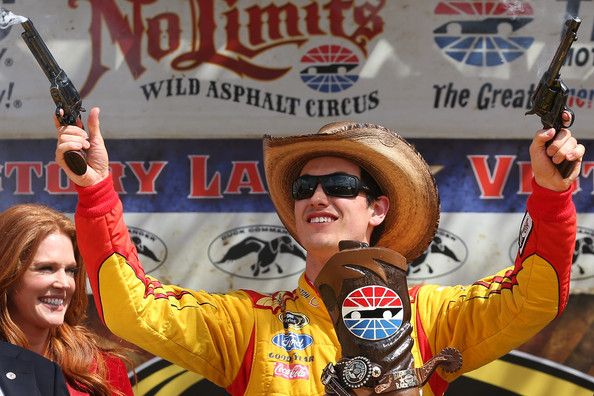 Parrack : I would like to think so! If we go down the list of drivers who don't yet have a win, it is very easy to come up with nine potential winners. And then if you add in the wild cards of Dega and Daytona, where anyone can win, I think it's very likely.
Hobbs : No. This question comes up too often every weekend. Eventually, the top drivers are going to be truly battling for second position and third position.
Brincks : It certainly is interesting that the two big winners from last year are winless. It'll be tough for it to get to 16, but it's certainly possible at this point.
Tiongson : Perhaps it's a story - but only if we get to say, the August Pocono race and we've had 16 different winners. That might put the heat on with the field, but I say we get 14 different winners at most.
Question 3
Last year, Jimmie Johnson and Matt Kenseth combined for 13 wins yet neither of them have a win this year. What do you think the reason is for that?
Parrack : Well in my opinion, I think some teams like Penske or SHR, for example, have "caught up" so to speak. So that could be part of the reason! Like we said, there have been seven races with seven different winners, so the competition seems to be higher this year, but those two will most definitely get a win or two before it's all said and done.
Hobbs : Other teams have stepped up their game; see Team Penske. It's not that Johnson and Kenseth are performing poorly, I would related it to more of bad luck than anything, or just getting flat out beaten at the end.
Brincks : Johnson just hasn't been able to close the deal yet, but he's just as fast as ever. Along with some tire issues, Johnson has been fast, just hasn't been able to win. Kenseth has more issues than Johnson because he hasn't been up front as much as he should be. It seems like it's taking the Toyotas longer to get up to speed this year; they'll end up being fine.
Tiongson : Penske has been very strong to start off with as they seemed to have conquered knockout qualifying while Johnson and Kenseth have enjoyed moderate success with this. I think it all starts with their pole day efforts - sure, it's not about how you start but how you finish, but one can't deny how a good qualifying effort helps out.
Question 4
Darlington is this weekend which is much earlier then it usually was. Why do you think NASCAR keeps moving the Darlington cup race around? Do they want that track to fail?
Parrack : Again, I wish I knew the answer for this, as there are definitely other tracks that they could be changing around in the schedule in my opinion. Darlington was just fine where it was!
Hobbs : NASCAR has A.D.D. when it comes to their schedule. There are certain tracks that deserve certain times of the year because they are historic like that; Daytona and Darlington come to mind. It seems that NASCAR is trying to put together the best possible schedule but each year they fall short; see this year of weather (no including rain) delaying many races.
Brincks : It seems like NASCAR is pushing Darlington around and it's unfortunate to see. Hopefully they aren't forced the Rockingham or North Wilkesboro way.
Tiongson : Sadly, it's because Darlington doesn't have a casino, no disrespect to our friends at Kansas Speedway. If anything, put this track back on Labor Day - if only a track was willing to make this happen!
After dealing with the rains at Texas, it's nothing but some moonlight in the Palmetto State on Saturday night. Are you ready to see who we choose for this week's 500-mile race? Well, before we reveal that, here's the updated points standings heading into Darlington for the panelists:
1) Shelby Parrack - 239 points
2) Rob Tiongson - 219 points (1 win)
3) Ashley Hobbs - 206 points (1 win)
4) Nick Brincks - 194 points (1 win)
5) Matt Kacar - 187 points
Shelby continues her hot streak and well, this week might be one where a group of panelists gain ground or a few pick up spots. Now the moment of truth...our race picks!
Tiongson : Going with Six-Time aka Jimmie Johnson to win here at Darlington - hopefully, no weird deal like Junior at Texas!
Parrack : Going with Jeffy (Jeff Gordon) this week! He's been knocking on the door hard the past few weeks so it's only a matter of time. This week is as good as any!
Hobbs : Because he can and will, Jeff Gordon will edge out Denny Hamlin and Jimmie Johnson (but we will see an 8th different winner and I am betting it's one of these 3).
Kacar : Going with Jeff Gordon.
Brincks : I'm going out on a limb and taking Jamie McMurray this weekend. He's been fast all weekend and only a few issues have kept him from being about 7th in points instead of 21st. Wrecks while in the top 7 at Bristol and Martinsville really hurt.
There you have it, race fans! The TPF crew has spoken and given their thoughts on round five of the NASCAR season. How about you? What do you think are the biggest storylines heading into Saturday night's race at Darlington? And who is your favorite to win the Bojanges Southern 500? Tweet us now @ThePodiumFinish and tell us now! Thank you, Nick, Matt, Shelby, and Ashley - let's go racing, girls and boys!