From the yard of bricks that comprise the start/finish line to the long straights and strenuous corners, there's no place like Indianapolis Motor Speedway that truly puts a premium on the drivers and equipment for 400 miles. The prestige and history of this famous 2.5-mile superspeedway can send chills to anyone like stepping foot at Fenway Park, Lambeau Field, or even Joe Louis Arena. Aside from Daytona, if there's one race on the schedule that each team circles and says to themselves, "It'd be a sweet deal to win this," it's the Brickyard 400.
For the past 20 years, it's a race that's crowned champions and unheralded racer with bragging rights of conquering this tremendously tough circuit. Drivers like Jeff Gordon, Dale Earnhardt, Dale Jarrett, Ricky Rudd, Bobby Labonte, Bill Elliott, Kevin Harvick, Tony Stewart, Jimmie Johnson, Jamie McMurray, Paul Menard, and Ryan Newman have driven their cars into auto racing's most coveted place - Victory Lane at Indy. In other words, nobody simply lucks their way into the winner's circle at this track; they earn their way into those hallowed grounds.
Years ago, this track was strictly for the open wheelers, who would mesmerize the racing world with their Memorial Day Sunday contest that's otherwise known as the Indianapolis 500. For 78 races, that was IMS' only featured event. Since 1994, it's been a part of the NASCAR culture and scene, which alone, seems to establish itself as a true crown jewel event with each year. Who wins it this Sunday, you might ask? Before we get to that, Track Talk kicks off with Trending Topics, which is hosted by Isabelle Beecy and yours truly! Our Track Talk team of Ashley Hull, Ashley Hobbs, Courtney Clement, Shelby Parrack, and Jessica Tow, as well as Isabelle and said author, talk about this week's hottest stories prior to the green flag at Indy. Why don't we get moving on this, shall we?
Trending Topics by Isabelle Beecy and Rob Tiongson
Question 1
Following the Camping World RV Sales 301 at Loudon, Kyle Busch noted how his team's short track program has decreased. Would you agree or disagree with his assessment?
Hull : I just don't think that JGR has had a good year this year. Matt Kenseth, who could have easily won this race, didn't. I just don't think that they are hitting the marks that they want to this year. I just think that every team has a bad year that they go through.
Hobbs : Well, technically, Loudon is an intermediate track; but in terms of short track (we'll include Loudon for Kyle Busch's sake), let us turn out attention to the statistics.
2012: Kyle's average finish at short tracks was 15.17 with only 3 top 5's, but 1 victory; at this point in time in 2013, his average was 20.
2013: Kyle's average finish at short tracks was 9.92 with 6 top 5's; at this point in time in 2013, his average was 10.
2014: Kyle's average finish at short tracks is 16.5 with 2 top 5's
Is Kyle in a worse position on short tracks than 2013? Yes. So I would agree, based on the facts and figures, that the 18 team does need to work on their short track program.
Clement : I would have to agree. Unfortunately, some teams strengths and weaknesses change as time goes on.
Parrack : I would say that's a fair statement; I don't generally pay attention to Kyle Busch but he certainly hasn't been on my radar lately.
Tow : Kyle can degrade himself and his team's performance all he wants. However, statistics do not lie and it appears as though he has been having a pretty solid season when it comes to the shorter/intermediate tracks. Although Bristol, Dover, and Michigan didn't treat him nicely he still has solid finishing positions posted at most all of the other tracks. Drivers and teams have their bad days...all Kyle and his No. 18 team need to do is take notes, apply them for next time, and move on to the next race.
Tiongson : When Kyle Busch said this in the media conference two weeks ago following the race at Loudon, some folks may have wondered if he was somewhat off on this. All things considered, he's going to be flat out honest about his team and their performance and maybe something has been missing for Toyota as a whole. They have the resources to make this better. The question is, how soon will they remedy this?
Question 2
Dale Earnhardt Jr appears to think the Penske cars are the ones to beat. Would you agree with this? Why or why not?
Hull : Seeing that Brad has won the last two races, I would say that I agree with him. They are the ones who are getting it done this year. At the risk of being a jinx, I can see Brad winning his second championship this year. He has been on fire this year! Joey hasn't done too shabby either. ​
Hobbs : Team Penske has an average finish of 14.55 this year (14.13 with just Brad Keselowski and Joey Logano), which is third best. They also have 5 victories, which is second best, and both drivers are in the Chase and have multiple wins. Hendrick Motorsports has an average finish of 12.74, which is the best of all teams. HMS also has the most victories with 6. Those 6 victories are spread of 75% of the team with only 50% of the team having multiple wins. Both teams are pretty evenly matched with HMS boasting the better numbers. In terms of the Chase, overall, Team Penske looks more rounded than HMS. Since Team Penske has all (2) drivers in the Chase, that makes them look slightly better than HMS only having 75% in right now, but that could change. That being said, if Dale Earnhardt Jr. is saying that compared to the HMS cars, Team Penske cars are the ones to beat, I would agree. Overall though, I would say that HMS and Team Penske are evenly matched.
Clement : I do agree with Junior. The Penske cars have been the ones to beat for as long as I can remember. They've always been at the top of the rankings.
Parrack : I 100% agree with this. If you look at the two Penske cars entire season thus far, at least one of the two have started on the front row almost every week. And between Joey and Brad, they have 5 wins. I would say Penske's the top team but Hendrick Motorsports is right there with them.
Tow : The Penske cars have definitely put forth a strong showing throughout the season so far. Both Brad Keselowski and Joey Logano have multiple wins and have positioned themselves for a competitive fight in the Chase for the Sprint Cup. Given the fact that both Keselowski and Logano have five combined wins in the Cup Series this year and have consistently finished in the Top 10 and Top 5, the entire Penske organization definitely has a competitive edge.
Tiongson : He seemed like a racer searching for answers after the race at Loudon, looking somewhat like, "C'mon y'all, we are way better than this but we can't seem to make any noise against Team Penske." Is this to say that Team 88 is in trouble? Not quite yet but they may want to step things up if they want to compete against the seemingly invisible Team Penske.
Question 3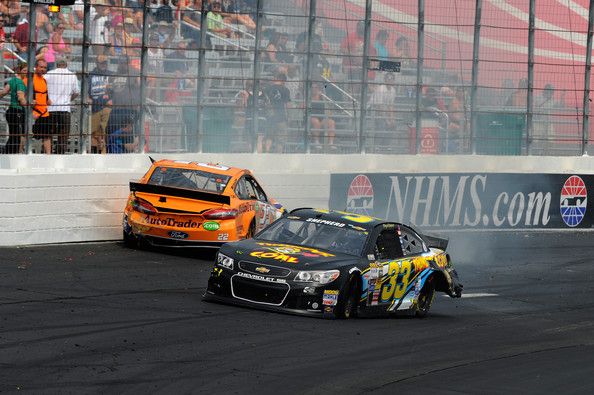 The Joey Logano/Morgan Shepherd incident at Loudon, NH prompted some to ponder this question: Should we have an age limit in NASCAR?
Hull : No. I think as long as you can still get out there and do it, there's no reason to have an age limit. As long as you have a sound mind and you are in great shape, you can do it no matter how old you are. I think it's amazing that Morgan Shepherd can still race.
Hobbs : Is there an age limit to driving a car for the average person? No. As long as the driver proves they are not a liability on the road, they are allowed out there. Morgan Shepherd has passed all tests that NASCAR has set out to make sure a driver is capable of handling whatever comes on the track, including being able to wheel the car around for several hours. I think Joey Logano was just being Joey Logano and whining at a racing incident and was looking for a reason to put (more) blame on Morgan. If Morgan or any other older driver wants to race, if they can prove they are physically and mentally capable, let em race; even if they are not competing for the win.
Clement : I don't think we should have any sort of age restriction in NASCAR. If someone can drive and keep up with the rest of the pack, then by all means, let them! It may get a little difficult when the drivers try to communicate with each other, but the overall racing should not be affected by age.
Parrack : Absolutely not. I actually don't blame Morgan for the incident, yes, he was running slower than everyone else on the track but I think Joey played a part in the whole thing as well.
Tow : No, we shouldn't have an age limit in NASCAR. Let drivers drive until they are not medically cleared and/or no longer willing to drive anymore. In addition to Morgan Shepard, look at some of the other competitive drivers in NASCAR today: Ken Schrader, Joe Nemechek, and Norm Benning...to name a few. An honorable mention is also Mark Martin, who may no longer be behind the wheel of a stock car, but he sure knew how to drive one when he was. So no, I say no to an age limit in NASCAR. Let drivers be drivers until they can't be anymore.
Beecy : I think it's complicated. It should depend on what the driver feels is appropriate - within reason. If the driver is medically cleared to drive and they feel like they can keep up, then they at least deserve a chance to try and race. After that, it should be on a case by case basis, although I don't feel it's right to force anyone out of the car or the sport. Maybe if the driver isn't able to be cleared or can't stay in the car for whatever reason, they should get a position within a team if they so choose (similar to what happened with Dario Franchitti when he retired).
Question 4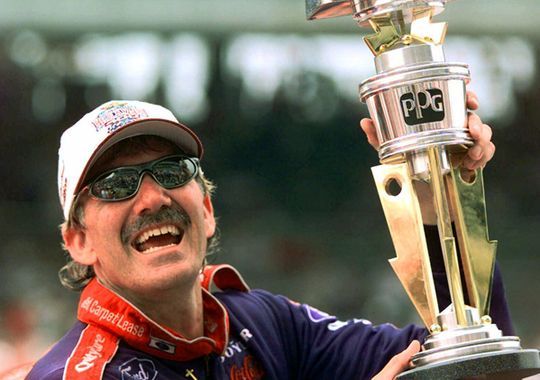 NASCAR has been racing at Indianapolis Motor Speedway for the past 20 years. Which Brickyard memory, NASCAR or IndyCar, have you enjoyed in the past 20 years?
Hull : I remember how special it was when Jeff Gordon won the first race here. I remember him being so young and being happy. I knew then that we was going to be a force to be reckoned with. I also loved when Dan Wheldon won the Indy 500 3 years ago. It was special for me. I miss Dan so much. He was really one of a kind.
Hobbs : Clearly Jeff Gordon's 1994 victory is one that sticks out in my mind, as I am sure it sticks out in others' as well. His 2004 (last) victory is also memorable because it put him, at that time, even further ahead of his competitors as the drivers with the most wins at the Brickyard (now tied with teammate Jimmie Johnson). That timeline points to another victory in 2014 and moving Gordon back into the lead as the driver with the most Brickyard victories!
Clement : My favorite Brickyard memory, was an Indy race of course, and it had to have been when Helio won the 500 for the third time in 2009. His back to back wins were cool too, but that third one was such an amazing race! That was one of my favorite races I was at. My other Brickyard memory is when Lazier won the 500 in 1996. Always been a huge fan of the Lazier brothers. And it was an awesome ending to a race!
Parrack : The most memorable moment for me was the year Dan Wheldon won the 500. It was one of the first Indy 500's I ever watched and I remember it so incredibly well. I was a JR Hildebrand fan then and he crashed on the last lap, letting Dan go on to win it, very very memorable for me.
Tow : I have two favorite memories from the Brickyard 400. The first took place back in 2005 when Tony Stewart won at Indy for the first time. I will never forget seeing him and his then No. 20 Home Depot team climb the fence on the frontstretch in salute to the fans in the stands. That was just plain awesome. Another fond memory took place back in 2010 when Jamie McMurray went on to win the Brickyard 400 after winning the Daytona 500 in that same year. This gave team owner Chip Ganassi bragging rights since he won the Daytona 500, the Brickyard 400, AND the Indianapolis 500 all in 2010. We don't see that happen on a regular basis so that was another great moment to be witnessed.
Beecy : My favorite would probably being there for either Dan Wheldon's Indy 500 win in 2011 or for Dario Franchitti's third Indy 500 win in 2012. Dan Wheldon's win was pretty spectacular with poor JR Hildebrand crashing in the last turn. It was also his last win ever, so that was pretty special to be there for it. With Franchitti's retirement in October, that will sadly be his last Indy 500 win. Because of it, that was also something special to see for me.
Various reasons caused Track Talk: Loudon Edition to not post and we sincerely apologize to our fans about this. Because of this, we "scaled" points and did a reset, if you will, before we truly reset them for Race 1 of the Chase at Chicagoland in September. For now, here's a look at our points heading into Indy:
Shelby Parrack - 670 points (2 wins)
Rob Tiongson - 670 points (2 wins)
Ashley Parris Hull - 670 points (2 wins)
Courtney Clement - 668 points (1 win)
Ashley Hobbs - 668 points (1 win)
Jessica Tow - 668 points (1 win)
Isabelle Beecy - 668 points (1 win)
It's a great opportunity for any of our team to gain points and score wins! With that said, let's get to our race picks!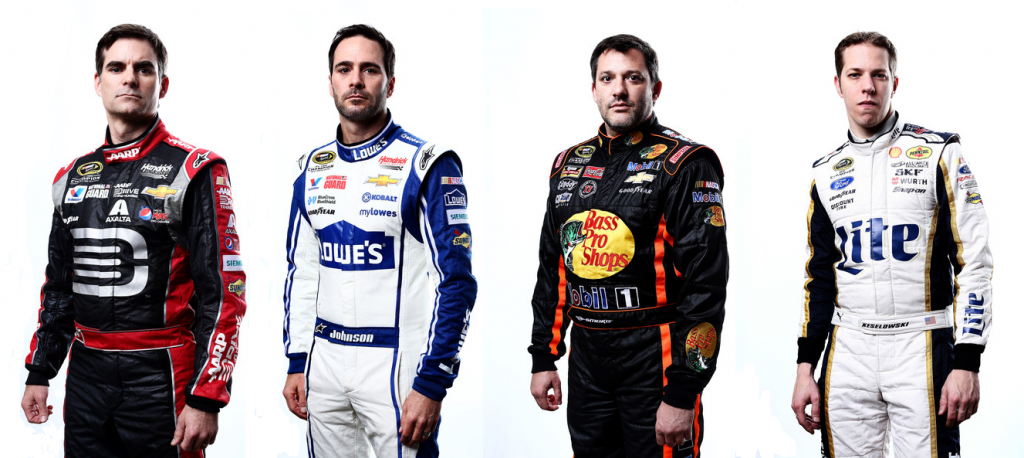 Tiongson : It's a homecoming trip for the 42-year-old originally from Vallejo, CA, as Jeff Gordon spent his adolescence in Pittsboro, IN. It's the 20th anniversary of his sterling first Brickyard 400 win and with three other victories to boot, you almost think it's time for him to add another trophy and a ring so that at least one hand's got the makings of Brickyard champion all over. Look for the No. 24 team to be kissing those bricks like it's their first love all over again!
Hobbs : Jeff Gordon, because he is beast!
Tow : It's a decision that comes down to promising statistics or promising hope based on recent performance: Jimmie Johnson or Brad Keselowski. In looking back at the events that transpired in New Hampshire, Johnson was out of the race early with a blown tire and Keselowski went on to win the race. Although Loudon is certainly not that comparable to Indy, things like that still play in my mind. That being said, I'm going to select Jeff Gordon because he has four wins at the track with an average finish of 8.8. Look for Gordon and the No. 24 team to be in Victory Lane this weekend.
Beecy : Sticking with Jimmie Johnson.
Clement : My pick for this weekend is Jimmie Johnson.
Hull : My pick to win this race is Tony Stewart.
Parrack : Put me down for Brad Keselowski!
There you have it, race fans! The Track Talk crew has spoken and given their thoughts on round 20 of the NASCAR season. How about you? What do you think are the biggest storylines heading into Sunday's race at Indianapolis? And who is your favorite to win the Brickyard 400? Tweet us now @ThePodiumFinish and tell us now! Thank you, Isabelle, Shelby, Ashley Hobbs, Ashley Hull, Courtney, and Jessica - let's go racing! And as always, the opinions and thoughts express in Track Talk are solely of the authors and do not reflect on the organizations mentioned, FanVsFan, or of TPF.