Talladega Superspeedway is life in a microcosm: it's about doing your best despite the uncertainties around it. Which driver will own Talladega like they do their life?
At last, it's the biggest wild card race of the Chase for the NASCAR Sprint Cup championship battle that'll ensue at the fastest and largest speedway in the circuit. Why of course, it's Talladega Superspeedway and this is where 43 drivers and teams get ready for the ultimate high speed game of chicken and chess all in one. It's also the great equalizer for the competitors, with even the Davids of NASCAR (namely David Ragan and David Gilliland) know they have a legit chance to compete with the Goliaths of Sprint Cup racing. They were able to prevail and surge past the top teams of the sport in May and would like nothing more than to make it a Talladega two-peat on Sunday afternoon (Live on ESPN at 1 PM ET).
Of course, the Chase contenders will garner the headlines and attention by the press and fans heading into the 500-mile shootout that is all but just for the anticipation right now. Past races, statistics, and strategies are being analyzed, fans and fantasy owners are crunching the numbers to figure out how this race will be played out, and the drivers today are just awaiting what awaits them much like the coliseum combatants of yesteryear. These drivers know that one mistake by a fellow teammate, colleague, or on their accord could be the difference from escaping doom to being a part of the sheet metal carnage that many fear at these large high speed tracks.
It's also about dancing - well, dancing in terms of partners because you have to draft your way to the front with a friendship that could last for just 498 miles or even just a quarter of a straightaway. Crew chiefs will be running down pit lane to ask a fellow teammate or rival to work with them, only of course thinking for themselves and that will result in bruised egos, angry racers, and one stinkin' happy driver with the big check, hat dance ceremonies, and the adoration (or hate) of the NASCAR nation for the week that will be after Talladega.
But before we talk about this Sunday's race in the past tense, let's head straight into our "Trending Topics" with #TeamTPF's Shelby Parrack, Matt Kacar, Nick Brincks, and Jessica Tow, the best team in stock car racing! We'll cover the hottest issues of the sport and then head right on over to our race picks for this close and competitive championship battle here on The Podium Finish. Let's "git 'r done!"
Trending Topics
Question 1
Brad Keselowski quickly answered our question about a non-Chaser winning a Cup race, as he was the first driver to accomplish this feat since Kasey Kahne at Phoenix two years ago. Did his win serve as a statement to the Cup competition that he's back and making a statement for his No. 2 team's strength at a title run in 2014?
Parrack : I would like to think this win serves as a statement. The 2 team has been around all year, they just had bad luck strike at every time they were in contention for a win. They are certainly back, and look for them to show up for wins at every track left this season.
Kacar : I would not necessarily call it a statement win. The best thing about his win was that he would not go winless this year. Can't really say anything that happens this year on track tells you who win compete for the title next year. That happens in the off season at the race shops.
Brincks : As far as 2013 goes, Keselowski simply had awful luck along with two penalties that wound up costing them big. The 2 team had been penalized a total of 31 points in the regular season, and that was enough alone to keep them out of the Chase. He lost an engine at Atlanta while leading; that's the kind of luck he had this year. The stars aligned to keep him out of the Chase this year, and I have no doubt that he'll bounce back next year to his 2011-2012 form. He's too good to be kept down by sheer bad luck.
Tow : Keselowski has been knocking at the door throughout the tail-end of the season. While he could be a credible threat to the championship next season, I do not believe that a statement has been made by him just yet. We shall see what next season brings.
Question 2
We didn't see a whole lot of passing save for Kyle Busch and Brad Keselowski's march to the front from their pit road mistakes/difficulties at Charlotte. What do you think needs to be done to promote more passing at a place like CMS?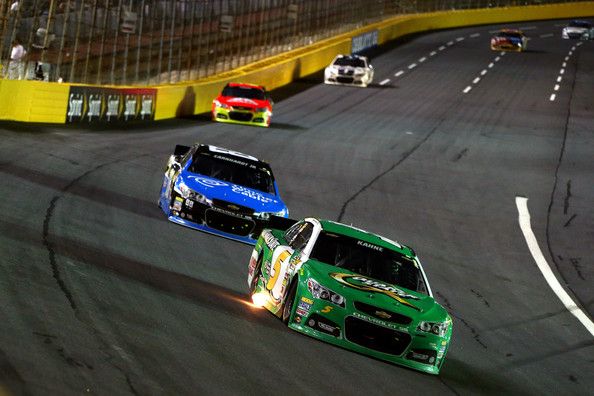 Parrack : This isn't really my area of expertise but I will say I feel like NASCAR is working on it. They tested at Charlotte Motor Speedway on Monday and were trying a few new and different things. I can only hope helping the cars pass is on their "to fix" list!
Kacar : Last Saturday's race was one of the worst 1.5 mile races I have ever watched. Nothing happened during the whole race. Goodyear needs to bring a better tire that wears out instead of lasting two full fuel runs. The race car was too aerodynamic that makes it impossible to race side by side on these tracks. Slowing the cars down might help that issue.
Brincks : Thankfully, NASCAR is working on addressing this issue. They tested several possible tweaks on Monday at Charlotte, including different spoilers, screens in the rear bumpers to create more air flow, and wickers on the roof. If they find that a combination of these tweaks make the racing better, I hope they do that. However, I'm still a firm believer that slowing these cars down and better-wearing tires will cure many issues. We're almost done with the season and Auto Club Speedway is still home to the best race of the season. Chalk that one up to tire wear. We need more of it.
Question 3
Talladega Superspeedway is said to be the ultimate wild card race for the Chase of the NASCAR Sprint Cup Championship battle. With a somewhat large gap between points leader Matt Kenseth to anyone fifth on back in the Chase race, how does someone like Jeff Gordon or Kyle Busch approach this event?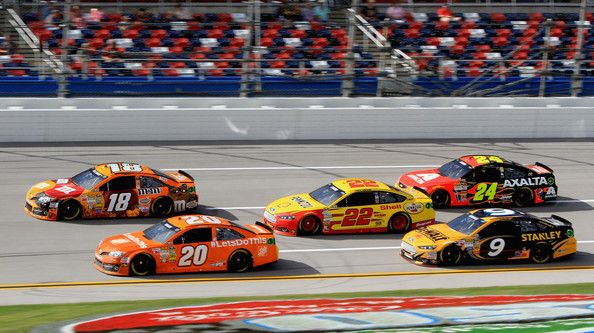 Parrack : Jeff and Kyle need to just go all out while Matt Kenseth, Jimmie Johnson and Kevin Harvick will somewhat be playing defense. Gordon and Kyle Busch need to gain max points and win. Now I for one am hoping Jeff gets those max points over Kyle, but that's just me!
Kacar : Both Gordon and Kyle need to go out there this weekend and just try to win the race and hope that Kenseth and JJ both get caught up in the big wreck. While that is unlikely, it is really the only way they can get back in the championship fight.
Brincks : It's easier said than done, but staying out of the wrecks is the key to Talladega. We tend to see big wrecks in the last 10 laps at Talladega as of late, so being the leader is the best place to be. If you're not leading, there's a great chance that you won't see the checkered flag. Even if you are leading, though, you aren't safe. Just ask Tony Stewart about this race last year. Ultimately, you've got to be lucky at Talladega.
Tow : As much as drivers would want to run at the front, they are more than likely going to hang in the back to stay out of trouble. They should approach restarts with caution more than anything. Restarts at a restrictor plate track are where most of the problems can and/or will take place. If I was a Chase driver who isn't sitting in the top five in points, I would hang in the back in the beginning of the race. As the race goes on, I would start to make moves toward the front. Avoiding the Big One is something that is crucial at Talladega. It's almost guaranteed that all Chase drivers will not come out unscathed.
Now before we get to this weekend's race picks for Charlotte, here's how the #TeamTPFCup Standings are looking following the Bank of America 500 at Charlotte Motor Speedway:
Rob Tiongson - 189 points
Matt Kacar - 186 points
Jessica Tow - 170 points
Nick Brincks - 162 points
Shelby Parrack - 147 points
With our picks relatively finishing last weekend's race all in the top-10, it was a close finish for our team and Talladega will surely mix things up. Which one of us will look like a genius and which one of us will be going, "Gosh darn it!?" Let's unveil our race picks right now!
Parrack : My pick for this weekend is going to be Dale Earnhardt Jr. For no other reason than just that it's Dega, you never know who is going to win and I would like to see Dale win one before the year's end.
Tiongson : I'm with Shelby here and I gotta go with Dale Earnhardt Jr. for Sunday's race. He's got the second highest driver rating since 2005 despite not winning at this track since 2004. That doesn't mean he's forgotten how to get around here so look for that 88 car to be green and up front!
Kacar : My pick is the points leader Matt Kenseth.
Brincks : Even though this week's race is more of a crap-shoot, I'll go with Matt Kenseth again this week.
Tow : I'm going with Matt Kenseth for this weekend's race.
And that wraps up this week's edition of Track Talk, and as always, I want to thank Matt, Jessica, Shelby, and Nick for making this piece rock! Till next time, if you want in or have suggestions or comments about Track Talk, let us know what you think by tweeting us @ThePodiumFinish and using hash tag #TrackTalk!