For the last time this season, the NASCAR Sprint Cup drivers and teams will contend with not only turning left, but also making those tremendous right turns to negotiate around a challenging road course in the form of the 2.45-mile Watkins Glen International. With 11 challenging corners, this isn't your typical Sunday drive on some country path. Instead, it's a test of the racers' focus, the crew chiefs and pit crews' abilities to make precise adjustments, and most of all, an endurance battle for these cars with the brakes and transmissions. While it has more speed than Sonoma Raceway, it is a technical racetrack and terms like "heel and toe" will come up more than you'll hear the word "incredible" from a former NASCAR Sprint Cup winner at The Glen.
For the past three years, this track has seen constant players at the front near the finish in the form of Marcos Ambrose, Brad Keselowski, and Kyle Busch. It seems like when the race's plot thickens and we get past the denouement, this trio battles for the win. Recently, the No. 47 JTG Daugherty Racing efforts of AJ Allmendinger served notice that if they can avoid the wrecking balls of the track on these road course venues, they could serve as a true race contender for Sunday's Cheez It 355. Road course warriors will be battling for NASCAR Sprint Cup racing supremacy in the course of at least 90 laps where, oh yes, fuel mileage could be a factor as well for the win.
Shelby Parrack survived the carnage of Pocono Raceway by wisely selecting Joey Logano last weekend. As a result, she's this week's host for Trending Topics while Ashley Hull, Isabelle Beecy, Courtney Clement, Jessica Tow, Ashley Hobbs, and yours truly share our thoughts on those storylines heading into Sunday. Got your racing shoes and firesuit ready, friends? Thought so. Well, let's head to the track and start talking about this weekend's "Trending Topics!"
Trending Topics by Shelby Parrack
Question 1
Steve Letarte announced earlier this year that he would be leaving the pit box to move onto the broadcast booth. Hendrick Motorsports recently released that Greg Ives will be Dale Earnhardt Jr's new Crew Chief next year. How do you think this will affect Dale and the No. 88 team in 2015 after having such a great year thus far this season?
Hull : I am sure that it will affect Dale Jr. somewhat, especially since he and Steve Letarte have great chemistry. Letarte has helped him regain his confidence and made him into a contender again, much like he was earlier in his career. With that being said, Greg Ives has had a great track record with Chase Elliott and Regan Smith. Chase has had a strong season this year, and when he was the crew chief for Smith, he helped him win two races and place third in the championship standings. So Greg Ives has the potential to help Dale Jr. be competitive. But at the end of the day, it will come down to chemistry.
Beecy : I think we'll have to wait and see because it could go either really well or really bad. It could go really well in the fact that they may click really well. It helps that Ives has worked for Hendrick Motorsports in the past, so he knows how the team works and what the chemistry is like. However, it may go really bad due to the fact that he and Junior need to get used to each other on race day and they may have different approaches to the race. If they don't click soon, they won't do well. Plus, given how this year has gone, he may have big shoes to fill once Letarte is gone.
Clement : I think that giving him a new crew chief will be a major change for the team. It won't be someone that he is used to so strategies and communication will definitely have to be worked on.
Tow : It's hard telling not knowing. I think we need to give it some time to see how Dale Jr and Greg Ives will click. Clearly, Ives has found success with Chase Elliott in the Nationwide Series (look at Elliott's performance so far this season!) and the Hendrick boys appear to have quite a bit of faith in him, especially Junior. I think that Junior and his team will be just find with Ives on top of the pit box come next season.
Hobbs : When Jr. first came to Hendrick, obviously he struggled. Now, he seems to have found his groove. A crew chief switch always brings unknowns for the entire team and that will likely be the case here. Steve and Dale Jr. seem to have finally gotten things to work well, and now that will end. I think it will be a decent year for Dale Jr. again, but no where near where he is this season.
Tiongson : A crew chief and driver's relationship can be like a best friend, a couple, or a parent and child. One can have the fastest cars, the best motors, and a pit crew that's as epic as Yanni, but what it all boils down to is chemistry between that racer and the individual who makes those tough calls atop the pit box on race day. Earnhardt finally got meshed with Letarte and now has to get used to a new voice in the ear piece in the form of Greg Ives. While he's no stranger to Earnhardt or his Hendrick Motorsports colleagues, to expect the same results from this year heading into next season may be a bit unfair. They'll be top-10 contenders but it's going to be a season where they'll need some time to acclimate. Then again, watch us look silly next spring if he's got the points lead after Martinsville in the spring.
Question 2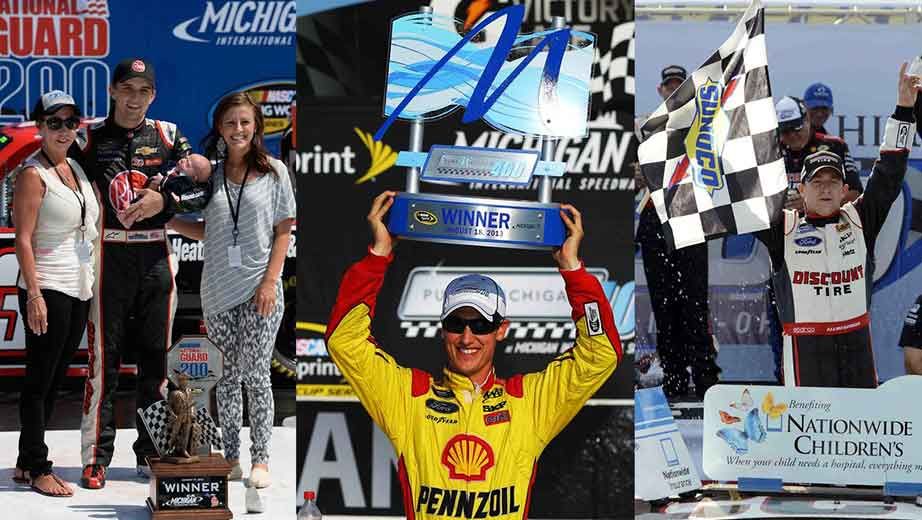 How do you feel about having two out of three of NASCAR's biggest series run on the same day? During the summer, we see it frequently that the Truck Series and the Nationwide Series host events on the same day. (For example, Pocono/Iowa, Michigan/Mid-Ohio, and then Mosport/Atlanta with Sprint Cup on Labour day weekend).
Hull : I honestly think that it's fun! I love it when there is a whole day of racing on TV, except when they are being broadcast at the same time. But I think that NASCAR does a good enough job to schedule the races at different times. Being a race fan, it's fun for me to see.
Beecy : For me, it can get kind of confusing to remember where each series is when they're in separate locations. However, I think it could be good that the other two series can have a chance to stand alone for several races out of the year without being overshadowed by the other two series. Plus, it has the potential for those who might not get to see a NASCAR series race live be able to do so, even if it's not the Sprint Cup series. For example, before college, the only NASCAR races I would be able to attend were the weekends they came to New Hampshire Motor Speedway. Now, I have those races plus the Nationwide Series race at the Mid-Ohio Sports Car Course. So while it may be slightly confusing at times, I think it's likely a good thing.
Clement : I love having series run on the same day! It keeps the sport alive and gives you more to watch during the day!
Tow : I think it's interesting to have a NASCAR doubleheader on certain days. Personally, since I'm a NASCAR nut, I love to watch as much racing as possible. I think as long as events are taking place at two separate tracks, that is what makes it more interesting and fun to watch.
Hobbs : I love seeing events on the same day! It is like having the Indy 500 and Coca-Cola 600; it's an all day event of racing and I wish it would happen more!
Tiongson : Growing up, that's how it used to be in NASCAR. I miss when Nationwide's Watkins Glen race was held on the same weekend as the Cup race at Sonoma. It forced away the double duty racers and let each series have their prominent spotlight time with the press, broadcasters, and of course, the fans and sponsors. To show my age, I remember when Loudon's Nationwide race was held in May while the Cup race was in July. This really makes things creative and honestly let new faces have a chance to shine, especially in the Nationwide and Truck series.
Question 3
We've seen many female racers throughout NASCAR's top three series, including Jennifer Jo Cobb, Johanna Long, the Cope Twins, and of course Danica Patrick. ARCA series driver Milka Duno will be making her NNS debut and is getting a lot of not so positive attention for it. Do you feel female drivers automatically have weight put on their shoulders and have more to prove than your average male racer?
Hull : I think that a woman can go out there and do anything a man can do. I think that Milka Duno isn't getting positive attention, not because she is a woman, but she doesn't quite have the talent that is required. I hate to say that, but she hasn't really proved herself. I am sure that if a man were to come into the NNS with the same track record, he would probably be given the same negative attention. That being said, I think there will be a day where a woman driver will be competitive, because there are a lot of good up and coming ladies such as Kenzie Ruston that will be stars when they get up to NASCAR.
Beecy : From what I've seen and experienced, I honestly don't think so. As long as the girls can keep up, people are accepting. Milka Duno wasn't able to keep up, from what I remember of her IndyCar career, which is probably why she's gotten so much heat from NASCAR fans. However, Simona de Silvestro is now a test driver for Sauber over in F1 who used to driver in IndyCar. Many fans liked her and didn't have a problem with her while she was in IndyCar. Simona's average finish was mid-pack and even finished as high as top five in several occasions. Milka, on the other hand, would often finish at least two to three laps down, if not more. And I think that's the difference.
Clement : I think female drivers automatically have weight put on their shoulders. I remember when Milka Duno raced Indy, even then she had a lot of negative attention drawn to her. I think because racing is a predominantly male sport, when females make their initial debut in the racing series, fans do not appreciate it because it isn't what they are used to.
Tow : Of course female drivers do have much more to live up to than their male counterparts. Women have always had targets on their back when it comes to pursuing jobs or careers in fields that have particularly been reserved for men in most situations. Women must always prove to themselves and to those around them that they are worth the chance and opportunity they have been given, and Milka Duno is no exception. Honestly, I give Duno credit for wanting to venture out and try something new in something that she appears to be so passionate about. I truly wish her all of the best and hope she finds success in this endeavor.
Hobbs : Females in general have weight on their shoulders to perform at the level of the males, if not better. There is no exception in NASCAR. It is clearly a male dominated sport, but slowly but surely, the females are working their way in and getting respected for it. Since there are few female racers, they must prove themselves more than the guys out there. One day, a female racer will not be a huge story line as they will be more frequent in our sport.
Tiongson : Having worked with a female racer before from 2010-'11, I saw how much of a struggle it was for her at times to get the respect and praises that her male counterparts received each week. Ultimately, even though she'd get her cup of coffee in NASCAR's top three a year later, things didn't work out. I've talked about this with Kenzie and I guess to roughly paraphrase, drivers like herself probably get a lot of flack growing up because of the fact that there's a girl like herself racing in the sport. However, if one works hard, has thick skin, and has the wherewithal to be there, one can succeed, as much as Kenzie and other promising females can in racing. Can Milka Duno succeed? We shall see. She's raced in a few ARCA events so I'd imagine she'll have somewhat of a transition but I won't be too quick to judge unless she's far off the pace. It won't be gender that's the factor - it's talent that's the bottom line.
Question 4
Jeff Gordon's name has been in the news quite a bit lately regarding the Championship and his future. Gordon has had a fantastic season so far and is putting himself in a great position to be a top contender for the Championship in November. If Gordon was to win the Championship, what do you predict will happen next?
Hull : First of all, I think that this year, he can be considered a serious contender for the championship. In fact, he could win this thing. If he does, he will be NASCAR royalty. I think that after the championship, he may drive another couple of years, and then retire. After he retires, when and if he does, I think that his name will be in the NASCAR Hall of Fame. He is the best of the best, and he will go out in glory.
Beecy : I'd predict two things could happen. He might keep going either in the hopes that he'll be able to keep the momentum going and do well again or just because he loves being behind the wheel. Many drivers have said they don't even want to think about the day they'll have to stop driving and Gordon may be one of those drivers. However, he may hold true to his word and retire if he wins the championship. I wouldn't blame him if he did, either. He'd be able to finish his career on the high note of earning his fifth championship, and there's obviously no shame in that.
Clement : Honestly, I think Gordon will just continue with his racing career if he were to win the Championship. I think he is going to keep his racing career going for as long as he possibly can.
Tow : Before Friday's news of Jeff Gordon's sponsorship extension, my answer would have been the following: "If Jeff Gordon wins the Championship this season, it would not shock me at all to see him retire from driving. I read an article on FOXSports.com last week where Gordon was quoted as saying that his back is never going to be the same following an incident in May at Charlotte."
However, after today's news my answer is this: It appears to be a safe bet that Jeff Gordon will not be vacating his seat in the No. 24 Chevrolet anytime soon...at least not through next year. According to a report I read on FOXSports.com, Gordon has officially extended his sponsorship agreement with AARP, who will be sponsoring his car in 13 races next season. However, on the same token, news has also recently broke that Chase Elliott (who is a development driver under contract with Hendrick Motorsports) will be making his Sprint Cup Series debut in a handful of races next season. Clearly, of the four drivers in the Hendrick stable, I think Gordon will be the one to retire first solely because of the back pain/spasms he has been experiencing recently. If/when Gordon does eventually vacate his seat, it would not surprise me to see Chase Elliott fill that seat and move up to Cup full-time. This is my prediction for the future...I guess we'll see what happens!
Hobbs : Jeff Gordon is on a streak that could very well lead to that fifth Championship, and as a Gordon fan, I am really rooting for this. If he does get it this year, I still see him coming back next year; I do not see him making the decision to retire on such short notice. When he does retire, I hope he is still seen at the track, maybe even a crew chief one day!
Tiongson : For as long as I've watched NASCAR and been writing about it since 2008, a constant in those two phases of my life has been Jeff Gordon. Like Jessica said, prior to the Drive to End Hunger extension announced yesterday, I actually believed that he'd retire should he win the title this year. Now, I'm seeing at least two more full-time campaigns. A driver like Gordon would probably want to do a farewell tour aka a final full season much like Rusty Wallace did in 2005 or Richard Petty in 1992. It's going to be a heavy decision for him to retire more so than to keep on racing, but with that back issue and of course, having his family nowadays, he's got a lot to consider more than those early years. I'd say two more seasons and if he races more than that, it'd be surprising.
Well done, Shelby! Always great to talk about the hottest issues from our friend in O, Canada! Now before we go further (picture me saying that in a Larry Mac accent), let's take a look at the TPF panelists points standings as we head into Round 22 at Watkins Glen:
Rob Tiongson - 757 points (3 wins)
Ashley Hobbs - 747 points (2 wins)
Shelby Parrack - 744 points (2 wins)
Isabelle Beecy - 729 points (1 win)

Jessica Tow - 720 points (2 wins)

Ashley Parris Hull - 717 points (2 wins)

Courtney Clement - 705 points (1 win)
​It's still anyone's race as we get closer to the Chase reset. It's been a competitive season thus far and any of these panelists could be sitting pretty with the points lead when we get to Richmond. But let's focus on Watkins Glen - without further ado, here's our race picks!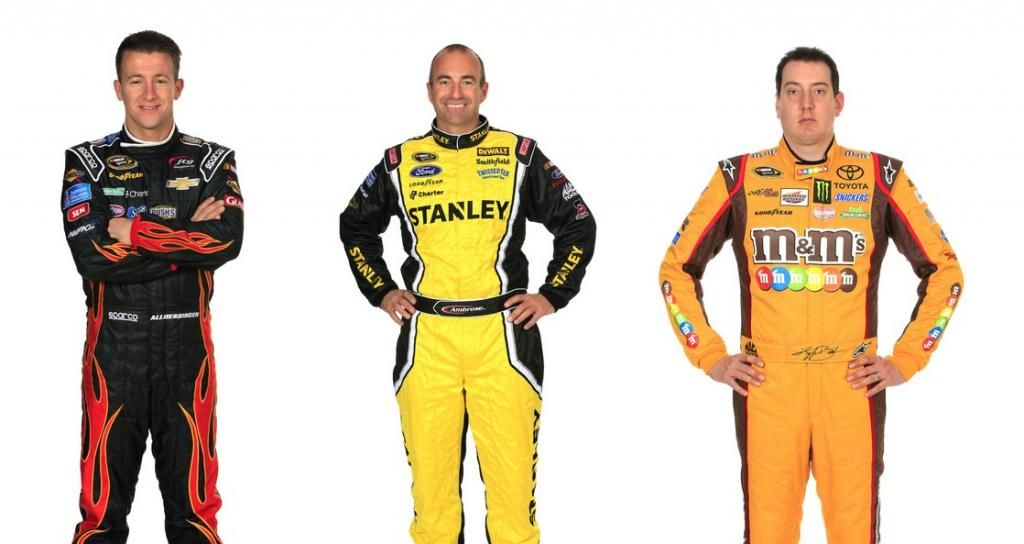 Tiongson : I'll be unique and fresh here and go with a driver who's wanting to score his first ever win. I think it's time to see "The Worm" and AJ Allmendinger win his first NASCAR Sprint Cup race ever, all happening in Watkins Glen!
Beecy : Since he does well on road courses......AJ Allmendinger, I choose you!
Parrack : It would be easy and smart to go with Marcos Ambrose, but I'm going to to go a little outside the box with AJ Allmendinger!
Hull : My prediction to win the race on Sunday is Marcos Ambrose.
Hobbs : As I said Tuesday, Marcos Ambrose!
Clement : My pick for this weekend is Kyle Busch!
Tow : Kyle Busch - Last year's race winner with consistently good finishes at the Glen, KyBu is also the top pick for my auto racing fantasy league. Look for the No. 18 M&M's team in Victory Lane this weekend.
There you have it, race fans! The Track Talk crew has spoken and given their thoughts on round 22 of the NASCAR season. How about you? What do you think are the biggest storylines heading into Sunday's race at Watkins Glen? And who is your favorite to win the Cheez-It 355? Tweet us now @ThePodiumFinish and tell us now! Thank you, Isabelle, Shelby, Ashley Hobbs, Ashley Hull, Courtney, and Jessica - let's go racing! And as always, the opinions and thoughts express in Track Talk are solely of the authors and do not reflect on the organizations mentioned, FanVsFan, or of TPF. This weekly feature is strictly for entertainment purposes and are not indicative of TPF, the organization, and its staff.