Think back to the last time that you were working a really long shift in the office or when you ran that local marathon. Both had to be taxing, either mentally or physically, or in some cases, a bit of both. Drivers and teams of the NASCAR Sprint Cup circuit will be put to that ultimate test on Sunday evening when they take on Round 12 of the season with the Coca-Cola 600 at Charlotte Motor Speedway. Sure, it's about being fast, aggressive, and it's great to be like the hare in a race against the tortoise but when it all comes down to it, it's about being there at the end for the win. Just ask former champion of this event as to how they won this event, and most of them will say it's because they persevered and waited until the moment of truth of this endurance race!
Charlotte Motor Speedway can seem like a cookie cutter track from the tube or from pictures around various media outlets. However, when you get to see it up close and in person, those 24 degree banked corners sure look daunting and the speeds are almost insanely fast. Handling is key here, as it's good to have a car that can diamond the corners and takes to adjustments with ease as the track surface transitions from dusk to nighttime conditions. Ultimately, it's a test of willpower and concentration and for the pretenders, they'll fall by the wayside while the winner will stand strong and proud in Victory Lane. It's safe to say that whoever wins the 600 has earned it completely. For one racer, if successful, it's the completion of a long, 1100 mile Sunday that truly epitomizes what Memorial Day Sunday racing is all about.
Our most recent points race produced two winners, as yours truly and Matt Kacar correctly chose Jeff Gordon with the 5-Hour Energy 400 at Kansas Speedway! As a result, the TPF Track Talk points standings have taken a somewhat new look, but our panelists of Ashley Hobbs, Nick Brincks, Courtney Clement, Shelby Parrack, and Ashley Hull are ready to make some noise as we close in on the long hot summer of NASCAR. Right from the heart of stock car country, let's get to it and get to this weekend's Trending Topics for the Coca-Cola 600!
Trending Topics by Rob Tiongson
Question 1
Jamie McMurray seems to win in the biggest stages and races in NASCAR racing when we least expect it. Can he turn that around and finally put together a consistent effort to be in the Chase field this year?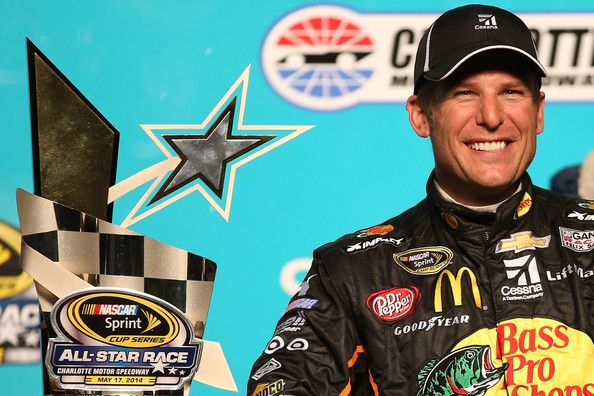 Hobbs : McMurray had a Chase contending season before the whole winning thing became 'important' and I think he can do it again. I think the addition of Kyle Larson to that organization, and internal changes, have put this team in a different class than they were in past years. Every week, things seem to click for McMurray and that bunch, and Kyle Larson is strong each week so clearly something is going right for everyone at Team Ganassi. So, therefore, my conclusion is that McMurray can indeed put together a consistent effort to be in the Chase. A consistent effort this year, I am not sure (but I am hoping so), but next year, definitely a contender!
Brincks : You may not know it, but McMurray is in the middle of one the best seasons in his career. Unfortunately, he hasn't shaken what's plagued him throughout his career - awful luck. For example, McMurray was running 5th at Bristol, 7th at Martinsville, and 4th at Kansas when he got wrecked. McMurray hit the wall at Bristol after getting into Harvick's oil, got wrecked by Dale Jr. at M'ville, and blew a tire at Kansas. Instead of top 5 or 10 finishes, he finished 38th, 42nd, and 39th. If McMurray could have avoided trouble and simply finished 10th in these three races, he would have 89 more points - enough to put him 8th in points. The speed has been there all season, but so has the bad luck. I'm very optimistic that McMurray will win before Richmond and make the Chase for the first time in his career. I don't want to put the cart before the horse, but Jamie's been good at the mile and a half tracks this year and he tends to rise up in big races. Call me crazy, but if you're looking for an extreme dark horse for a championship contender at Homestead, don't forget about McMurray. He tends to strike right when you've forgotten about him.
Parrack : I feel like he will make the chase field, and it's a possibility that he could win another race this season but I just don't see him as a chase contender up against someone like Carl Edwards or Jeff Gordon.
Clement : Simply put, anything is possible. I mean, it's the 600, anything can happen! With two top ten finishes this season, I think he has more in store for us coming soon.
Kacar : I think McMurray has a pretty good shot at winning a points race this year thereby making the Chase for the first time ever. That team has shown to have the speed to win a race but they have yet to put it all together in a race.
Hull : With Jamie McMurray, only time will tell. So far, it hasn't been very consistent for him. But he is known for surprising people, so we shall see with the next following races.
Question 2
It's the big double duty attempt for Kurt Busch with the Indianapolis 500 and Coca-Cola 600. How do you suppose he'll fare this Sunday?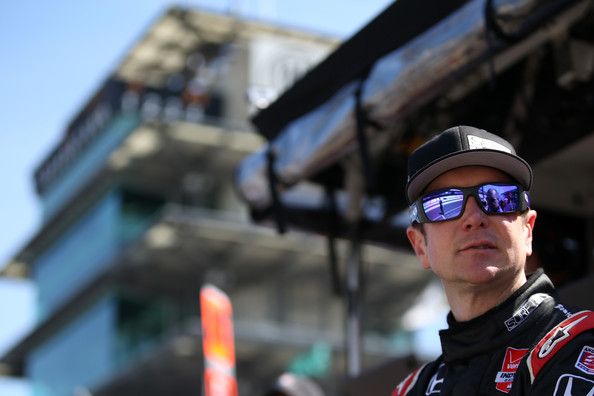 Hobbs : Kurt Busch's season is not stellar by all means this year (Danica is beating him in points for crying out loud!). In the Coca-Cola 600, he is not fabulous either (average finish of 21 in the past 10 races with 3 Top 10s). Put that together with the demanding day/weekend/week he is going to have, that will put a damper on his day. He has never done this before and not many drivers have, and there is a reason for that; it is exhausting! I think all of that will hurt Busch even more than just competing in the 600.​
Brincks : If he doesn't wreck, I think he'll finish top 20 in both races. His Cup team is just missing something this year (fortunately for him, it's not a win that he's missing) so I don't anticipate him battling for the win at Charlotte.
Parrack : I'm hoping to see him do well in both races! He's certainly there in Indy representing our sport of NASCAR. Hopefully he can make some history!
Clement : To be completely honest, I'm not sure how he'll do. I think the 500 will tire him out for the 600. But, Smoke managed to pull that off a while back. So if he can, maybe one of his teammates can as well!
Kacar : This is almost an impossible question to answer. Sunday will be his first IndyCar race and while his car has been fast it is a whole different story being fast for all 500 miles. I say a top-10 in both races would be a great accomplishment.
Hull : For his first one, I think he will do good, even though he did crash in practice the other day. But he is a great race car driver, and pretty much can handle anything that is given to him. I wish him luck on Sunday and I am excited to see how he will do!
Question 3
Do you think Jimmie Johnson and his 48 team have lost their ways or are they just a breakthrough or two away from being back to the top spot?
Hobbs : Ha! Jimmie Johnson and the 48 losing their way - don't make me laugh! Sure he does not have a win in 2014, but that goose egg will disappear soon I can assure you of that! Once that team gets rolling, everyone will say, "I never counted them out at all!" while I have never counted them out! I believe once they get that first win, things will just be that much better, as it always goes with that team.​
Brincks : They've been at the top of the sport for 12 years. There are still dozens of drivers that would love to be in the position Johnson is currently in. We're just used to so much more from them. They're contending for wins, but they haven't gotten the breaks they've typically gotten in other years. They'll probably win in the next month, but even if they don't, they'll get things turned on in time for the Chase.
Parrack : I feel like Jimmie Johnson and the 48 team will never "lose their way." They are just too good, so with that said, they'll be in Victory Lane very soon in my opinion.
Clement : Breakthrough or two away from being top spot. He's on the rise for sure.
Kacar : There is nothing wrong with the 48 team and JJ. They have been fast most of the time this year. He will make the Chase easily and will probably end up winning the championship this year.
Hull : I honestly think that this could be his weekend. He has a VERY good car, and he could win this weekend. I wouldn't count him out just yet, because some of his best tracks are coming up as well.
Question 4
The Coca-Cola 600 is a race that's typically got its stretch of green flag runs. Who do you think that favors and will we see a race as crazy as last year's or more of a typical 600-miler?
Hobbs : This season, Jeff Gordon seems to be the driver with the long run cars, so that could work in his favor this time around and give Gordon a fantastic finish. For more in-depth analysis on the Coca-Cola 600, please reference this article written by your's truly - http://thepodiumfinish.com/articles/race-12-coca-cola-600-predictions-statistical-expectations!
Brincks : If Sunday's race features long green flag runs, I think Jeff Gordon will be pretty happy. He's been so strong on long runs this year. It could all go out the window again with late cautions, but that's NASCAR for you. I think this race is also good for Harvick and Kenseth. Harvick's been strong in all parts of races this year, but typically, he and Kenseth come on strong at the end of the race. If they get their cars dialed in around the 400 mile mark, they'll still have plenty of time to get to the front.
Parrack : I feel like green flag runs suits Jimmie Johnson best, he's the first driver that comes to mind. Hopefully we see an exciting one this weekend!
Clement : I think it will be a typical 600-miler. This season has had its bits and pieces of craziness, but I don't think we'll see too much craziness this Sunday.
Kacar : Without seeing practice yet that is tough to answer. Obviously you should have a car that is set up to be fast on the long run. Someone that comes to mind that is usually fast on the long run is Jeff Gordon.
Hull : Since Jimmie has a strong car this weekend, he could benefit from long green flag runs. I think Kevin Harvick can benefit as well. As for how crazy it will be, we will just have to see. But given the amount of crazy races we have had this year, it may be possible we see a nutty race tomorrow.
So far, we've seen Hobbs and Parrack share the points lead with yours truly throughout the course of this season. With just 14 more races until re-seeding starts, who's going to start making it happen? Before revealing our race picks, here's a look at the points standings heading into Round 12 at Charlotte:
1) Rob Tiongson - 358 points (2 wins)
2) Shelby Parrack - 353 points
3) Ashley Hobbs - 326 points (1 win)
4) Matt Kacar - 324 points (1 win)
5) Nick Brincks - 296 points (1 win)
6) Ashley Parris Hull - 39 points
7) Courtney Clement - 35 points
As of press time, excited writer will be back on the track to take in the action of the History 300 at CMS! So let's get to those race picks now!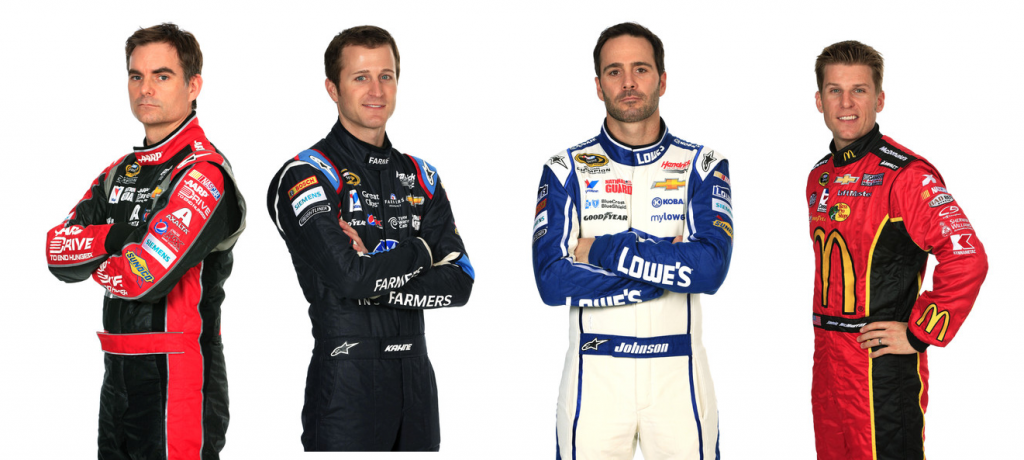 Tiongson : I'll be right there when the action happens and it's going to be a fourth win for Jeff Gordon and his No. 24 team with the 600 at Charlotte Motor Speedway. I look for them to be strong all evening long and as long as they avoid the ill timed caution during a green flag stop and have figured out the issue they ran into during the All Star race last Saturday night, they'll be prime for a win!
Hobbs : My statistics point towards Matt Kenseth, but I am have been torn between going with stats and gut this time around. After much debating, as much as I love how my stats shake out, I am bumping Kasey Kahne from P4 to WINNER WINNER CHICKEN DINNER for another win in the 600!
Kacar : Going with Kasey Kahne​.
Clement : My pick is Jimmie Johnson! Keep me updated, y'all. I'll be listenin' on the ride home from Indy, but we always stop for dinner.
Parrack : My pick this weekend is none other than Jimmie Johnson, for an obvious reason - it's only a matter of time before we see the 48 in VL and I'd say this is as good a track as any for it!
Hull : My pick for Sunday night's race is Jimmie Johnson.
Brincks : Jamie McMurray proved once again last weekend that he rises to the occasion in big races. His win list doesn't include a Coca Cola 600 though, the only Cup race he hasn't won at Charlotte. Yet. I'll take Jamie Mac for the Charlotte sweep. He'll either be a factor at the end of the race or bad luck will put him in the garage early.
There you have it, race fans! The TPF crew has spoken and given their thoughts on round 12 of the NASCAR season. How about you? What do you think are the biggest storylines heading into Sunday night's race at Charlotte? And who is your favorite to win the Coca-Cola 600? Tweet us now @ThePodiumFinish and tell us now! Thank you, Nick, Matt, Shelby, Courtney, and Ashley (both of y'all) - let's go racing, girls and boys! We also want to say thanks to anyone who's served our country - past and present, thank you for all that you do! Have a great, safe Memorial Day weekend, race fans!