If there's ever a race where a return trip almost results in a completely different track, it's the annual summer race at Daytona International Speedway. On the surface, the obvious difference for the Coke Zero 400 as opposed to most Daytona 500's is that the former is often held in the night during the Independence Day weekend. In other words, sure, it's run under the lights, but the biggest difference is tonight's race is definitely drastically different in that it's run on a track that starts off very slick and in humid conditions, such being the case on Florida summer evenings.
To put it in simple terms, February Daytona offers much grip while tonight's track is going to be a handful and a half. For our Track Talk TPF panelists of Ashley Hobbs, Ashley Parris Hull, Courtney Clement, Isabelle Beecy, Jessica Tow, Nick Brincks, and yours truly, it means we've got ourselves an exciting race to follow and for this week's host, points leader Shelby Parrack, it's an opportunity to maximize on more points as she looks to retain her position at the halfway point.
Drafting is still important for these drivers so tonight is all about being like a contestant on Dancing With The Stars. This track is a 2.5-mile superspeedway that seems inviting for three to four wide racing in the corners, which might seem doable, but one mistake in a huge pack can result in a catastrophic scene. They'll be making like Billy Joel and giving each other "A Matter of Trust" with running door to door and nose to tail all evening long, but with more distinct packs than a large train of cars. Still, after at least 160 laps or 400 miles, to win this race is very much a great feeling and the driver and team that pulls into Victory Lane tonight will have a huge morale booster with kicking off the second half of the season.
Since 1998, this is a night race that has seen a "Who's Who" of NASCAR greats winning the midsummer classic, including Jeff Gordon, Dale Jarrett, Jeff Burton, Dale Earnhardt Jr., Michael Waltrip, Greg Biffle, Tony Stewart, Jamie McMurray, Kyle Busch, Kevin Harvick, David Ragan, and Jimmie Johnson. Who'll add their name to the trophy mantle? More importantly, what are this week's Trending Topics heading into tonight's race? Well, Shelby's got us all covered there so without further ado, let's head on to those four hot issues right now, eh?
Trending Topics by Shelby Parrack
Question 1
I'm someone who watches all three series in NASCAR, so I pull for a variety of different drivers. Is this the case for you? If not, is there a reason you don't? If so, do you pull for any series regulars?
Hobbs : I used to watch all 3 series; never missed a race. Then there came a point when the Truck series wasn't as exciting any more, perhaps when Bobby Hamilton passed away, and then Nationwide became too full of Buschwackers (aka Cup drivers in Nationwide); the Truck Series sees this a lot now as well. I believe that those drivers who are full time in each series should only be facing the full time drivers and making room for new names to come into the sport. I do, however, watch Nationwide races from time to time, and I pull for Trevor Bayne, Elliott Sadler, Regan Smith, and Chase Elliott (in no real particular order).
Clement : I've been a fan of the same driver for as long as I can remember. But when it comes to watching the other NASCAR series, I usually pull for teams rather than individual drivers. Although I will say I can be a bit of a bandwagon fan sometimes. If I see someone doing really well in the series overall, I'll start pulling for them.
Beecy : I watch Nationwide as much as I can but I don't really watch the Truck Series all too much. For me, it's almost been a little too confusing trying to figure out who's a regular and who isn't with the Cup drivers racing in the lower series. Plus I agree with some of the people who complain about the Cup drivers often driving in the lower series. It's hard to attract fans to the lower series and support for the drivers in the lower series when you've got the likes of Kyle Busch, Brad Keselowski, and Dale Earnhardt Jr driving in those races.
Brincks : I used to root for specific drivers in the Truck and Nationwide Series, but now I don't really root for specific drivers. I pulled for guys like Brendan Gaughan and Carl Edwards when he raced Trucks in '02 and '03, and rooted for guys like Scott Riggs and Scott Wimmer in the Nationwide Series at that time. Since then though, I haven't really had a driver of particular interest outside the Cup Series.
Hull : If any of you guys know me, you know that I do watch all three series and I do pull for different drivers. And I have a lot of drivers I pull for that would take all day to list on here. The Nationwide drivers I pull for are Jeremy Clements (he's an amazing up and coming driver that should be watched), Chase Elliott, Trevor Bayne, and Dylan Kwasniewski. In the Truck Series, it's Ryan Blaney and Darrell Wallace, Jr. So yes, they are all series regulars.
Tiongson : I try to keep up with all of the major series and even the home track divisions of NASCAR, as you may find out about the next story from watching TV or being at the track and seeing that new face emerging as an unforeseen factor that day. The beauty of racing is that there are always new factors waiting to be discovered and once their story has been told, in some cases, you expand upon an established lineage of racers. There's not one driver that I pull for in each of the series; rather, I'm more interested in seeing what drivers are captivating the sport and also trying to find those breaking their way into it as well.
Tow : Since it has been my dream to work in the motorsports industry, I do not play favorites when it comes to NASCAR anymore. I enjoy learning about the various drivers across all three series; their backgrounds and racing and whatnot. It's really fun to see up-and-comers work their way up through the ranks. Ultimately I just like to see a good, clean race.
Question 2
If you were able to put together a team of young up and coming drivers for a four car Cup team, who would you choose to put in your cars?
Hobbs : For sure, Kyle Larson would be leading the way for my team followed by Chase Elliott. Both are young, yet they have maturity on the track beyond their years and handle themselves with class and dignity on and off the track. Trevor Bayne has been around for a few years now, but he would also be a good addition to my team as well; very composed and down to earth. I don't see my team getting into any fights any time soon!
Clement : Truex, Allgaier, Dillon, and Larson. They're my top rookie picks this season.
Beecy : I would probably choose Austin Dillon, Kyle Larson, Justin Allgaier, and Chase Elliott. Dillon, Larson, and Allgaier have been doing really well this year and I would love to have them on my team. Chase Elliott is currently second in points in Nationwide this year with eleven top ten finishes. He seems ready to move up in the next year or two and I would be willing to bring him up to Sprint Cup.
Brincks : Without a doubt, I'd take Chase Elliott and Kyle Larson. Then I'd nab Ryan Blaney third. After those three, it's a tougher call, but I think Michael Annett would be an interesting choice. He's given that 7 car some great runs in the last month and I'd be willing to give him a chance.
Hull : This is a great question, and one I have wanted to answer for the longest time. The first one I would choose is Jeremy Clements. Not only is he talented as all get out, he is also one marketable man who could bring in a lot of sponsors. The second one who I think really pick is Parker Kligerman. I really hate that after Swan Racing broke apart, he lost his ride. He is very talented and again, he has a marketable personality that would equal great sponsorship. The third person I would put in my team would be Ryan Blaney. Again, he is talented. The last guy would be a Chase Elliott. We would have talented team right there!
Tiongson : My team would have to be aggressive, cunning, smart, and resourceful. In those regards, I'd think that drivers like Bubba Wallace, Kenzie Ruston, Daniel Suarez, and Austin Dillon would be a great quartet to field a Cup effort with as they are some of the young gun racers that have certainly raced their way up the stock car ladder. Each of them seem to understand that the road to the Cup series isn't about an overnight success story, but years of understanding each series that leads up to it.
Tow : Chase Elliott, Ryan Blaney, Bubba Wallace, and Ryan Reed.
Question 3
Quite a few drivers made comments about the surface at Kentucky. Do you think we'll see a repave before we go back there next year? Would you be open to a repave or should they leave the track as it is?
Hobbs : Repaving is what ruins tracks. The bumps are what makes Kentucky different, even for a cookie cutter track. Unless the track is full of potholes or causes cars to launch into the air, the tracks should be untouched. We have seen too many repaves ruin the great racing at tracks (need I remind y'all of what happened when they changed Bristol?). If it aint broke, don't fix it!
Clement : I don't think we'll see a repave before next year. Maybe within the next few years, but not before we go back next. I would be open to a repave. If this many drivers are unhappy about it, I think it would be worth it.
Beecy : I think it should be repaved, especially since drivers are complaining about it. Usually it has to be pretty bad for drivers to start complaining about the track being bumpy (see IndyCar's visits to Houston and Belle Isle when they returned). I'd be open to a repave in a preventative measure so that the bumps don't open up and so that it's better for the drivers to race on.
Brincks : I wouldn't be particularly sad to see Kentucky off the schedule, but I certainly don't want to see another current track take it's date as a second date, like Las Vegas for example. I say don't repave and run this race on Sunday afternoon. Of their four races, only the 2013 edition, run on Sunday because of rain, was a good race.
Hull : I think it will and should be repaved. Right now, it has a terrible surface that needs to be fixed. I saw on TV where most of the drivers had to wear mouth guards because it was so bumpy. I think that since enough people complained about it, we will see it be repaved by next year.
Tiongson : Let's go for a happy compromise. Let's repave the corners some but the straights can be bumpy. Or why not pull a Martinsville here and have the straights in asphalt and the corners in concrete? That'd be an interesting situation!
Tow : The drivers know the track surfaces the best. Therefore, if they say that it needs some work or needs to be repaved then so be it. Quality racing should not come at a cost of horrible track surfaces.
Question 4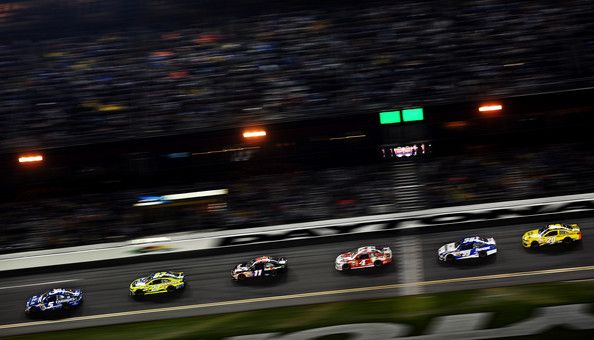 If you were running second to your teammate at Daytona, with both of you needing a win to make the Chase field, do you draft them to the win? Or risk it all to take the win yourself?
Hobbs : There is no such thing as a teammate in the final laps of any race if you ask me. Everyone wants to win and will go for that win no matter what. I would not expect any driver to lay back and let their teammate go for the win without putting up a fight; that goes against NASCAR's 100% rule a bit, don't ya think? ;)
Clement : It would depend on how the race was going. If my teammate was doing really well, was in the lead for a bit, and deserved it, I would definitely draft them to the win. No questions asked. But if I was doing well the entire race, and they got lucky and got in front of me, I would risk it and take the win myself. Whether they were my teammate or not.
Beecy : I would absolutely try to get a win. Yeah, it's my teammate I'd be going against, but I'd rather go for a chance at a championship and leave any friendship with my teammate off the track. I wouldn't be surprised if my teammate would feel the same way about going for the win as well. I feel like a good number of drivers would want the win to get into the run for the championship.
Brincks : This is NASCAR, not Formula 1. You go for the win. However, if it were any other driver, you may be willing to wreck the leader for the win, but not a teammate. You've got to try to win, but wrecking a teammate would not be the way to do it.
Hull : This is a hard question. I am a nice enough person where I would help out my teammate. But then again, with racing, it's all about you, so I would want to win it all myself. I guess I would be a selfish person where I would take the win myself.
Tiongson : Ah, yes. This question makes us think that NASCAR racing is very much different than other motorsport leagues. And yes, team orders don't very much happen. I think with this being the halfway point of the season, one has to think that if both my teammate and I are winless, and if I'm a racer, and it's the last lap for tonight's race as I'm in second, depending on my car, if it's good enough to at least pull out of line to make a pass, I'd absolutely go for it. But if my car wasn't good enough, I'd at least push my teammate for 3/4ths of that lap and attempt to side draft heading to the finish line. Either way, that means I'm going for the win. Remember, second place is the first loser.
Tow : That is a tough question. As important as teammates can be, ultimately it is every driver for themselves when it comes to racing for a win. Since NASCAR has prohibited in-race communications between teammates, I would say that it is worth the risk to just take the win.
Shelby Parrack has grown so fond of the lead, that because of her pick of Brad Keselowski last weekend at Kentucky, she was able to enjoy some bluegrass winning and extend her points lead over the field! But it's halfway in the NASCAR season and it's still anyone's battle in Track Talk. With that said, here's the points standings heading into round 18 at Daytona:
Shelby Parrack - 592 points (2 wins)
Rob Tiongson - 581 points (2 wins)
Ashley Hobbs - 539 points (1 win)
Nick Brincks - 515 points (2 wins)
Courtney Clement - 261 points (1 win)
Ashley Parris Hull - 245 points (2 wins)
Jessica Tow - 197 points (1 win)
Isabelle Beecy - 89 points
We all hope our TPF Track Talk panelists enjoyed their Canada Day or Independence Day! Now tonight's a holiday for NASCAR nation and it's time to reveal who we think will win tonight's Coke Zero 400 at Daytona! Let's reveal the picks now!

Tiongson : Because it's a crap shoot and for some reason, I'm thinking Jeff Gordon wants a sixth Daytona victory. Gordon and Team 24 are looking to kick off the second half of 2014 in style.
Beecy : My pick is Jeff Gordon since he seems to do pretty well at Daytona.
Hull : I am going to go ahead and pick Jimmie Johnson.
Parrack : I'm going with Dale Earnhardt Jr. this weekend. I think he can pull off the Daytona sweep!
Tow : It's Daytona so I'm going to go out on a limb and select Dale Earnhardt Jr.
Hobbs : Kyle Larson has been beast at Super Speedways this season, but Dale Earnhardt Jr. has the best numbers heading into Daytona, so I am sticking to my statistics that started my season off rather well and going with Dale Earnhardt Jr. for the sweep! But if Kyle Larson pulls it off, I will kick myself.
Clement : My pick is Tony Stewart. I think it's his time to join the Chase.
Brincks : I picked Jamie McMurray last week at Kentucky and it backfired, but only because some drivers don't know how to slow down during an accident. It's a crapshoot this week but I like McMurray's chances. He'll either contend for the win or get wiped out in the process.
There you have it, race fans! The TPF crew has spoken and given their thoughts on round 18 of the NASCAR season. How about you? What do you think are the biggest storylines heading into Saturday night's race at Daytona? And who is your favorite to win the Coke Zero 400? Tweet us now @ThePodiumFinish and tell us now! Thank you, Isabelle, Nick, Shelby, Ashley Hobbs, Ashley Hull, Courtney, and Jessica - let's go racing, girls and boys! And as always, the opinions and thoughts express in Track Talk are solely of the authors and do not reflect on the organizations mentioned, FanVsFan, or of TPF.