After tackling and enduring NASCAR's longest Sprint Cup race distance wise last weekend at Charlotte Motor Speedway, there's no such thing as relaxation for round 13 for these drivers and teams as they'll take on the ominous Dover International Speedway otherwise known as "The Monster Mile." Sunday's FedEx 400 benefiting Autism Speaks will not only be a test on the equipment, but it'll also put the drivers and pit crews to extremes, as this track is what's described as "Bristol on steroids." The amount of g-force that these racers will endure in the corners will be quite intense, and the straights will almost feel like the high speed portion of a rollercoaster ride. Some will love this type of racing while others will look forward to the long, inviting straights of Pocono Raceway next weekend. However, it's all about this concrete beast and she'll be hungry for some sheet metal all race long.
It'll be about survival, patience, and finding that line where the car will get maximum grip on a track that's got multiple racing grooves. Whether it's all about riding the high lane or taking the inside line, the leader of this race will be earning their money each lap trying to find clean air and negotiating through lap traffic. Just ask Mark Martin about that, as he was leading the 2002 spring race before getting involved in an early race accident that took him out of contention, or even Denny Hamlin back in 2007. Ultimately, it'll be intense, high octane, and truly a fun challenge to see these 43 drivers and teams take on one of the toughest venues of the NASCAR circuit.
In what has been a trend all season long for the TPF panelists, yours truly has traded the points lead with Shelby Parrack, who with her correct race winner pick of Jimmie Johnson, has taken the number one spot once more. Also emerging as winners last weekend were Ashley Parris Hull and Courtney Clement. This weekend, Courtney fields her four Trending Topics while the rest of the crew, including Ashley Hobbs, Matt Kacar, Nick Brincks, and Jessica Tow take on these questions before revealing our race picks for Sunday's FedEx 400 at Dover. Having said that, are you ready for this week's Trending Topics? I thought so - well get your snacks on like Miles the Monster, and let's get to it!
Trending Topics by Courtney Clement
Question 1
Kurt Busch won IndyCar's 2014 Indy 500 Rookie of the Year award. How do you feel about this? Do you think it was unfair to the other rookies?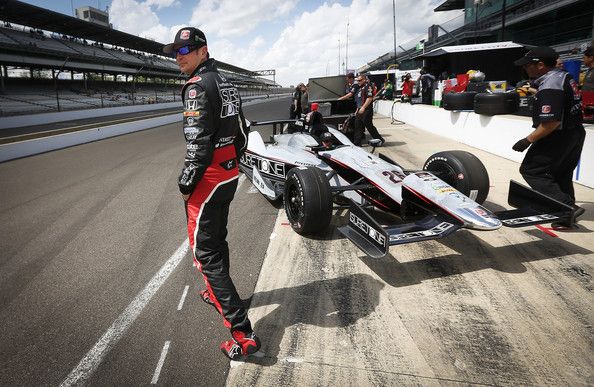 Tow : That is a no brainer for me. Kurt Busch most definitely deserved the honor of 2014 Indy 500 Rookie of the Year. Although other rookies have more time and experience behind the wheel in IndyCar, this was Busch's very first IndyCar race and he finished sixth, the best finish out of the rookie class. From my research and understanding there are many factors that go into the final voting process for this particular award. Some of those factors include competitiveness, finishing position, sportsmanship, and more. Busch not only pulled a double duty race day, competing in both the Indy 500 and Coke 600, he consistently performed well throughout the Indy 500 qualifying process and the race itself. Busch started 12th in the Indy 500, stayed towards the front throughout the entire race, and finished a solid sixth place. To perform that well and finish that strongly in one's very first IndyCar race, there is no question why Kurt Busch deserved this award.
Kacar : I think Kurt deserved the rookie of the race award. It was his first ever IndyCar race and he finished 6th. That would get anyone the rookie of the race award.
Hobbs : According to Wikipedia, "The award is voted on by members of the media the night of (or the morning after) the race, and does not necessarily go to the highest finishing rookie. Noteworthy accomplishments during qualifying, regardless of the respective race result, have frequently been a factor in voting. A rookie who competitively runs up front during the race, passes many cars, and/or leads laps (but ultimately drops out) can also garner consideration over another rookie who finished higher, but did so merely by surviving attrition. Other contributing factors can include attitude, sportsmanship, and interaction with driver coaches, fans, and media. Years in which two drivers are listed indicate co-winners, due to a tie in the final voting." To me, Kurt Busch did just that. Coming form NASCAR to this race is an amazing accomplishment of its own but to run as well as he did takes it to a whole new level. There were 7 rookies in the race and only 4 finishes on the lead lap and Kurt was the best of those. Is it unfair to the other rookies, not at all. They knew he was in the race and thus competing with him for the win as well as the Indy 500 Rookie of the Year. Props to Kurt for having a stellar race and receiving this award!
Brincks : If you're the highest finishing rookie in the Indy 500, you deserve the award of Rookie of the Year for the Indy 500. This was just a rookie of the race award, so Kurt was 100% deserving and it was fair.
Hull : I must say that I am extremely happy for Kurt. He worked his butt off and deserved to win that award. He proved to all of us that a driver from another division, such as NASCAR, can really hack it in the IndyCar world. He has proven that he can drive the wheels off of anything. I personally don't think that it was unfair to the other rookies. He trained and worked as hard, if not harder that they did. He totally deserved it, and I was happy to see him get that 6th place finish last Sunday.
Parrack : I don't feel like it is unfair in the slightest! He wasn't given any special treatment, he went out there and proved himself as a rookie and represented NASCAR incredibly!
Tiongson : I could see the argument that Sage Karam deserved the right to be rookie of the year as he is a full-time Indycar competitor but at the end of the day, Kurt Busch showcased his tremendous driving prowess in a car that he has only really known for a month. So no qualms about Outlaw getting ROTY at Indy - he's a great ambassador of auto racing and he's shown folks his passion with this sport all in this past month.
Question 2
Many race fans believe that Tony Stewart is washed up. Do you think he can make the Chase?
Tow : Tony Stewart is definitely not washed up, he's just having an off season. Reminiscing to Smoke's dominant performance in recent years, all drivers go through those particular seasons where they experience a slump of some kind following seasons of stellar performance. Ultimately I think Smoke bit off more than he could chew this season between fielding four Cup Series teams and recovering from a horrific leg injury. That being said, I strongly believe that the remainder of 2014 is going to be a process of learning and recovery for both Stewart and his entire Stewart-Haas Racing team. Come 2015, Smoke will be back and better than ever. Count on it.
Kacar : I think he can still make the Chase but it all depends on if the whole SHR teams shows vast improvement over the next few months. Outside of Harvick, the other 3 teams are not that good.
Hobbs : We get into this EVERY YEAR about Tony Stewart. Stewart does not get his season going until the summer. Guess what, summer season is right here, right now! I have said this before and I will say it again - if Stewart cannot find his footing in the summer, then there is something to worry about. So far this season, Stewart has an average finish of 19.17 with 2 top 5s, 4 top 10s, and 5 top 15s. After 12 races last year, he had an average finish of 19.92 with 0 top 5s, 2 top 10s, and 4 top 15s; clearly 2014 is going better than 2013 did. Granted he did not have a complete 2013 but he is ahead of where he was at this point next year. He even won this race (Dover) in 2013 and starting with that race, his average finish was 11 with the win and 5 top 5s before his accident. I laugh at anyone who says Tony Stewart is washed up!
Brincks : Of all years to have a concern, this is not the year. All he needs to do is win and he's pretty much in. He hasn't had much speed this year, but he didn't have much to write home about during the regular season in 2011 and we know how that turned out. Yeah he's getting older, but he's still Tony Stewart. He's got all summer to get on a roll.
Hull : I think that it is funny that there are people out there that believe that Tony is washed up. Tony might not be having the season he was hoping for, but as far as being washed up, I don't believe that at all. He is an excellent driver, and he is still recovering from his injury. He could prove us all wrong and win a race and be in the Chase. But we should wait and see before we doubt him.
Parrack : I would not say Tony Stewart is washed up. Even if he's not my favourite, I know he certainly has more to show in this sport. I believe 100% he'll make the Chase this year, the summer stretch is when Tony comes to life so it's only a matter of time before we see him in Victory Lane!
Tiongson : I'll actually be the odd one here and say if he doesn't get things moving soon, he might find himself having to wonder what's going on, but not with himself, but with his organization. Is the F1 effort, which has now been postponed until 2016, been a distraction? In any event, I think he may want to step it up soon and hopefully he does; he is good for NASCAR racing.
Question 3
Do you think that one team holds an advantage over the others in terms of manufacturer support and sponsorship?
Tow : For some reason I feel as if Hendrick Motorsports holds a definite advantage over other teams when it comes to manufacturer support and sponsorship. Hendrick Motorsports is a powerhouse stable of drivers, internal talent, and mechanical processes. Chevrolet has been a strong supporter of Hendrick's for years. Since Hendrick and Chevrolet have such a strong relationship, Hendrick is able to supply other Cup Series teams with engines for their Chevrolets. Plus, since Hendrick's stable of drivers consists of A+ players, the sponsorship this team has been able to obtain is astounding. Lowe's, National Guard/Mountain Dew, and AARP/Axalta have stood behind three out of the four drivers in Rick Hendrick's Cup Series stable. Therefore, I thoroughly believe that Rick Hendrick and Hendrick Motorsports holds a large competitive advantage over other teams. (Side note: I have absolutely NOTHING against Hendrick Motorsports or any other Sprint Cup Series team. As a matter of fact, I applaud each team for the level of success that they have achieved in their own manner.)
Kacar : Yes and that team is Hendrick Motorsports. They are the number one Chevy team and it is not even close. Add in that sponsorship for their four teams bring in major money for them. And also don't forget their leasing engine program that is even more money they get..
Hobbs : Hendrick Motorsports leads the Chevrolets, Joe Gibbs Racing leads the Toyotas, and Team Penske is leading with the Fords. Stewart-Hass may have 3 wins but their organization as a whole is no where near that of Hendrick, which they get their engines from; even Ganassi is doing better than Stewart-Hass. You talk about sponsorship outside of what the manufacturers provide, Hendrick has the best drivers in their stable and thus big marketing dollars associated with them. In terms of winnings, those 3 teams first mentioned also lead (granted they have multiple wins) but they are riding high and they are the ones to catch in their respective manufacturers.
Brincks : I think each manufacturer has a top team - Chevy with Hendrick, Toyota with Gibbs, and Ford has Penske. None of them are really facing any sponsorship woes so I'd say they're all in pretty good shape.
Hull : It appears that Penske has been holding an advantage over the other teams in qualifying and in the races. Brad Keselowski also picked up a sponsor this year as well. I think that this team has been getting the best equipment and it has been proven in their race performance this year.
Parrack : Hendrick Motorsports comes to mind when reading this question, as they're a powerhouse team. But I think Joe Gibbs Racing is often overlooked. Sponsorship wise they are golden, FedEx, M&Ms, and The Home Depot/Dollar General have been with that organization forever! So I would say they are one of the biggest teams with great sponsorship.
Tiongson : For me, it goes Hendrick with stability in terms of manufacturer, Gibbs with sponsorship, and Childress with its motor program alliance. It's a dominance in certain aspects but as far full dominance in every level with NASCAR, it's quite diverse in this sport.
Question 4
​Looking ahead to Dover and knowing that Jimmie Johnson has eight wins, 12 top-fives, 17 top-10's, and three poles at that track, do you think he can keep up his momentum after winning in Charlotte last weekend?
Tow : We all know that Charlotte is the House of Johnson. However, when it comes to Dover, Johnson is just as dominant. Do I think the No. 48 team will have the competitive advantage this weekend? Absolutely! I am sure that the momentum will continue going into this weekend's race at the Monster Mile. However, it is important to keep in mind that other drivers perform well at this track, including Johnson's teammate, Dale Earnhardt Jr. Ultimately it is going to be anyone's race, we'll have to see how it plays out.
Kacar : There is no doubt that JJ will be able to keep up the momentum at Dover. Coming into the Dover race he has to be the odds on favorite to win back to back races this season.
Hobbs : A no brainer without a DOUBT that Jimmie Johnson will keep up the momentum. This team thrives off of momentum! In his 10 most recent visits to the first Dover race, Johnson has 2 wins, 3 top 5s, 6 top 10s, and 7 top 15 finishes with an average finish of 10.8 (his average finish this year is 12.92 so look for that to improve after Dover). With better stats in the fall race, I always look for this race a a 'test' for when NASCAR returns for the Chase, especially for Johnson.
Brincks : Now that he's won, he's got the monkey off his back, it's safe to say he'll win several more times before the season is done. Dover is one of Johnson's best tracks so we could very easily see him go back to back.
Hull : Seeing that Dover is one of his strongest tracks, he has a possibility of winning another race. But we will have to see on Sunday whether it happens or not!
Parrack : This one is a no brainer, as he'll be a contender all day long. He will definitely have some competition in Kyle Busch and Brad Keselowski (and others) but he will certainly be a threat.
Tiongson : I wonder where are all the naysayers are at now. Funny how weeks ago, the press was all on the 48 team's back about whether or not, they'd have what it'd take to contend for the Chase. Not only will they be strong on Sunday at Dover, but they'll be a force for the rest of the season.
We have an old friend back on TPF with the return of Jessica Tow back into the fray. Because of this, eight will be great and we've got ourselves quite the lineup of NASCAR analysts here! Shelby's back on the top of the leaderboard but it's still anyone's race. How does our points standings look after 12 races? Check it out, friends!
Shelby Parrack - 401 points (1 win)

Rob Tiongson - 396 points (2 wins)

Ashley Hobbs - 356 points (1 win)

Matt Kacar - 354 points (1 win)

Nick Brincks - 336 points (1 win)

Ashley Parris Hull - 87 points (1 win)

Courtney Clement - 83 points (1 win)

Jessica Tow - 0 points
Alrighty....it's that time we've been waiting for besides the command to start engines for Sunday's FedEx 400 at Dover. Speaking of which, here they are - our race picks for The Monster Mile!

Tiongson : I'm going with Jeff Gordon to win at Dover. Why not? This 24 bunch has been tough, really fast off the truck, and I see their momentum and strong start to the season continuing at Dover this weekend. I see win number five at this track happening on Sunday!
Parrack : My pick this weekend is Brad Keselowski. He'll be going for his second win this season and he's on the pole so I'm feeling a pole to the win vibe!
Tow : Going with Jimmie Johnson - boom confetti!
Brincks : Because he's so good at Dover, I'll take Jimmie Johnson this week.
Hobbs : When it comes to Dover, 4 drivers stick out - Johnson, Kyle Busch, Edwards, and Kenseth. All 4 have very similar numbers when it comes to this race. What the numbers tell me is that Kenseth has a slight advantage over the others, mainly due to his better 2014 so far and I am sticking with my numbers and going with Matt Kenseth.​
Hull : My pick will be Matt Kenseth. He had a strong practice run today, and he is hungry for another win. Plus, Dover is one of his strongest tracks.
Kacar : Going with Denny Hamlin.
Clement : Pickin' Tony Stewart this weekend!
There you have it, race fans! The TPF crew has spoken and given their thoughts on round 13 of the NASCAR season. How about you? What do you think are the biggest storylines heading into Sunday's race at Dover? And who is your favorite to win the FedEx 400? Tweet us now @ThePodiumFinish and tell us now! Thank you, Nick, Matt, Shelby, Ashley Hobbs, Ashley Hull, Courtney, and Jessica - let's go racing, girls and boys!