If last Sunday's race at Las Vegas Motor Speedway was about speed and fuel mileage, then this weekend's affair at the Bristol Motor Speedway is truly a survival for sheet metal and brakes for at least 500 laps. Sound easy? Think again, friends, because this is NASCAR Sprint Cup racing at "The Last Great Colosseum!"
Racing at this venue is said to be like having 43 stock cars in a cereal bowl and if you could imagine that, it's sure to be one epic mess (or beauty, depending on your stance with short track racing). Despite the reputation for being a battlefield of stock car sheet metal galore, it's also were great racing has taken place. From the photo finish win with Davey Allison over Mark Martin in 1990, Jeff Gordon's bump and run win in '97, and Kasey Kahne's near win last year, it's seen its share of truly competitive stock car action in its 54 year history. A lot of NASCAR's best have seen their share of success at this fast concrete venue, from Darrell Waltrip, Rusty Wallace, Dale Earnhardt, Terry Labonte, and of course, Richard Petty. It has also played home to the first Cup win for drivers like Earnhardt, Ernie Irvan, and Kurt Busch.
Last weekend at Vegas saw one of our panelists and TPF team members, Nick Brincks, score his first victory of 2014 with his choice of Brad Keselowski. Having been about spot on thus far, he gets to be the host for this week's Trending Topics while Ashley Hobbs, Matt Kacar, Shelby Parrack, and yours truly answer away. Needless to say, the team has been spot on in the first three races of this year - can we keep it up? Before we reveal our race picks, we'll talk a bit about this week's big stories, otherwise known as Trending Topics!
Trending Topics by Nick Brincks
Question 1
Do you think the new aero package has made a difference this season, or is it still too soon to tell?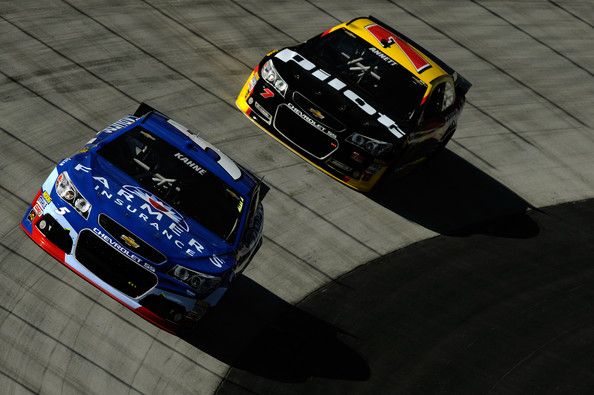 Hobbs : Too soon to tell; especially with only 1 intermediate track under the belts.
Kacar : It is definitely too soon to tell but early indications are that it has made no improvements. The Las Vegas race was exactly like a normal race there. It had no improvement at all. Only fuel mileage at the end brought some excitement at the end.
Parrack : I'm not educated enough on this topic to judge, but I would say it is too early to judge. Once we start re-visiting the same size tracks is when I think we'll have a better handle on it.
Tiongson : I'd have to say that i made passing a bit easier in traffic which is a small victory. However, the difference between first to say, the 20th place car, isn't much so with as close as the competition is, that's why we may never seem to find the perfect or near perfect answer to competitive racing.
Question 2
Hendrick Motorsports is off to a red hot start as Dale Jr, Johnson, and Gordon all have 3 top 10s to start the season. Are they the team to beat this year, or is someone like Penske, or someone else poised to top them?
Hobbs : Hendrick Motorsports always is off to great starts; this one stands out more because Dale Jr. is leading the stable. Kasey Kahne is where he usually is, but he'll start hitting his stride (hopefully). I think Penske is where they are because they seem to have qualifying figured out. So until another team can hang with both Hendrick and Penske, watch for drivers from those teams be there in Homestead battling it out.
Kacar : Hendrick will always be the team to beat because they have the most money and engineers then any other team. Gibbs and Penske are the two teams that could be right up there with Hendrick but right now they are just a notch below them.
Parrack : I feel like it would be really easy to say, "Yes, Hendrick is the team to beat," but Team Penske is on just as hot of a start as the Chevys of HMS I think. Penske has won the last two poles and completely dominated the Vegas weekend, so I feel like they are just as good as Hendrick at this point!
Tiongson : I'd have to say that they are the team to beat and usually, the team that pursues them is like a seasonal challenger. Or a yearly one at best. In 2010, it was Gibbs, In 2011, it was a bit of Roush and Stewart-Haas. Penske challenged the team successfully in 2012 and last year, it was a Gibbs battle again. I see it being a Hendrick versus Roush and Penske for the title this year.
Question 3
Tony Stewart, Kurt Busch, and Danica Patrick are all mired deep in the standings. Are they already in trouble, or does the new Chase format help teams that get of to slow starts, as we've seen with SHR this year?
Hobbs : Danica is not in trouble because you cannot really expect her to contend for the championship; she's where I'd expect her to be. Stewart always starts off the year slow, and given his situation, I am not worried for him just yet. Once summer comes and he has not hit his groove with wins, then, I would worry. As for Kurt, he is with the biggest team since his Roush Fenway Racing days, but he is in decent equipment. I think that team was not ready to expand yet and one of the 3 top drivers in the sport (Stewart, Harvick, Busch) was going to suffer more than the others in one way or another and it seems Busch is the one suffering.
Kacar : With the new Chase format, it does not matter where they are in the standings at this point of the season. As long as they get a win by the time race 26 is over, they will be in the Chase. It is interesting that Harvick is doing so well while his other three teammates have been struggling so far this year.
Parrack : As NASCAR claims, this new Chase format should help teams that have gotten slow starts to the season like SHR has. If a "win and you're in" is what they say is true, than there is no reason Tony, Kurt, or Danica are in trouble at this point.
Tiongson : I wouldn't exactly call it trouble, trouble, trouble like Taylor Swift once sang but I'd say they'd need to, in the PG way, get their things together. Stewart is going to improve as the season goes on and as Matt mentioned, it doesn't seem to matter where they are, as long as they stay within the top-30 and at least win a race or two.
Question 4
Which race in the next month are you most excited for and why?
Hobbs : Martinsville because Jeff Gordon will surely win there!
Kacar : The one I am looking forward to the most is the Martinsville Cup race. It has lots of close racing and beating and banging. With new Chase format, it could make that race even better.
Parrack : The next one! We always talk Bristol up, and expect it to be a good race. I'm really hoping with this new Chase format it will give the drivers more incentive (I don't like using that word but supposedly that is what NASCAR's goal is) to win, which should make for great racing at a place where it is easy to bump and run!
Tiongson : I'm going to be unique and say that I'm looking forward to the Coca-Cola 600 race weekend at Charlotte. Why? I think you'll all find out why by that time!
Nice job there, Nick - maybe you'll get more chances at the hosting seat this year! Before revealing our picks for this Sunday's Food City 500 at Bristol Motor Speedway, here's the TPF Points Standings after round three at Las Vegas:
1) Rob Tiongson - 127 points (1 win)
2) Shelby Parrack - 122 points
3) Nick Brincks - 120 points (1 win)
4) Ashley Hobbs - 113 points (1 win)
5) Matt Kacar - 108 points
Lots of racing remains and remember, it's still another 22 more races until Richmond so we've got many more battles ahead. Now for the moment you've all been waiting for....here's our race picks for Bristol:
Brincks : It paid off in Vegas for me, so I'll stick with Brad Keselowski for another win this week.
Hobbs : (Our stats specialist is going with Dale Earnhardt Jr.!)
Kacar : My pick to win is Kyle Busch.
Parrack : My race pick this weekend is Joey Logano. For no other reason than I'm feeling another Penske win and it's obviously a 50/50 chance between the two! The team is on fire right now, he qualified 4th-- I think JoLo gets it done!
Tiongson : He came oh-so-close to winning in the two races at Bristol and if it wasn't for a crash in the spring race and a car that lost the handle in the final restart in the summer night time event, we'd be talking about a sweep at Thunder Valley in 2013 for Jeff Gordon. I've got to think that this five-time winner becomes a six-time Bristol champion on Sunday, as long as the nose and fender are kept clean all day long.
There you have it, race fans! The TPF crew has spoken and given their thoughts on round four of the NASCAR season. How about you? What do you think are the biggest storylines heading into Sunday's race at Bristol? And who is your favorite to win the Food City 500? Tweet us now @ThePodiumFinish and tell us now! Thank you, Nick, Matt, Shelby, and Ashley - let's go racing, girls and boys!