While it might be the last race of the NASCAR Sprint Cup season, it's a race where history's bound to happen - especially with that champion for 2013!
At last, it has come down to this moment for the NASCAR Sprint Cup Series, the one moment that fans at home may have dreaded but the drivers and pit crews are looking forward to with a two and a half month reprieve from the grueling 36-race schedule. It's been a long, competitive, and action packed season for these men and women working a constant struggle for the perfection of speed, handling, and consistently gritting it out for victories and every position on the track.
For the past 10 weeks, it's been all about the title contenders, all 13 of them, who've duked it out for the right of last drivers standing for the Chase for the NASCAR Sprint Cup Championship trophy. From the very delayed but frantic playoff opener at Chicagoland Speedway to the most recent Arizona showdown last weekend, it's been about making the least amount of mistakes, bonus points, clean air, and absolute determination and focus. Most have faltered, either bowing out from bad luck or just poor performances. Ultimately, the trio still standing for a Cup trophy are Jimmie Johnson, Matt Kenseth, and Kevin Harvick.
As #TeamTPF's Allison Dunny chronicled in her piece earlier this week, it's really all about this triple threat of title contenders for Sunday's Ford EcoBoost 400. Highlighting each contender and the mood of the finale at Homestead-Miami, FL it's got the makings to still be an exciting finish to one of NASCAR's most pivotal years in terms of changes. A brand new car dubbed as "Generation 6" or "Gen-6" has made its presence known as a fast, edgy machine that has (as we TPF-ers call it) a sexy appearance that has old school stock car performance in 2013. New driver/team combinations, namely Matt Kenseth and Joey Logano, have shown that a change of scenery is all that's needed to make it a career year.
One constant that's remained is Jimmie Johnson, who without a doubt is the standard of excellence for the Cup drivers and teams. Whether it's the Car of Tomorrow or this Gen-6 model, the five-time champion just seems to adapt with the ever-changing climate of NASCAR racing. Having been led by crew chief Chad Knaus since 2002, very few of us could admit back in 2000-'02 that his pairing with Johnson would've created one of the greatest driver/crew chief pairing in the sport. On Sunday, Johnson has a chance to put himself one title closer from tying immortals like Richard Petty and Dale Earnhardt, who've compiled seven Cup championships.
Meanwhile there's the great stories of Matt Kenseth and Kevin Harvick, two racers on opposite ends of the team spectrum as far as this season's played out. Kenseth is currently in his first year with his new team (Joe Gibbs Racing) which has been a dream year for the No. 20 team, winning seven races and sits just 28 markers from leader Johnson. Harvick has been about the best case of how we regular daytime job folks should handle a one year's or in his case, two week's notice with an employer, stepping up with four wins in 2013 to find himself just with a faint but alive chance to win the Cup (34 points behind Johnson).
Not to mention there's also the matter of who'll finish out this season in the top-10 for 2013 points standings as well as the possible Cup career finale for Jeff Burton, Mark Martin, and Ken Schrader, which was covered here. So many storylines, and we at The Podium Finish are very much excited and ready to share them all with you here on Track Talk!
#TeamTPFCup's race winner from Phoenix Int'l Speedway Nick Brincks leads the panelists of Matt Kacar, Shelby Parrack, Jessica Tow, and yours truly with his three rounds of "Trending Topics." Never afraid to throw some fast and curve ball pitches for his questions, it's been part of a great and fun feature on TPF that I'm excited to announce will return for 2014!
And oh yes, who's excited to see who wins the #TeamTPFCup? Well you oughta be, because four of the five panelists have a shot at the title and it could be huge! Let's cut to the "Chase" (sorry, Chris Myers) and get to "Trending Topics!"
Trending Topics by Nick Brincks
Question 1:
Brian France said he likes when Homestead has a "game 7" feel and this year's race won't have that feeling. Since Johnson essentially has this championship in the bag, barring an accident or technical issue, do you consider this year's championship battle to be a let down?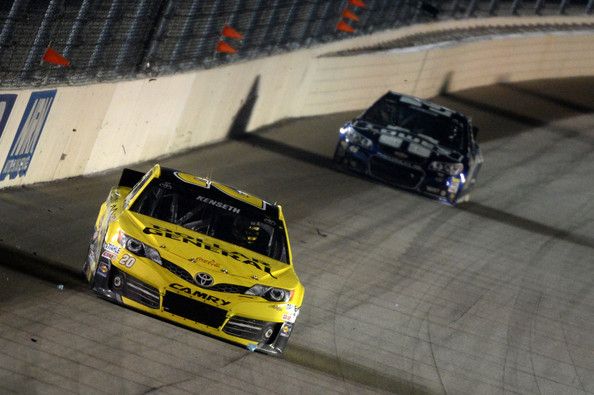 Kacar : Yes it has been a letdown. Homestead basically has zero drama for the Cup race. JJ can finish 28th with one hand tied behind his back. Kenseth team blew it last week.
Parrack : Yes and no. It started out really well, but it has basically been on a downward spiral. I do think going into a championship weekend it would be so much more exciting if we had all three series battling for the title, but we essentially only had one in the Nationwide Series. I suppose we can't say it is all over with until the checkered flag is waving, but JJ basically has this thing. We can look forward to a race for the win though, which is what I always look forward to.
Tow : As history has shown since the Chase concept was introduced in 2004 there have been some of the closest Championship battles and finishes yet. This year's championship battle is the farthest from what I would consider a let down. Between Jimmie Johnson and Matt Kenseth, the points standings were tied practically each week up until Kenseth's untimely pit mistakes last weekend at Phoenix. While this year's race at Homestead has a different "Game 7" allure it is still going to be an exciting race where anything can happen. A race is as unpredictable as New England weather; wait five seconds as it will change.
Tiongson : Not really, as it would be one if Jimmie Johnson had clinched it last weekend at Phoenix. I'm a believer in the whole "it ain't over till the fat lady sings." and I reminded someone dear to me recently, she's not warmed her vocal chords quite yet. Matt Kenseth still has a chance to get it and Kevin Harvick could pull a magic rabbit out of his hat to win this thing. It's not a Game 7 feel totally, but it's not like watching Game 6 of the Stanley Cup Finals of this year which - yea, don't remind me about it.
Question 2:
Look into your crystal ball. What do you think the championship battle will look like as the Sprint Cup Series heads to Homestead one year from now?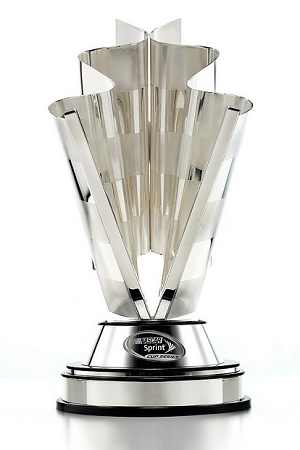 Kacar : I would say JJ and Kenseth will be battling for the title again. Perhaps Kyle Busch will find a way to run for the title in a chase finally.
Parrack : Being selfish, I hope it comes down to Carl Edwards and Brad Keselowski. But I do see Matt and Jimmie being the big threats once again.
Tow : One year from now, I think the championship battle will look the same as it does now; three drivers or possibly even just two fighting for the title. Jimmie Johnson will be included in this picture of course. I think Matt Kenseth and Denny Hamlin will be top contenders. Jeff Gordon's name could be thrown into the mix as well.
Tiongson : I'd say that Jimmie and Matt have Kyle Busch to consider, as they'll work during the offseason to improve their performance. I wouldn't call Busch a "comeback driver" but he's really been impressive in 2013 in that he's handled a lot of tough situations very maturely and wisely. Don't count out Jeff Gordon and another name that you may have to consider is Kurt Busch and Brad Keselowski too.
Question 3:
What are two or three things you'd like to see NASCAR do in the off season to make the sport better?
Kacar : Fix the Gen-6 car so that it is much more easier to race and pass on the intermediate tracks. Get with Goodyear to make a tire that is not so hard that you could run the whole race on the set you start the race with.
Parrack : I don't know as if I can really pin point what NASCAR needs to do to better the sport, I would like to see the car somewhat changed in order to see closer racing though, Carl Edwards has preached for quite a while that he wants the cars to be able to race side by side more often and I totally agree.
Tow : The one change that I would like to see is a shake-up or modification to the current Chase race track lineup. Although it sounds cruel, I think Bristol should be added in place of Martinsville; keep Talladega as the one plate track and throw in a road course race either at Sonoma or Watkins Glen. Other filler tracks can stay...tracks such as New Hampshire (yep, I'm biased) and Phoenix.
Tiongson : I'd be so happy if we actually had earlier race starts. I grew up on the whole, "church at 10 AM, brunch at noon, and race at 1 PM" routine so that afterwards, it was all about focusing on the rest of my day. I know that has nothing to do with the track stuff yet, but I'd also not mind if we had tires that dropped off and forced drivers into either conserving early on and then racing hard, or a compound that definitely forced races into going back into the drivers' and team's hands.
Before we unveil our last race picks of 2013, let's gander at the points standings as they are heading into Homestead!
Rob Tiongson - 321 points
Matt Kacar - 305 points
Nick Brincks - 303 points
Jessica Tow - 299 points
Shelby Parrack - 272 points
While I might be leading the points race, Kacar, Brincks, and Tow have a chance to win this out right. Although Parrack might have been eliminated from the Cup, she's still got a shot at winning today's race and honors of doing up the questions for the Daytona 500 preview on TPF! Also, I am happy to announce that each of you will receive a 2013 Miss Sprint Cup 1/64 car plus the champion will receive a 1/64 replica of their favorite driver's car! So who's ready for our race picks for the Ford EcoBoost 400? Yea, I thought so!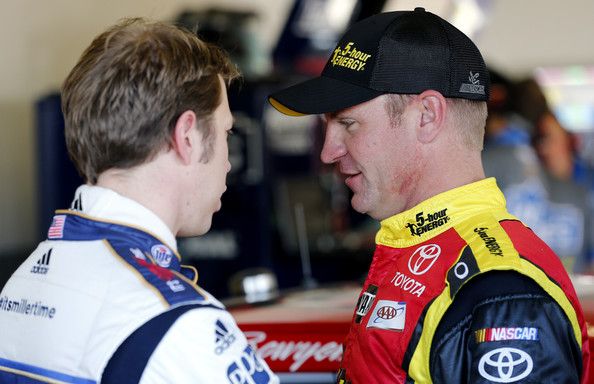 Tiongson : Wow, I've picked Clint Bowyer. Why not? He did place second here last year. But I mean, Clint Bowyer. At this juncture, might as well go for broke here. Got nothing to lose! Blame AD! In all seriousness, he's a pretty solid racer and you have to think he wants to win a race to continue his streak of Victory Lane since 2010.
Kacar : Going with Brad Keselowski.
Brincks : He essentially needs to win the race to win the Cup and he'll need lots of help on top of that, but I think Matt Kenseth will bring home at least one trophy this weekend.
Tow : Matt Kenseth without a doubt is going to seal the deal, win the final race of the season, and hopefully gain some ground in points against Johnson. Starting this race from the pole allows Kenseth that coveted number one pit stall which, after following crucial pit stop missteps last weekend, will allow Kenseth and his team the opportunity to turn things around. As long as Kenseth's pit crew is on top of their game there should be no reason why the No. 20 Dollar General/Home Depot team won't find themselves atop of the board come the finish.
Parrack : My pick for the last race of the year is Carl Edwards. I consider Homestead Miami a Ford track, and Carl has won here many times before!
And that wraps up this week's edition of Track Talk, and as always, I want to thank Matt, Jessica, Shelby, and Nick for making this piece rock! Till next time, if you want in or have suggestions or comments about Track Talk, let us know what you think by tweeting us @ThePodiumFinish and using hash tag #TrackTalk! Thanks so much everyone. Best team in racing, and I can't wait until 2014....but wait. We will do a VERY special version of Track Talk next week! Stay tuned!