If there's any track on the NASCAR Sprint Cup circuit that differs tremendously from its spring date versus its second, summer race date, it's Pocono Raceway. Although the teams that excelled in the spring are likely going to contend for the win for Sunday's GoBowling.com 400, those who felt that they had a car that was better than the showing indicated will mark their presence early on in this challenging 400-mile race.
Much like Indianapolis Motor Speedway, it's about that long straight with a pair of short chutes and relatively flat banking. Aerodynamics and horsepower are going to play a huge role on those team engineers and crew chiefs all weekend long while the driver still has their say with determining the winning combination in terms of the proper setup of their chassis. Pocono's uniqueness is that it's a triangle shaped speedway that drives much like a road course. This typically translates into a race full of unknowns and of course, as evident in June's race covered by our co-editor-in-chief Isabelle Beecy, there'll be see saw pit strategies. Ultimately, it's about that glorious track position and that's something Dale Earnhardt Jr. was able to take advantage of in a duel with Brad Keselowski.
Isabelle and the rest of our TPF Track Talk team of Ashley Hobbs, Ashley Hull, Courtney Clement, Jessica Tow, and Shelby Parrack are ready and prime to talk about the hottest storylines heading into Pocono and of course, we're about ready to share our race picks! It's been an action packed week in NASCAR racing and it'll be just that this weekend here on the website that loves motorsports! As yours truly correctly picked Jeff Gordon to win at Indy first, I'll host this week's Trending Topics segment.
Trending Topics by Rob Tiongson
Question 1
Jeff Gordon's fifth Brickyard 400 reaffirmed his place as one of the all-time greatest NASCAR racers. Does this also reaffirm his place as a legit title contender when the Chase starts?
Beecy : I'm not sure what we'll see from the 24 team this year in regards to their Chase performance since the format has changed. If the format had stayed the same, history may have repeated itself where he would do decently in the championship run but not win it. With the new format, I think we could see any number of situations play out. He could win it, he could do the same as years past, or he might do worse than years past. Who knows what will happen.
Clement : I would believe so. Gordon has done well all season long and this win just sealed the deal for him. We're down to the final few races here!
Hobbs : Jeff Gordon showed everyone he has been a title contender all season long. No one has been more consistent than Gordon and the 24 bunch, and he will continue to dominate this season. If people doubted his ability to compete for the title this season, these past 20 races should really change their view on that.
Parrack : I would definitely like to think so, as Jeff Gordon has just as good of a chance as Jimmie or Dale Jr, I would say!
Hull : I think he is because he now has two wins this season. He's not exactly at Brad's level, but I believe at the end, he may be heading towards the front in the Chase. He has had a great year this year.
Tow : Absolutely! Jeff Gordon will always be a title contender so long as he is still behind the wheel of his No. 24 Chevrolet.
Question 2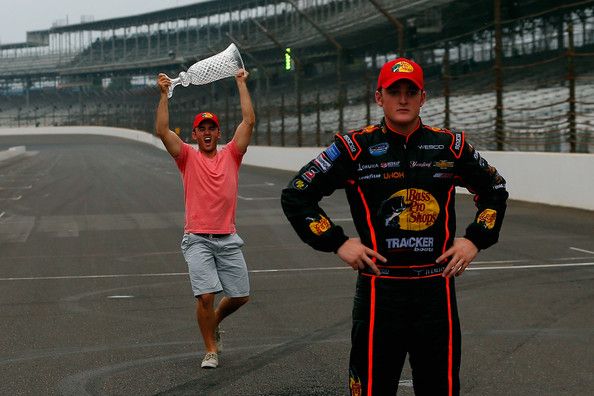 Ty Dillon broke through and captured his first NASCAR Nationwide Series win last weekend at Indy. Is this the beginning of a similar surge of success that his older brother Austin experienced in 2012 en route to a title in the following season?
Beecy : I hope so, but I'm sure if I'd hold him to that standard. At the moment, he's running right around where Austin was in 2012, only a few positions behind. He's been in the 7th-9th range for the most part while Austin was generally in the 4th to 6th range. Plus it's hard to tell what one brother's results will be based on the other brother's results. I'm not knocking Ty's accomplishments, but it's hard to measure what kind of success he'll have in the next couple seasons based on what Austin did in Nationwide. As I said, I hope he can have similar success to what his brother did, but I'm sure he'll find it in his own time.
Clement : Probably! I do believe he will follow in his brother's footsteps next season.
Hobbs : It could very well be a peak into Ty Dillon's success in Nationwide, but it is also too early to tell. Chase Elliott has 3 wins already and it is easier to see Chase Elliott and where he is likely to go with his career. If Ty wants to move up the ranks, he will have to put together more great finishes and get more wins. I hope to see more of the NNS regulars dominate and rack up the wins.
Parrack : I think that's hard to say as of right now. This is one of the first times Ty has shown up and done something in quite a while. The guy has a ton of potential in my opinion but I think it's probably too early to tell.
Hull : I will say this at the risk of sounding mean, but while he is a great driver, this is his first win of the season. There is someone right now who is more successful than he is right now, and that's Chase Elliott. But time will tell. He may get another win before it is over with.
Tow : Ty is a member of NASCAR's up-and-coming star powered class. This class includes his brother Austin, Chase Elliott, Ryan Blaney, Bubba Wallace, and others. I think Ty will definitely find success in NASCAR as time continues to pass.
Question 3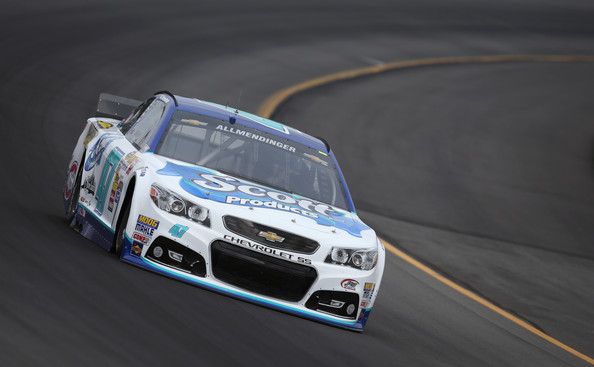 We return to Pocono, which is the "Tricky Triangle" and a track typically seen as a speedway that drives like a road course. If you were a team owner vying to make the Chase (for a driver that's not won yet this season), would you try to go for the win and make risky gambles early on in the race or stick to a conservative strategy for a safe top-10 finish?
Beecy : I would absolutely go for the win. If you get it and make the championship and do well in the run for the championship, it'll look good for yourself and the team. Plus, if you take a risk and succeed, people – both fans and others in the sport – will likely think, "I hadn't thought of it that way, that obviously works" and be impressed. If you take the gamble and fail, people will likely recognize it as it is and applaud you for taking the chance. The only exception to the second part would (obviously) be if it were a stupid gamble.
Clement : I would try to go for the win and make risky gambles. It's a tough course but this is not our first time there this season. We know what to expect from it, so it makes it a little easier to plan a good strategy.
Hobbs : You have to go for the win at this point in the season if you want to make the Chase; playing it safe is not enough. With those drivers without wins, they are all very close together on points that even a top 10 finish could bump them to the outside looking in. At this point in the season, wins are the only thing that matters.
Parrack : 100% go for the win and make risky gambles. That's the name of the game this year, if you win you pretty much lock yourself into the Chase or at least get yourself extremely close to doing so.
Hull : This is a tough one because I really abhor Pocono. Maybe I am biased because my driver doesn't do very well there, but I really loathe Pocono, so I would probably tell my driver, especially if he is already locked into the Chase at this point, just to stay conservative. This place can eat you alive if you try to do anything stupid.
Tow : With only a handful of races left until the Chase begins, it's time for teams to hit the ground running. If this means pursuing risky gambles with adjustments, tires, and fuel then so be it...so long as all modifications and strategies do not go against NASCAR's rule book.
Question 4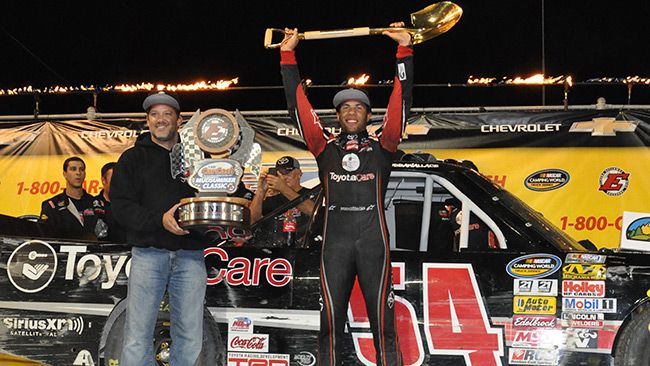 Eldora hosted the second annual Mudsummer Classic, which was won by Darrell "Bubba" Wallace in an exciting duel with Kyle Larson. Do we eventually see Nationwide or Cup cars racing at this dirt racing venue in the next five years?
Beecy : Funny enough, Rob and I were talking about this last week, and what I thought then still holds true for me. I would love to see Nationwide or Cup race there, but only with a limited number of cars in the race. Yeah, it might take away from the "specialness" of the Truck race, but imagine how exciting a Cup race or a Nationwide race there would be. As for the certain "special" factor, I think there's a way you can make it that way. I think you could do something like the drivers who have the most race wins up to that race or up to a certain position in points standings who can participate in that race. I also think it would probably be smart to make that race at a different day than normal like the Truck race does to make it stand out more.
Clement : Honestly, it's anyone's race with that sort of thing! Dirt racing is its own type of racing so whether you're a Cup driver or a Nationwide driver, I think you have the same chances.
Hobbs : Honestly, I hope we do not see Cup or NNS at Eldora. This event is a spotlight for the Truck series and lets face it, the Truck series needs something on the schedule to stand out and draw more viewers. I think this race should be only for the Truck drivers. I may be one of the few that view it this way, but I think it would be best for the sport to not bring Cup or NNS to Eldora, especially in the next 5 years.
Parrack : I know everyone would love to see all three of NASCARS major series at Eldora, but in the next five years I just don't see Cup going there. I do however see them trying out the Nationwide cars on this track, NNS seems to be more open (like the truck series) to going to new places and trying things out. The Sprint Cup Series seems more strict with where they take their races, we don't see new tracks enter the schedule very often. I would think it would be fun if they were to take the cup guys there for a non points race just for fun though!
Hull : I heard the other day that NASCAR was planning not to have Nationwide and Cup cars at Eldora, and that's unfortunate. Eventually, they may finally cater to our wishes of having such events, but for now, as far as NASCAR is concerned, they won't be having anything like that too soon. However, I think that it will be a great thing to do. I think that honestly, the Eldora race is the most exciting race I have seen in years. Imagine how much fun it would be to see other drivers do this? I hope it does happen eventually.
Tow : I sure hope so. The Mudsummer Classic has become a staple and I think bringing the Nationwide and Cup Series' to Eldora would be an absolutely great thing for NASCAR to do. Although it will take time, I think having all three of NASCAR's top tier series participate in dirt events will elevate the sport to a higher level and attract many new fans.
Excellent job, team! Seems like y'all have done your homework! Before we get to this weekend's big test, here's how the points are looking after 20 races and heading into Round 21 at Pocono:
Rob Tiongson - 717 points (3 wins)
Ashley Hobbs - 715 points (2 wins)
Jessica Tow - 715 points (2 wins)
Shelby Parrack - 702 points (2 wins)
Isabelle Beecy - 698 points (1 win)
Courtney Clement - 698 points (1 win)
Ashley Parris Hull - 697 points (2 wins)
I'd say it's about time to talk about who we think will master this three corner beast that doesn't know what turn 4 is all about! Let's get to it, team!
Tiongson : Last Sunday, Jeff Gordon became the first five-time winner at Indianapolis Motor Speedway in a stock car. This Sunday, he and his No. 24 Axalta/Maaco Chevy team will add to their win total at Pocono and score a seventh win at "The Tricky Triangle."
Beecy : Going with Kurt Busch.
Clement : My pick is Tony Stewart! Really hoping to see him win.
Hobbs : Kyle Larson has an outstanding record on super speedways in his rookie year, with a 5.5 average finish. In his first trip to the Tricky Triangle, Larson nabbed a P5 finish. I have been a believer all season long that Larson will get a victory, and once I saw how amazing he is on the super speedways, I felt his first win would come at one. Go get em rookie!
Hull : My race pick is going to be Brad Keselowski.
Parrack : I really wanted to pick Kurt Busch this weekend but he's been quite inconsistent this season. So I'm going to go with another Team Penske driver in Joey Logano​.
Tow : Going with Jimmie Johnson.
There you have it, race fans! The Track Talk crew has spoken and given their thoughts on round 21 of the NASCAR season. How about you? What do you think are the biggest storylines heading into Sunday's race at Pocono? And who is your favorite to win the GoBowling.400? Tweet us now @ThePodiumFinish and tell us now! Thank you, Isabelle, Shelby, Ashley Hobbs, Ashley Hull, Courtney, and Jessica - let's go racing! And as always, the opinions and thoughts express in Track Talk are solely of the authors and do not reflect on the organizations mentioned, FanVsFan, or of TPF. This weekly feature is strictly for entertainment purposes and are not indicative of TPF, the organization, and its staff.