If there's a track on the NASCAR Sprint Cup circuit that's mighty, powerful, and is all about white knuckle action for the entire race weekend, it's Bristol Motor Speedway. At 0.533 miles in length and with variable banking up to 30 degrees on this 54-year-old stock car venue, this Tennessee staple has been home to some of the sport's greatest finishes as well as those emotional moments where the tempers have flared, captured for eternity in archived footage. This is the track where "rattling his cage" became popularized and where some of the neatest sound bites of the season have been heard. Bristol is where the rawest and poignant moments of a NASCAR season can occur and that's likely the case with Saturday night's Irwin Tools Night Race (Live, Saturday on ABC at 7:30 PM ET).
Typically, the spring race is in the daylight of either March or April, a typically action packed race that shakes things up with the points standings early in the year. When the Cup circuit arrives back for its annual summer date, it's a much different story. Sure, handling and horsepower matter, as drivers will try to find the best lines in the high or low lanes, but it's also about harnessing those emotions in the heat of the battle. Although it's much easier said than done, it's typically the top of the heap that gets the job done. Last year, Matt Kenseth captured the checkered flag in a thrilling duel against Kasey Kahne. Now as we head into this year's Night Race, both drivers look to capture the checkered flag for their first win of the season.
The Podium Finish's Track Talk crew of Jessica Tow, Courtney Clement, Ashley Hobbs, Shelby Parrack, Ashley Hull, and Isabelle Beecy talk all about Bristol and about the latest, hottest stories heading into the race weekend at Thunder Valley. Some of the silly season speculations like Carl Edwards' drive for 2015 has been answered and the series aims to perfect its product on the track. Meanwhile there's rumbling in the 2015 schedule department, as the season seems to be finalizing itself with a familiar look to it for some of the old school fans. In these exciting times, The TPF Track Talk crew is ready to talk some racing and as a result of Jeff Gordon winning at Michigan last weekend, I'll be hosting this weekend's Trending Topics right now!
Trending Topics by Rob Tiongson
Question 1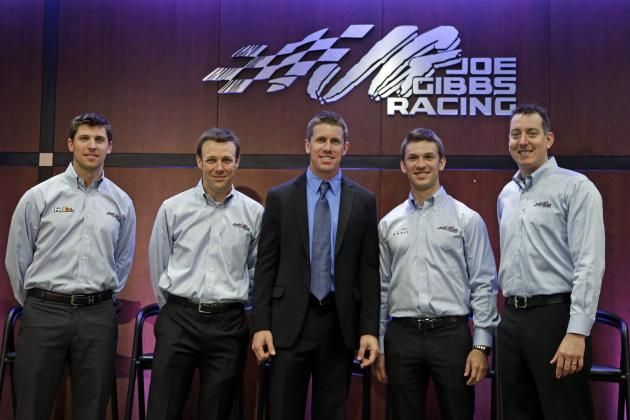 Carl Edwards has finally made his long awaited announcement of joining the Joe Gibbs Racing team in the No. 19 Toyota for 2015 and beyond. How do you think this combination will fare together and do you see Edwards meshing with his new teammates in Denny Hamlin, Kyle Busch, and old Roush colleague Matt Kenseth?
Tow : I'm actually excited to see what the addition of Carl Edwards will bring to the Joe Gibbs Racing stable. Edwards is a great driver and I think that he will find success just as Matt Kenseth has. Speaking of Kenseth, I think it is kind of reassuring in a sense to see Edwards reunite with his former Roush-Fenway teammate.
Clement : Carl Edwards isn't like the rest of the drivers that will be on his team. The team so far has some pretty aggressive drivers. So with Carl joining, he'll probably add a little more evenness to the team.
Hobbs : With the addition of Edwards, Gibbs is truly a power pack stable, almost rivaling that of Hendrick Motorsports. The difference between the two teams is that Hendrick has proven time and time again that they can field 4 competitive cars week in and week out. Currently, Gibbs seems to be searching for that consistency that is vital to a multi-car organization. The addition of Edwards may do great things for the entire organization, or it may fail. Edwards certainly will bring a different caliber to the team; definitely more of a calm driver and he will certainly be the sponsor favorite as he seems to do great things for all of his sponsors. I think reuniting with Kenseth will be good, and seeing how he has no spats with Hamlin or Busch, this team could really be destined for greatness.
Parrack : Thank goodness the announcement has finally been made, some of us were going crazy! As a Carl Edwards fan, I am very hopeful for this new adventure he's about to go on. I think Carl and The Coach will mesh very well together, they're both very kind soft spoken people. Although I'm upset my driver is going to "the dark side" in a Toyota, I really think he will perform 10x better in JGR equipment. As for his new teammates; i think Carl and Denny will get along very well. As for Matt and Kyle I do think they will be better teammates to Edwards than his now teammates but they both do have history with Carl, though it was ages ago, one can only think about it.
Hull : I am going to be biased for just one second and say that this is a dream come true for me. I am happy that Carl is finally joining a team with my other favorite drivers. That said, I think that this team will work well together because they all seem to get along. I know that both Edwards and Matt Kenseth have had their issues, but they have put all that behind them and they are ready to work together. They are all driven competitors who get a lot of fuel off of each other. I am excited about how this is all going to play out.
Beecy : I think it could work well. Hamlin and Edwards are okay with each other so positive chemistry could really build there now that they're going to be teammates. With the other two, we'll have to wait and see. There's been some kind of issue or another between them at some point in time, but those were years ago. I think they'll be able to put it aside or at least be able to make it so that they can at least work together as it'll be their job to be teammates and be at the very minimum civil to one another.
Question 2
There have been rumblings, particularly by a tweet by Jim Noble, that there'll be some schedule shifting occurring with Atlanta going to the first weekend in March, while Bristol winds up in mid-April. This translates to Darlington receiving its traditional Labor Day race weekend date back for the first time since 2003. What's your thoughts on these changes?
Tow : As long as New Hampshire continues to have two races, any other potential schedule changes will not phase me at all.
Clement : It will definitely help with the weather! Changing around the schedule a little bit and having certain tracks during different times of the year will keep from rescheduling of races due to rain or anything else of the sort!
Hobbs : Getting Darlington back to where it belongs will make fans everywhere thrilled; and I am one of them. By moving around dates in the NASCAR schedule, it shows that NASCAR is listening and trying their best to eliminate the typical weather issues at the tracks. Since the south is warmer during the winter, it makes more sense to have southern, and even western, races during the beginning of the season and eliminating a higher risk of weather problems. And if NASCAR eliminates some of the boring tracks or drops the distance of the races, all the better!
Parrack : I am all for these changes, I think Bristol needed to be moved to a later date ages ago, march is way too early for a race as north as Bristol. I do like the thought of Darlington being on Labour Day!
Hull : I love the new changes. However, I really like Atlanta because it is a fun and fast track, so I would like to see it on the schedule twice again. It may also be better to have Bristol mid-April as well because most of the cold weather will hopefully slow down by then, and make it less likely to rain. I really liked how the old schedule worked when it was being used, so I am up for it. Hopefully, it will happen!
Beecy : I honestly think it'll be good to have it back to Labor Day. Every racing series has certain races on certain weekends and that's how it is with Darlington and Labor Day weekend. It'd be like having the Indy 500 moved to a different date but then possibly having it moved back to its original date of Memorial Day weekend. It'd be pretty awesome to have it back to its "normal", more traditional date.
Question 3
NASCAR tested out some variables with their possible rules package for 2015. Based on what you heard about the test at Michigan on Monday, do you like the direction that the sport is going for any changes with next season?
Tow : Truthfully I have not given any regard to NASCAR's potential changes for 2015. Regardless of whether we like it or not, change is bound to happen.
Clement : I am very content with NASCAR and where it is heading. Looking forward to some great upcoming seasons!
Hobbs : The only real thing I heard is that it took time for there to be a big change seen in the racing and especially the passing. If the point of the testing was to make for more passing, then more testing needs to be done.
Parrack : By the sounds of it we are going to be able to see more passing, which is exactly what we want and need. I really only seen talk about it from Denny Hamlin and he seemed hopeful, so I'll take his word for it!
Hull : I think they are finally trying to get the driver's perspective on this. I know that they are trying to do all that they can to make the sport safer by increasing the down force, but in the end, you are going to get boring results. Who doesn't like seeing a second-place car battling the first-place car? With all the current package, you don't get to see much of a battle. I think that if they consider taking away some downforce, they may have more exciting races, and more fans coming to see the races.
Beecy : I've only heard positive things from the drivers, so I think the possible rules package is working as it should. I don't know if it'll be what the fans want as we haven't seen the changes but if it's doing what the drivers want it to do, then I'll trust them as to whether it's a success or not. So far, it does sound like a great success.
Question 4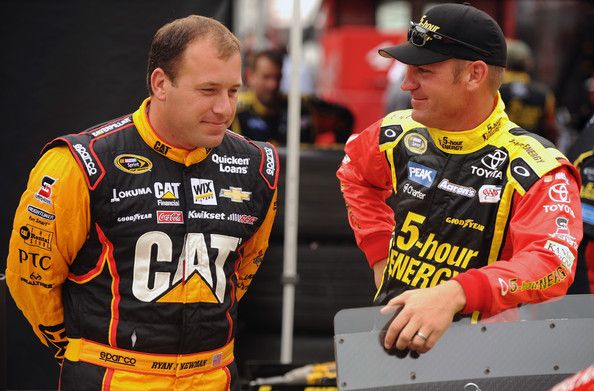 We're heading to Bristol which is very much a physical track that requires drivers to be patient and to wisely exercise the "chrome horn" in the waning laps. If you were in the thick of the battle for the win in second spot, how do you approach those last laps to capture the win, say, if you were a winless driver like Clint Bowyer, Greg Biffle, or Kasey Kahne?
Tow : If I was a winless driver, I would do everything I possibly could to secure a win. No, that does not mean that I would wreck another driver intentionally per se, but by all means I would definitely give it my all and race hard.
Clement : I would definitely try to come up with a clean strategy before the race starts. In this point of the season, I am already able to pick up on how everyone else drives. And I know that even though some of these drivers are already automatically in the Chase due to wins, they won't slack off in any way! A lot of pressure would be on being winless!
Hobbs : If I am a winless driver in second place with only handfuls of laps remaining Saturday night, I plan to stalk the 1st place driver to no end in hopes of forcing them to make a mistake. If I am in striking distance after the white flag, you can bet I plan to use my front bumper and pull a bump and run like the old days. If I am winless, the only security I have now of making the Chase is winning and you can bet anything will be done to obtain that win; even if it makes someone a tad angry.
Parrack : Checkers or wreckers baby. If I'm Clint, Greg, or Kasey-- a win is the difference of having a chance to be in the chase and not. And they're here to win championships, so I would 100% go for the win at all costs.
Hull : This is wrong, but if I were either of these drivers, I would push them out of the way, and win the race!!!!! I would be hungry enough to get myself into the Chase, that I would do anything that I could to win, aside from cheating. But, I would be aggressive, because there are only 2 more races until the Chase begins, so it's time to step up my game and push myself to win.
Beecy : I'd try to do what I normally try to do when I'm behind people I want to get around – I'd give the leader a gentle bump or two (or however many are necessary) to let them know I'm there and then try to get around them as soon as I possibly can. It's what I've done in the past in races and I know I did it on my birthday when I went racing with Rob – hell, I probably used it on Rob then, too. It can work without dumping, just in the right circumstances.
Now that you know that I'm not exactly the hardest driver to pass on a track, let's get back to some TPF business! Here's how the TPF Points Standings look as we prepare for Round 24 at Bristol:
Rob Tiongson - 852 points (5 wins)
Ashley Hobbs - 837 points (3 wins)
Shelby Parrack - 829 points (3 wins)
Isabelle Beecy - 811 points (2 wins)
Ashley Parris Hull - 803 points (2 wins)
Jessica Tow - 771 points (3 wins)
Courtney Clement - 715 points (1 win)
​So as you get ready to spin right round like a record playing with Bristol, I'll tell you what - let's reveal our race picks for Saturday's Irwin Tools Night Race at Bristol!
Tiongson : It seems like Jeff Gordon's revisiting some places at tracks he's not won at in a while - Victory Lane. He's snapped a 12 year drought at Kansas in May, a 10 year streak at Indy, and an 13 year drought at Michigan. I think Gordon winds up in Victory Lane at Bristol with the No. 24 Chevy being number one after all is said and done at Thunder Valley.
Beecy : I pick Jeff Gordon because he's on a roll and he does well at Bristol!
Clement : Going to go with Kasey Kahne!
Hobbs : The stats may point towards Jeff Gordon edging out the competition, but there are 2 drivers who are looking for a turn around in the season who might just be hungry enough to do what it takes to nab victory; Matt Kenseth and Kyle Busch. Matt Kenseth's season is going slightly better than Kyle Busch's at this moment, therefore I am choosing Matt Kenseth to break through this season and finally win!
Parrack : My pick this weekend at Bristol is Carl Edwards. He has the "big secret" off his shoulders, he won here in the spring, and RFR was pretty strong here earlier this year. I look for a broom on Saturday night!
Hull : My pick to win is Carl Edwards.....he better get the broom ready!!!!
Tow :
There you have it, race fans! The Track Talk crew has spoken and given their thoughts on round 24 of the NASCAR season. How about you? What do you think are the biggest storylines heading into Saturday night's race at Bristol? And who is your favorite to win the Pure Michigan 400? Tweet us now @ThePodiumFinish and tell us now! Thank you, Isabelle, Shelby, Ashley Hobbs, Ashley Hull, Courtney, and Jessica - let's go racing! And as always, the opinions and thoughts express in Track Talk are solely of the authors and do not reflect on the organizations mentioned, FanVsFan, or of TPF. This weekly feature is strictly for entertainment purposes and are not indicative of TPF, the organization, and its staff.