If there's one thing that NASCAR and Las Vegas, NV share in common besides the famed 1.5 mile superspeedway, it's the fact that they both involve high stakes on the line when it comes to the competition and excitement factor. Whether you're going all in at a poker table in a casino or plotting the boldest strategy to win the race off pit lane, it's only fitting that the Sprint Cup Series now hits up Las Vegas Motor Speedway for the 17th running of the Kobalt Tools 400.
Sure, it's your typical cookie cutter quad-oval and it's banked at a variable angle between 18-20 degrees, but the competition is solid, particularly towards the waning moments of the race. From last year's two horse race between Matt Kenseth and Kasey Kahne, Jeff and Ward Burton's sibling duel in 1999, and Jimmie Johnson's just-at-the-stripe win in 2006, there are some moments to pick out from this unique facility.
Typically, starting position is a bit moot at this track, as starting at the front helps but even qualifying midpack isn't too shabby either. The average starting position for a winner is roughly 13th, meaning that anything can happen and with the balance between horsepower and handling, one team could be like Harry Callahan or Daft Punk and "Get Lucky" in the Sin City. However, if your name is Jimmie Johnson, you always like your chances here, with four wins to boot, leading all active drivers heading into Sunday's Cup race.
Unlike Daytona with its drafting component and Las Vegas with its unusual layout, Las Vegas, as unique as it is, will feature a universal characteristic with Kansas Speedway, Chicagoland Speedway, as well as the intermediates of Charlotte, Kentucky, Texas, and Atlanta. Typically, if a team performs well in this race, that carries over for the rest of the season. Who starts things right and which team will roll the dice for better or worse in round three of the NASCAR Sprint Cup season? Before we reveal our picks for Sunday's 400-miler, let's get to our trending topics. As I won last weekend's edition of Track Talk Phoenix Edition with my pick of Kevin Harvick, I'll be fielding the questions to our TPF panel Ashley Hobbs, Matt Kacar, Nick Brincks, and Shelby Parack! Without further ado, here's our four Trending Topics!
Trending Topics
Question 1
Kurt Busch recently announced that he'll attempt the double duty feat of racing in the Indianapolis 500 with Andretti Autosport and with his regular Cup ride at Stewart-Haas in the Coca-Cola 600 in Charlotte, the first such attempt in 10 years. How do you think he fares in this feat?
Hobbs : While it will be interesting and awesome to see Kurt Busch do this, I am not quite sure it'll be favorable outcomes in both events. Between all the traveling and actual racing he will have to endure, that is going to take its toll in my opinion. For the sake of Kurt, I hope he can handle it. But knowing he has a shot at being in both fields is just plain old awesome!
Kacar : I think Kurt will not fare that well running the Indy 500. He has basically zero Indy Car experience so to expect him to compete for the win would be dumb. Add in the fact that Andretti is not exactly a top flight Indy Car team. I would say a top-20 would be a good finish for him that day.
Brincks : A win would be a long shot, but I don't think a top-ten would be out of the question. If he can finish all 500 miles and stay out of trouble, it'll be a good day for Kurt.
Parrack : I'm not certain how he will do in the Indy 500 but I do know it will be really good for the two sports, as it will draw a lot more NASCAR fans to watch the popular race. I'm really excited to see how things go!
Question 2
We've seen some solid performances by the likes of Casey Mears and his No. 13 GEICO Chevy team. Sitting 11th in points, do you see his steady performances continuing for the rest of the season?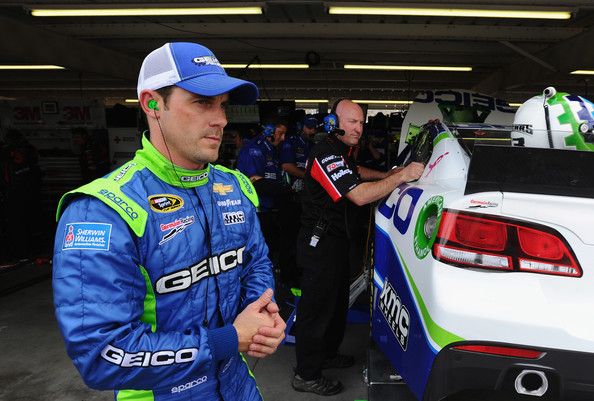 Hobbs : I am a HUGE fan of Casey Mears and to see this team have two Top 15 finishes is a huge stride in their organization. Could it be more funding? The change to Chevrolet? I think everything is starting to fully click with that Geico team and I hope he continues on this hot streak. Do I see him contending for the Chase? Sadly, no. But I do see him racing and contending AT LEAST for Top 20s and 15s consistently going forwards. I do not think their success, even after 2 races, is a fluke.
Kacar : That is hard to say. It has been pretty awesome to see that team start the season so well these first two races. Time will tell if it will continue. This week will give more of an answer as to whether they will be able to continue the great start they have had.
Brincks : Mears got off to a halfway decent start last year, but faded as expected throughout the season. I don't think he'll fade as much this year, but it'll be tough to stay top-20 all year. I think he'll wind up in the 20-25th points position with a handful of top-10s. Who knows, maybe a Talladega win could get him in the Chase.
Parrack : I hope so! I love seeing "smaller" teams do well and Casey Mears is a very good driver. I don't know if it's easy enough to say yes or no to this particular question, as it may be too early to tell.
Question 3
On the flip side, Michael Waltrip Racing seems to be struggling thus far in 2013. What do you think is attributing to their not so hot start to 2014?
Hobbs : Plain and simple; yes. I still think the team is in recovery mode from 2013. With downsizing, you'd think more focus could be made on the two teams but it doesn't seem to be going that way.​
Kacar : It is karma for what they did at Richmond last year. It's very hard to compete in the Cup series with just two teams. Not as much information to be shared so maybe that is part of the reason.
Brincks : It's easy to say that a team is in trouble or in a great position after two races, but it's still way too early to tell. They could still be recovering from last fall's Richmond incident. If they're still struggling after Texas, then I'd be worried. Until then, we'll see.
Parrack : I wouldn't be able to pin point a specific thing that is making MWR struggle, but the Toyotas as a whole don't seem to be dominating like they had last year so that could have something to do with it.
Question 4
Jeff Gordon is off to his best start in 17 years, sitting third in points thanks to a fourth at Daytona and a fifth at Phoenix. Does he truly contend for the title this year?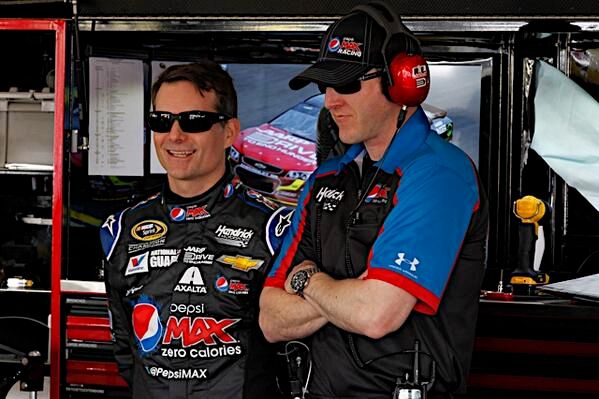 Hobbs : Yes; as long as the entire 24 crew is impeccable week in and week out and Alan doesn't make any silly calls. I hope he does win it all this year; but I don't want him to retire just yet.
Kacar : Another one impossible to know. But with the way the Chase is formatted this year, he has got to start winning races more consistently or he probably won't contend for the title this year.
Brincks : If Jeff can finish top-five a bunch this year and win some races, then absolutely he can win the Cup. He's been so-so the last couple years, but so far, he and Jr. lead the way for Hendrick this year. Maybe we'll see someone other than Johnson holding the championship trophy after Homestead for Hendrick.
Parrack : I say yes! I definitely think he still has another championship in him, but we'll see how things go!
Before we delve into our picks for the Kobalt Tools 400 at Las Vegas Motor Speedway, here's a look at the Team TPF Cup Standings after Phoenix:
1) Rob Tiongson - 88 points
2) Shelby Parrack - 82 points
3) Ashley Hobbs - 78 points
4) Matt Kacar/Nick Brincks - 72 points
With only 16 points separating first from a tie for fourth place, it's critical to win now! Now that we've gotten all the four storylines heading into Vegas out of our way, let's reveal our race picks now!
Brincks : Brad Keselowski's off to a great start this year, like last year. I'll pick him for the second week in a row.
Parrack : My pick this weekend is Carl Edwards, as when I think Vegas, I think Carl.
Hobbs : Going with Matt Kenseth!
​Kacar : I'm going with Kasey Kahne.
Tiongson : Gotta think Six Time wants to win now. He's been lurking and getting solid finishes - now is the time for Jimmie Johnson to get that fifth win in Las Vegas.
There you have it, race fans! The TPF crew has spoken and given their thoughts on round three of the NASCAR season. How about you? What do you think are the biggest storylines heading into Sunday's race at Las Vegas? And who is your favorite to win the Kobalt Tools 400? Tweet us now @ThePodiumFinish and tell us now! Thank you, Nick, Matt, Shelby, and Ashley - let's go racing, girls and boys! Lastly, this article is dedicated to Shelby and her family after the loss of one of their loved ones - TPF is thinking of you all!