From an aerial shot and from TV camera angles, Atlanta Motor Speedway may look like a clone of its sisters at Concord, NC and Fort Worth, TX. However, beyond the grass by the dogleg in the frontstretch and the 24 degrees of banking in the corners, that's where the similarities end. Unlike Charlotte Motor Speedway and Texas Motor Speedway, this 1.54-mile track is all about tenacious, high speed action where the asphalt truly challenges the tires, the cars, and most of all, the drivers for at least 500 miles with Sunday's evening Oral-B USA 500 (Live, Sunday at 7:30 PM ET on ESPN).
From the engines, which will certainly be put to the test in what is usually a long, grinding race, which starts at dusk and transitions into the Georgia nighttime skies that has a 100 percent chance of 850 horsepower thunder with 43 cars circling this peach of a track. Typically, the intermediate track specialists shine here but some of the upstarts and underdogs in stock car racing have found AMS as a place to shine. Just ask Carl Edwads, who broke through in 2005 with a dramatic photo finish win over Jimmie Johnson. Kevin Harvick came through in a thrilling duel over Jeff Gordon in 2001. Anything can and will happen at this famed Hamtpon, GA-based track, which for the winless Chase Grid racers, translates into some good news and hope with two races left before the 10-race battle for the NASCAR Sprint Cup championship.
This week, Ashley Hobbs hosts Trending Topics as she correctly chose Matt Kenseth as the highest placing racer for last Saturday's Irwin Tools Night Race at Bristol Motor Speedway. By virtue of Kenseth's third place finish, it's Hobbs time while Shelby Parrack, Courtney Clement, Jessica Tow, Ashley Hull, Isabelle Beecy, and yours truly talk about this week's four hottest stories heading into Sunday evening's race at Atlanta. Are y'all ready for some NASCAR talk? Well, here it goes, race fans!
Trending Topics by Ashley Hobbs
Question 1
Just a short time after NASCAR's new rule about drivers exiting their cars (while not in immediate danger) and approaching cars on the racing surface, we saw Denny Hamlin take a few steps on the apron to lob his HANS device at Kevin Harvick. NASCAR has not given any penalty to Hamlin for doing so. Are they right in not doing anything about this incident? Does it send a mixed message surrounding the new rules?
Parrack : I feel like this is a really valid question, but my answer would be no I don't think Denny did anything wrong and nascar isn't sending mix messages. I say this because Denny did wait for officials and safety workers to arrive before getting out of his car, also he was surrounded by the workers when throwing the HANS device. I don't know if I can explain properly how I feel this was a completely different instance because Denny didn't put himself in obvious immediate danger doing this.
Clement : No, they are in the wrong for not doing anything about this incident. If they are going to make new rules, they need to be enforced. It sends a lot of mixed messages surrounding new rules. It leaves everyone wondering whether they will continue to not enforce this rule, and also to wonder what will happen when new rules are created for the series.
Tow : Yes, NASCAR was right in not fining Denny Hamlin for his actions during the night race at Bristol last weekend. Hamlin himself didn't approach the cars; he didn't exit until the safety crews arrived and once he did he stayed right next to his car. Throwing an object is much different than stepping out towards traffic. For the sake of this sport, actions such as this should not be punished.
Hull : Watching the video again, Denny was not even close to the cars. It appeared as if he was just standing there with the safety workers and just he tossed his HANS at Kevin Harvick. Now, if he had tried getting close to the cars, there would have been a penalty. But he was nowhere close to the cars, so he was fine. So, I believe they were right in not punishing him.
Beecy : I have mixed feelings about how they handled it. On one hand, I think they should actually enforce rules if it's a safety concern, especially following the circumstances surrounding the creation of the new rules. One the other hand, though, it did seem like Hamlin stayed close enough to his car that it seemed like he was far enough out of harm's way. I think it does send a bit of a mixed message because it almost feels like, what kind of situation will this be enforced in? I think NASCAR is kind of taking it by situation and handling it that way. But that's just me.
Tiongson : I think with Bristol, the emotions are going to come into play so as long as the drivers are smart about it and don't put themselves in a precarious position, the whole "Boys, have at it" can still apply. We don't have to sacrifice the emotions totally but it's a paramount thing that NASCAR enforces rules and penalties if drivers or crew members pit themselves in more danger than warranted. For the most part, everyone's acknowledged these dangers and as a result, we don't see them messing around too much. When this season wraps up, it'd not be too surprising to see NASCAR revisit this more and modify or make some addendum regarding this situation moving forward.
Question 2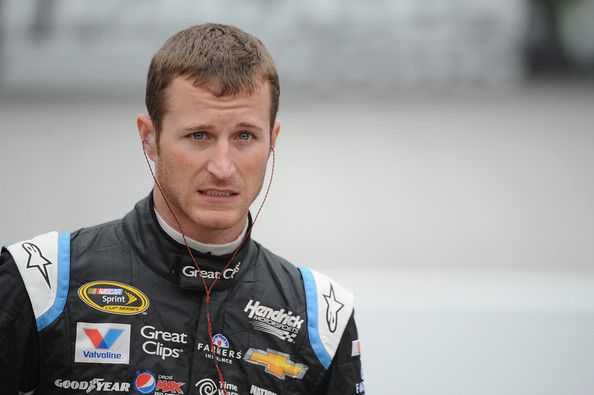 12 drivers have clinched a spot in the Chase, leaving four spots up for grabs with just Atlanta and Richmond remaining. Knowing there are two chances left to grab a win and earn a spot no matter what, do you see any of those winless drivers closing the deal, and who are your four picks to make those last spots?
Parrack : I really see Kasey Kahne bringing something for us this weekend, he's always been pretty good at Atlanta. My picks for the last four spots are Kasey Kahne, Matt Kenseth, Greg Biffle and I'm undecided on either Kyle Larson or Jamie McMurray for the lost spot!
Clement : I think we will see a lot of gutsy driving the next two races. My four picks to make the last spots would definitely be Kasey Kahne, Kyle Larson, Austin Dillon, and Paul Menard!
Tow : I'd like to see a winless driver make it into the Chase within these final two cutoff weeks. However, knowing how good the top drivers are, I doubt that that's going to happen. My picks for the final four Chase spots: Kyle Larson, Greg Biffle, Matt Kenseth, and Kasey Kahne.
Hull : At Atlanta, based on driver averages, the one who has the best chance to win this race out of the winless drivers would be Matt Kenseth, or Ryan Newman. At Richmond, I could see Kenseth, Newman, and Clint Bowyer winning there. Other than that, they will have to finish well to get locked into the Chase. I believe that Kenseth, Bowyer, Newman, and Biffle could get in if they finish well these next two races.
Beecy : I'd say Matt Kenseth, Clint Bowyer, Kasey Kahne, and Greg Biffle make it in, if not win. Three out of the four of them have wins at the next two tracks, so if they can do it again, they're in. I think Biffle will have to work a little bit harder to make it in as he doesn't have a win at either track but he's got nine top tens at Atlanta and six top tens at Richmond. Based on that I think he can make it work.
Tiongson : The pressure's on these last minute spots but it'd not surprise me if none of the winless drivers fail to score a checkered flag between now and that photo shoot at Richmond when all's said and done with the regular season. Atlanta is going to be a test on equipment as the teams will deal with the dual tread zone tires from Goodyear and of course, it's a high speed, high horsepower track so watch for the cars to be put to an extreme test from practice to race day. In terms of racers who'll at least make the Chase, I see Matt Kenseth, Clint Bowyer, Kasey Kahne, and Greg Biffle stamping their tickets into playoffs but going, "I hope we have something for these teams starting at Chicagoland."
Question 3
Kyle Busch is usually the man to beat at Bristol. Over the past several weeks, he has stumbled during the races so one can assume he was ready to make up some ground at Bristol; but we saw yet another catastropheunfold in the 18 camp. What do you think is going wrong for the 18 team and can they turn things around when the Chase is here and actually contend for the title?
Parrack : I feel like a part of the old Kyle is back, and he always does this come Chase time. He lets his emotions get the better of him and things just end up going downhill until the end of the season. With that being said, JGR is not performing the way they did last year and there is room for improvement. I just don't see Kyle and the No.18 team actually contending for the title this year unfortunately.
Clement : Personally, I think he is one of the drivers to beat out on that track. I definitely think he will contend for the title when the Chase begins!
Tow : Clearly there is a lack of communication between Kyle Busch and his team members. I'm not entirely sure what's going on other than Busch and his crew chief have not seen eye to eye over the last couple of weeks and Busch's performance has been hindering because of that, as well as his poor attitude. Honestly I do not believe that Kyle will have any type of impact on this year's Chase. Maybe next year...?
Hull : At the risk of criticizing Kyle Busch, the first thing that is going wrong is that he is putting way too much emphasis in winning the other series'. It seems like he gets angrier about losing a Nationwide race, than doing badly at a Cup race. I personally think that he should quit racing in other series' and focus more on winning the Sprint Cup championship. Also, I see a lot of tension between Busch and his crew chief, Dave Rogers. It all came to a head Saturday night when they had a tiff. I don't think that the chemistry is there any more. Third, his attitude really needs to change. Not only does he need to learn how to lose gracefully, he needs to not let small things get to him. If he does that, he will lose focus. That being said, he is talented and I think that he can get it together by the time the Chase rolls around.
Beecy : I think mostly it's just bad luck combined with Rowdy getting into his own head. He seems like the kind of guy who wants to win, no matter what, and puts pressure on himself to make it work the next weekend - sometimes too much pressure. With the bad luck that's been hitting the 18 team in recent weeks, he's likely psyching himself and putting too much pressure on himself to at least contend for the win and finish well. I hope, for the sake of the entire 18 team, that their luck can snap and they can turn it around and contend for the title. I think time will have to tell, though.
Tiongson : It's way too similar to their implosion in 2012, but fortunately for this bunch, they're not going to miss the Chase barring any unusual circumstance. Perhaps what happened at Bristol was simply the 18 team just being totally off in all aspects, from some mistakes by the driver to a total breakdown in communication with everyone in that JGR unit. Clearly they were frustrated and they had a right to be as they've had fast cars week after week but nothing to show for it. Kyle Busch has sometimes let his anger and pent up frustration get the best of him, but it's a high stakes sport and his perfectionist personality is also an asset for his team. I am curious to see if Dave Rogers and Kyle Busch are able to work this out or if we may see a change in the crew chief department after this season.
Question 4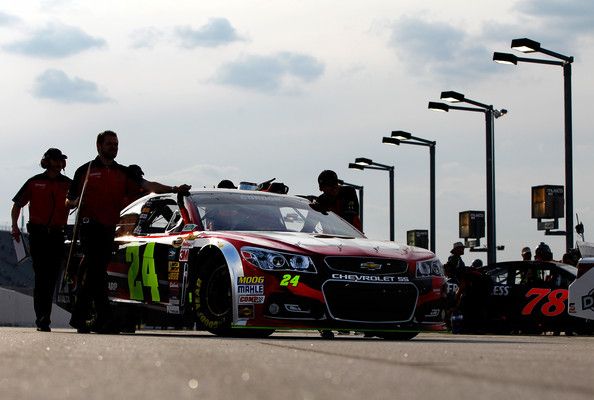 With the new schedule that came out Tuesday at 5 PM ET, does any movement surprise you? What movement of tracks are you happy/unhappy to see happen?
Parrack : I'm not overly surprised by any of he moves. I'm quite excited about Atlanta being much sooner in the year as it is one of my favorites and it makes much more sense to me to go from Daytona right up to Atlanta and then do the West Coast. I'm happy to see Bristol pushed back a few weeks as I was one of the ones complaining about weather factoring in to race results this year. Another thing I'm pleased about is that there won't be a "double-header" with cup and trucks on Labour Day next year like there is this year. (As I go to Mosport and have a hard time making it back to see the Cup race) I'm a little disappointed in the fact that they didn't mix up the Chase any, or add any new exciting tracks to the cup series such as Mid-Ohio or even Iowa.
Clement : Three words. Daytona July race. Personally, I think it needs to go back to being raced on the fourth, but I'm a little biased because I'm a very traditional person. I also know people are complaining about Atlanta in the beginning of March, but coming from someone who lives in a place where March is considered spring with 40 degree weather, Atlanta will not be nearly as bad as everyone is saying it will be.
Tow : I'm not surprised by any of the changes made, other than I feel bad for Atlanta and Las Vegas that their race season ends so soon. From a biased standpoint, I'm extremely happy to see that New Hampshire will continue to have two Cup dates.
Hull : I don't see any difference in the schedule, other than the fact that they changed Atlanta and Darlington, and Bristol around. As someone who likes the old school schedule, I am happy that things are back to the way that they were. That being said, I wish that they could have added a road course to the Chase, especially in the Eliminator round. That would have been exciting and would help prove who really deserves the trophy. Instead, they kept the more boring tracks. I hope that next year, they will do more with the Chase schedule.
Beecy : Nothing really surprised me too much. I think it'll be good to see what happens with the races that did get moved, especially in regards to the weather. It seems smart to make the races that have high temperatures in their current 2014 dates be on cooler dates in 2015. I'm happy to have Darlington back on Labor Day weekend. I'm that kind of person who likes to have certain races on certain weekends, and that includes the Darlington race. Otherwise, I'm relatively neutral on the rest of the changes.
Tiongson : I think that I was surprised somewhat with the July Daytona race going from Saturday night to Sunday night, but as Joie Chitwood explained on NASCAR America, he had faith in NBC Sports delivering with great promotion leading up to the 400-miler plus they wanted to capture as much fans as possible with ratings. As this will be their first race since 2006, they'll want to throw all the stops in making it special for everyone. I'm thrilled with Darlington going back to its traditional Labor Day weekend because it's going to educate and show the newer fans what a lot of the older enthusiasts enjoyed and it'll bridge some generations in that regard. In terms of a change that I wished I had seen, while I love Atlanta, it's too bad that it's the second race of the season. Hopefully, it works out for them because it's a great track and the racing is fantastic. Maybe it'll find a permanent home date some day.
From flinging a HANS device to the new schedule in NASCAR for 2015, there's plenty of buzz in this sport. Speaking of which, we've got some noise with our TPF Track Talk standings! With two races left, our panelists are trying to set themselves up for a prime spot at the TPF Cup! Here's a look at our points standings heading into Race 25 at Atlanta!
Rob Tiongson - 881 points (5 wins)
Ashley Hobbs - 879 points (3 wins)
Shelby Parrack - 866 points (3 wins)
Isabelle Beecy - 840 points (2 wins)
Ashley Parris Hull - 840 points (2 wins)
Jessica Tow - 781 points (3 wins)
Courtney Clement - 725 points (1 win)
​This weekend could be a true difference maker for the TPF Track Talk team! One writer could find themselves clinching the number one spot while Hobbs, Parrack, and Tow look to capture a fourth win. Beecy and Hull look to tie things up for second place while Clement is searching for a second win. Now the moment of truth's here and we'll be giving it all! Here's our race picks for Sunday night's Oral-B USA 500 at Atlanta!

Tiongson : A five time winner at AMS and an overall solid pick at any track, I look for the No. 24 Panasonic Chevrolet SS driven by Jeff Gordon to win on Sunday night. Win number four will be a sweet one for this 43-year-old racer.
Hull : My pick to win the Oral-B USA 500 is Jeff Gordon.
Tow : Going with Jeff Gordon.
Parrack : My pick to win this weekend is Kasey Kahne! He desperately needs a win to get himself into the chase and I think this is the perfect place to do it!
Clement : My race pick is Kevin Harvick!
Beecy : Race pick this week is Carl Edwards.
Hobbs : I gotta try to top ya, Rob. I'm still confident in Jeff Gordon at Atlanta but I'm changing my TPF pick to Kyle Larson!
There you have it, race fans! The Track Talk crew has spoken and given their thoughts on round 25 of the NASCAR season. How about you? What do you think are the biggest storylines heading into Sunday night's race at Atlanta? And who is your favorite to win the Oral-B USA 500? Tweet us now @ThePodiumFinish and tell us now! Thank you, Isabelle, Shelby, Ashley Hobbs, Ashley Hull, Courtney, and Jessica - let's go racing! And as always, the opinions and thoughts express in Track Talk are solely of the authors and do not reflect on the organizations mentioned, FanVsFan, or of TPF. This weekly feature is strictly for entertainment purposes and are not indicative of TPF, the organization, and its staff.