If you thought the concrete beast known as Dover International Speedway was something, then you have yet to see racing from Pocono Raceway. At 2.5 miles, this triangular shaped speedway is something of a unique NASCAR Sprint Cup venue in that it has three distinct corners and straights that are so lengthy, it's not uncommon to see four to five wide formations before drivers are forced to funnel into the corners, at most, double file. Nestled in Long Pond, PA, it's a mostly quiet locale but when NASCAR comes to town, it's enough electric and noise to make a rock concert seem like Mozart!
Long green flag runs can be the name of the game here, as drivers will be shifting gears in the corners to gain the optimum line and speed for 400 miles, or 160 laps. A speedway that drives like a road course, it's not uncommon to see "The Tricky Triangle" favor those who typically know how to turn left and right with ease. That said, horsepower and a good aero package is definitely what's needed to get around this very challenging course with a chance at the victory. Lastly, and we probably already mentioned it, but it'll be about shifting - recall that in 1995, Jeff Gordon missed a shift and surrendered a definite chance at the win in the June race and Terry Labonte took full advantage of his teammate's gaffe.
Sadly, during the past week, we said farewell to a good friend of TPF and Track Talk, as Matt Kacar has withdrawn from the competition. We thank him for his 10 months of being a member of the team and welcome him back at any time! As we say, the show must go on and with that, we're now a field of 7 - but wait....we have a special guest Track Talk panelist! From Pocono, we welcome Isabelle Beecy, our co-Editor-in-Chief, to Track Talk as she'll be our guest analyst alongside yours truly, Courtney Clement, Ashley Hobbs, Ashley Parris Hull, Shelby Parrack, and Jessica Tow! Nick Brincks, who correctly and first chose Jimmie Johnson, for the race at Dover, will be our host this week. Are you ready to get your triangle on? I thought so - let's get to it!
Trending Topics by Nick Brincks
Question 1
TNT kicks off their NASCAR coverage this week for the last time. With the new TV package starting next year, what do you hope to see from Fox and NBC to make the coverage better?
Beecy : I honestly think Fox and NBC should consider explaining some of the "exclusive to NASCAR" rules for the people who don't frequently watch it or are coming over to it from other series. For example, IndyCar and F1 don't have restart zones, competition cautions, or anything like the Chase. I had no idea what those were when I started watching NASCAR and if I had had more straightforward explanations from the announcers as the races and seasons were happening, I feel like I'd understand them faster and maybe a little better.​
Clement : The obvious of course; I like seeing pit stops with times, I like hearing the commentary. I also like when they have the order of how quickly each driver got out of the pits, and an order of how fast pit stop times were. I would like to hear more about driver standings. The NASCAR app helps me a lot, but I would like updates before races begin and, if at all possible, after races end on how each drivers points have changed. This way, it keeps us fans more knowledgeable on the overall Cup series, rather than just how each of the individual races end.
Hobbs : Let us take away the fact that we cannot do much about commercials; NASCAR as a live sport is one of the cheapest to buy into thus they are going to sell more commercial slots to make money. In terms of experience, I am hoping for un-biased, fact filled yet entertaining, coverage. I think NBC will go all out to get fans back to watching on their network so I am hoping for some awesome programming, especially new segments. For both, keep pre-race programs short. TNT has an hour long pre-show and I think that is too much. With Fox Sports covering before the pre-race, it is just a lot and they usually talk about the same material. Make it 30 minutes, give us major news stories, get analyst predictions, and have fun with it! Keep us entertained Fox and NBC! That is all I ask :)
Hull : The biggest thing for me is that they all need to air less commercials, and show more coverage of the race. I think a lot of fans are getting tired of watching the race, and having a commercial pop up ever 5 minutes, as Fox has been doing. I know that they need sponsors to keep up with the coverage, but the overage of commercials is wearing fast on fans. So, less commercials, more racing!
Parrack : I'm sure there are a ton of things we could come up with for this, but the first thing that comes to my mind is less commercials or more side by side screens during commercials. As race fans we know most of the action, accidents and cautions occur during commercial breaks! The most thing I'm excited for is for Rick Allen to be our play by play announcer, as he is by far the best broadcaster in NASCAR in my opinion and he deserves to be heard at the Cup level!
Tiongson : Like what the team said, we could do without too many commercials, but having worked in the production side with races before, I know you can't do too much about the ads. It's what pays the bills. Essentially, what I look for NBC to work on with their NASCAR coverage is to not overly educate the new fans but at the same token, making sure the long time fans are rewarded and catered to as well. They've gotten a headstart with their comeback by having NASCAR America on NBCSN and with some great personnel, I think they're off to a good start overall.
Tow : With the implementation of Fox Sports 1, I understand that this season was going to be a trial and error process for the newly minted FOX Sports division. However, they defintely need to go back to the drawing board and take care of their issues. The only thing that FOX Sports had going for them was their legendary broadcasting crew and moving Race Hub back to an hour-long format. Otherwise their problems started with that horrid scoring box at the side of the screen. UGH. Although they eventually listened to fans and moved the scoring box back to the top of the screen, nothing really impressed me about FOX Sports' coverage this season. You know what they say...if it ain't broke, don't fix it. Although change is inevitable, some things should try to remain the same or at least somewhat similar in a sense.

When it comes to NBC's future coverage of NASCAR, I am sure that they are going to bring justice to the sport we all know and love. More than anything I am interested to see what Jeff Burton and Steve Letarte will bring to the table as full-time broadcasters/commentators. It's always fun to have guys in the booth who been derived directly from the industry, whether it's a driver or a team member. Plus lets face it...both Burton and Letarte have fantastic on-camera personalities...what could go wrong?
Question 2
Jamie McMurray's car was damaged when he hit a piece of concrete that came out of the track on Sunday. Should NASCAR reconsider it's "no working on cars under red flag" policy to allow for exceptions like that?
Beecy : Oh my word, yes. I definitely think if it's something unpredictable and not the driver or team's fault, like if a piece of concrete comes out of the track, the teams should be allowed to work on cars but if it's from anything else, then they probably can't. Jamie McMurray most likely had no way of knowing that the track would come apart like that and it was unfair to make him sit for almost half an hour and lose laps because of it. Hopefully, future situations like that can and will be prevented from happening again.
Clement : No, I do not think their policy should change for one sole reason. If they tried to change the policy, it would leave a lot of wiggle room. The policy would not be clear cut, and many people would interpret it in different ways. There are a ton of times where we all wished that certain drivers could have had their cars worked on under red flags – not just in the NASCAR series. But the easiest way to deal with it is to have the simple policy of absolutely no work done.
Hobbs : This isn't the first time in recent years and it won't be the last; yes, NASCAR needs to modify their rules. It seems that when multiple cars are impacted, they are all for changing the rules; but not for a single driver. My thought on this is that you give them a certain amount of time under red (as it is guaranteed to be a red flag to fix the track) to fix ONLY the damage done from the track. Once that time is up, they no longer get to touch the rules. Once the yellow comes out, all normal rules apply. What happen to McMurray was not good by any means and I think NASCAR should not have penalized him for coming into the pits under red (that rule would also be in effect; no penalty for coming in to fix it).
Hull : I think it should, because that was completely out of his control to have the track come out like that. It's not like it would give him a complete unfair advantage, because even after they do the repairs on the car, it still wouldn't be like it was before. For the circumstances that happened, I would say yes. Otherwise, in most cases, no.
Parrack : I feel like this is a no brainer and I was truly upset with NASCAR for not allowing the No. 1 team to work on their car. If I recall, the No. 18 team was allowed to repair their car after the overhead camera incident at Charlotte last year. So they should have a rule that applies to everyone, not just certain teams.
Tiongson : I think in extreme circumstances, we need to consider having repairs allowed. We saw that at Texas with the jet dryers damaging Brad Keselowski's hood earlier this year, and of course, we saw the cable incident at Charlotte last year. We can't forget the pothole issue of 2004 at Martinsville either with Jeff Gordon. I think we could allow for some lenience when the tracks fail, not when the drivers cause failure to happen.
Tow : There is definitely a fine line when it comes to this type of situation. I think in extreme circumstances exceptions should be made to allow teams to work on their cars under a red flag scenario. However, I understand both sides of the situation. What happened to Jamie McMurray's car was awful and unforeseen. Therefore his team should have had the opportunity to work on his car. However, competitive rules are in place for a reason and in order to keep a "naturally" competitive environment, the rules must be followed through regardless of circumstances. Do I feel bad for Jamie McMurray? Absolutely. Do I believe that his team should have had the opportunity to fix his car? Yes. But when it comes down to it, rules are rules.
Question 3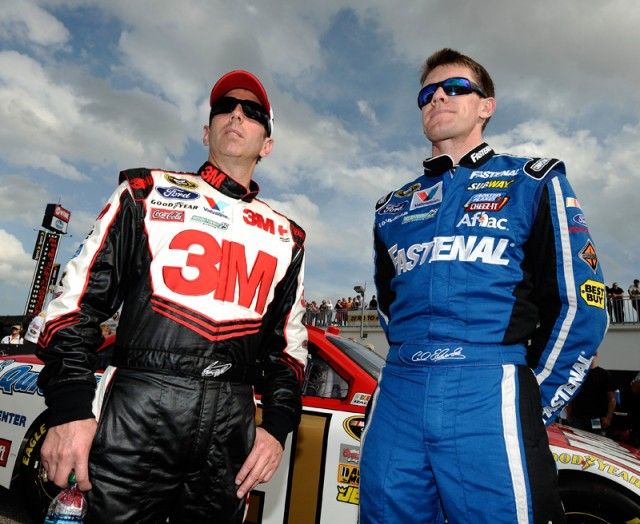 It's very possible that Carl Edwards and Greg Biffle could leave Roush Fenway after this season. If that happens, could that be the beginning of the end for Jack Roush in NASCAR?
Beecy : I'm not 100% sure what the situation with Roush Fenway is at the moment, but I hope Edwards and Biffle potentially leaving isn't the end of the team in NASCAR. It's always sad when a team leaves a sport and I'd hate to see it happen to anyone. However, if it comes down to it, the best time to close doors on the shop would probably be the end of the season so that as few people as possible are completely out of luck.
Clement : In the Sprint Cup series, maybe. Stenhouse makes appearances in the races and has yet to do anything too spectacular, but knowing Roush Fenway, I'm sure they'll find a way to stay one of NASCAR's largest racing teams. They also have drivers for Nationwide and the CWTS, so it's possible that they may flourish elsewhere instead of in the Sprint Cup series.
Hobbs : If both Edwards and Biffle leave, Roush will surely be in a rebuilding season, if not a few. Stenhouse Jr. is only in his 2nd year and seems to have run into that sophomore slump and Trevor Bayne is coming up next year. I am a fan of both drivers, but they cannot run with the rest as of yet. Roush needs to do something to turn this formally top tier team around to get back to the top. Without Edwards or Biffle (mainly Edwards in my opinion), Roush will be hurting.
Hull : This is hard for me to write because I am a fan of Carl Edwards, but they really haven't been giving any of their drivers the equipment they need to succeed. With that being said, even if they do both leave, it won't be the end of RFR. Even though there will be some young people on the team and no veterans, they still will have good talent in Ricky Stenhouse, Jr., and Trevor Bayne. They just won't have that veteran to look up to, and that could be not such a good thing. But do I think the team will suffer because of it? Probably not.
Parrack : I really hate to admit it (as an RFR fan) but the team is a B level team. If both of its top drivers were to leave, they would be left with essentially two rookies so they wouldn't be classified as one of the main teams anymore. I really feel like only one will be leaving though, as there isn't a wide variety of seats open for top drivers like Carl and Greg.
Tiongson : I would hate to say both of them leave Roush Fenway. Their careers virtually started with this organization and it dawned upon me how Biffle joined this organization in 1998 while Edwards joined it in 2003. I understand leaving for more money - hopefully, we'll seee RFR retain the captains of their Cup ship.
Tow : Although Carl Edwards and Greg Biffle are the current faces of Roush Fenway Racing, life goes on. There are other up and coming drivers who are anxiously awaiting their turn to compete in the Sprint Cup Series. It may appear as if Roush Fenway Racing has lost their competitive edge slowly but surely over the last few seasons. However, in looking at the current points standings, Edwards is sitting third. A solid finish in the points standings for at least one of these two drivers could mean something great for the entire Roush Fenway organization. On the other hand, if Edwards and Biffle both actually decide to venture elsewhere I think it's definitely going to make things interesting.
Question 4
We are now halfway through the regular season. Which driver has surprised you the most and who has been the most disappointing?
Beecy : I guess this would fall under "most disappointing" but I'm surprised it took so long for Jimmie Johnson and the 48 team to get a win this season. They're a wildly successful team known for winning and getting championships. It's hard to wrap my head around the fact that they were winless up until the Coca-Cola 600. On the flip side, Kyle Larson has been doing incredibly well. It's only his second year in NASCAR (counting Nationwide last year) and he's already got two top fives and five top tens. With that kind of record so far this year, I wouldn't be surprised if he gets a win sometime in the next season or two.
Clement : It surprised me that Jimmie Johnson had his back to back wins, only slightly, but it was still surprising. I can say that I will not be surprised if he wins anything else, whether it be a three peat or not. I can also say that I've been a little disappointed with my man Tony Stewart. However, I am waiting for his comeback that will happen very soon. Patiently waiting.
Hobbs : Surprised The Most: Kyle Larson first and fore most. This rookie is really shining and might very well be in the Chase this year. He has an average finish of 15, which puts him 10th best average, with 7 top 15s. Honorary mention: Jeff Gordon. It seems that some fire has been found in Gordon and that 24 team this year and they seem to be having their best season in years and I hope they keep it up.
Most Disappointing: Kurt Busch. There have been 58 drivers who have competed this year; 38 of those are attempting a full season (aka full time drivers whether or not they made every race). Busch sits 28th on average finish of those 38; he is being bested by teammate Danica Patrick, and slightly under funded driver Casey Mears. Kurt is the worst of the best. In other words, those who have a worse average finish than him are teams who are under funded. His win is the only thing getting him attention as he is in the Chase (for now).
Hull : I have found Kevin Harvick this year to be more surprising than the rest. He has been going on a tear this season, and has had a few races that he could have one if not for bad luck. I think that moving to a new team has paid off for him. As for the most disappointing, I would have to say that Clint Bowyer has been disappointing this year. He has had the worst luck of all of the top drivers.
Parrack : I would have to say Kyle Larson has surprised me the most, I really didn't think he was ready for Cup yet he's been up there contending most weekends! The most disappointing I would have to say would either be Austin Dillon or Tony Stewart. I think people thought we would see a lot more out of the 3 this year than we have seen. As for Smoke, two of his other SHR cars have been top contenders this year while he sort of gets lost in the middle of the pack, safe to say we always expect more from him!
Tiongson : For a driver who's surprised me, how about Trevor Bayne? I'm glad to see him finally get that full-time Cup effort in 2015 but most of all, he's been very fast and competitive in the Nationwide title race this year. As for a driver who's been disappointing, I'd have to say it's Clint Bowyer. We know how great he is as a driver and Brian Pattie is a solid crew chief - they'll get this figured out soon.
Tow : There are two drivers that have surprised me the most so far this season: Dale Earnhardt, Jr. and Kyle Larson. Junior is having one of the best seasons; we all knew it was bound to happen soon. His performance over the last couple of seasons has shown that he's been fighting and clawing his way to the top. I mentioned in a previous Track Talk segment something about drivers experiencing a slump in their performance after winning the Daytona 500 during any respective season. Junior has been proving that statement wrong up to this point. Opening the season with a Daytona 500 win only proved that this was going to be his season and that nothing was going to stop him. So far so good, right Junior Nation? :) Another surprise for me is Kyle Larson. We all knew that he was a wheelman, but as a rookie in the Sprint Cup Series I am definitely stunned at his competitiveness so far. He is currently sitting in the Top 10 in points....10th! When have we ever seen a rookie's name that high in the standings? Larson is going to be a legend in this sport...his performance up to this point proves it.

The biggest disappointment I have seen so far this season is Tony Stewart. Reflecting back to last week's questions, all drivers go through seasons where their performance slumps. It happens. Smoke is still recovering from a broken leg injury and is now working overtime fielding four Sprint Cup Series teams. All other reasons aside, his performance truly has been disappointing given his level of competitiveness over recent years.
It's been girl power for a second straight week on Track Talk, as Shelby Parack greatly lengthens her points lead! That said, yours truly is still on the prowl and a few of our writers earned their wins last week! Before we reveal our race picks for Pocono, let's look at the points standings as they were after Dover:
Shelby Parrack - 444 points (1 win)
Rob Tiongson - 425 points (2 wins)
Ashley Hobbs - 398 points (1 win)
Nick Brincks - 384 points (2 win)
Ashley Parris Hull - 126 points (1 win)
Courtney Clement - 120 points (1 win)
Jessica Tow - 48 points (1 win)
Isabelle Beecy - 0 points
We know you've waited for this all week long - so without further ado, let's reveal our race picks for Sunday's Pocono 400 right now!
Tiongson : I'm going to continue the Jeff Gordon and No. 24 streak here. Yes, I'm losing points but I want wins and right now this is a team that wants that big second W after the let down at Dover. I look for this team to rebound and get things done at Pocono for a fourth spring race win here!
Brincks : I'll take Jeff Gordon this week for the win.
Tow : Decisions, decisions....ok, it's Jeff Gordon.
Beecy : A.J. Allmendinger for the win! Surprise...not really!
Clement : My pick this week is Jimmie Johnson, for obvious reasons. Boom. Confetti.
Hobbs : You know what is funny? Fox Sports had a poll up a few weeks ago, before Johnson won at Charlotte, which race would he win at (Charlotte, Dover, Pocono, None). They said over 40% of those who answered said none (honestly, I said Dover). And now, I am saying Pocono as well; I think Jimmie Johnson starts annoying the haters even more now by getting his 3rd win of the season and 3rd in a row.
Parrack : My pick this weekend in Pocono is Brad Keselowski, as the Penske cars have kept up their hot streak lately so I think BK can pull off a win here!
Hull : My pick to win this weekend is Joey Logano.
There you have it, race fans! The TPF crew has spoken and given their thoughts on round 14 of the NASCAR season. How about you? What do you think are the biggest storylines heading into Sunday's race at Pocono? And who is your favorite to win the Pocono 400? Tweet us now @ThePodiumFinish and tell us now! Thank you, Isabelle, Nick, Shelby, Ashley Hobbs, Ashley Hull, Courtney, and Jessica - let's go racing, girls and boys! And as always, the opinions and thoughts express in Track Talk are solely of the authors and do not reflect on the organization or of TPF.