Michigan has wide open spaces and wide open racing. Is Sunday's Pure Michigan 400 going to be purely exciting?
When race fans think of the one track that has maximum speed, white knuckle action, and wide open spaces, it's not uncommon to think of Michigan International Speedway. This beautiful 2-mile superspeedway in Brooklyn, MI has been host to some of NASCAR's most memorable finishes, such as Dale Jarrett's photo finish victory over Davey Allison in 1991, as well as Jeff Gordon's epic '01 victory that brought Hendrick Motorsports' 100th NASCAR Sprint Cup win, and Dale Earnhardt Jr.'s emotional win last year on Father's Day weekend.
It's also home to some crazy insane speeds, where it's become somewhat frequent to see the qualifying speeds at over 200 mph. Pole qualifying day tends to be quite the spectacle, whereas race day has been fairly competitive. Oh yea, fuel mileage tends to be the name of the game at this facility, and it wouldn't be surprising to see it be the difference between a driver and team's chances of victory and defeat.
Sunday's Pure Michigan 400 (Live on ESPN at 1 PM EST) will have all those stories as well as the pivotal race to the Chase to consider, with many prolific drivers like Jeff Gordon, Jamie McMurray, and Kasey Kahne looking to make their way back into postseason play. While perhaps the top-five drivers are essentially a lock into the top-10 standings, positions eighth-17th are virtually up for grabs and this race could certainly end "playoff hopes" for the best teams in Cup racing.
Before previewing the race, let's introduce our panelists who'll be "the voice of The Podium Finish" when it comes to NASCAR racing. They're folks you probably interact with on Twitter and they're more than just friendly people, but they're some of the most knowledgeable individuals with stock car racing. I'm pleased to introduce our panelists (which will be growing) Matt Kacar, Nick Brincks, Shelby Parrack, and Jessica Tow. If you'd like to learn more or interact with us, their Twitter handles will be on the first mention of their names in the piece. Let's get to work, TPF Crew!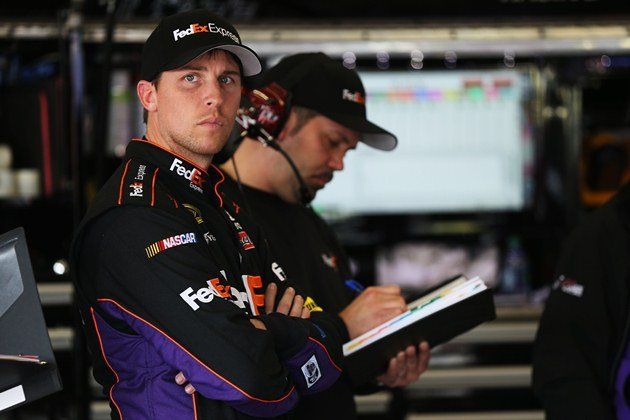 Matt Kacar : My name is Matt Kacar and I've been a big NASCAR fan since 2001. Not really sure what got me into racing. Guess I just enjoy the speed and competition. Didn't really root for a particular driver till 2005 when Denny Hamlin started driving the FedEx car since I work at FedEx. As far as Hamlin goes, this has been a bloody awful NASCAR season.​
Nick Brincks : I'm Nick Brincks, a senior at Morningside College in Iowa, majoring in Mass Communication. My passion for NASCAR began in 2001 when I was 8, as I caught much of the Daytona 500, only to learn about the tragic news late that night. I've watched almost everyone since then, and even get paid to watch some of them as I work part time for the station that carries NASCAR here in town. Radio and television production are two of my other passions, and I would love the opportunity to combine these passions in the future by working in NASCAR broadcasting. Since 2002, I've been a big Jamie McMurray fan (and trust me, it's not always easy!).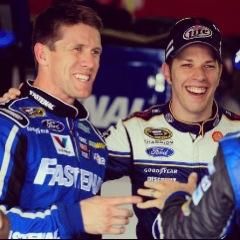 Shelby Parrack : I'm Shelby Parrack and I'm known as the Canadian NASCAR and Twitter fanatic. (True story!) I've been watching NASCAR since the end of the 2008 season and my drivers are Carl Edwards and Brad Keselowski. (Ed.'s Notes : Probably the most devout fan to both drivers and we can call her an honorary American race fan here in these parts of TPF! Interesting fact : She's been to almost every race at Michigan International Speedway since the beginning of the decade!)
Jessica Tow : Hi, I'm Jessica Tow, of New Hampshire, and I'm a tried and true NASCAR fan. I've been a fan of the sport for as long as she can remember. I attended my first NASCAR race at the age of 6 at what was then known as New Hampshire International Speedway. Ever since, I have attended every NASCAR event held there. My hope is to one day live in Charlotte, NC and pursue a career of some sort within an organization or team affiliated with NASCAR. My love for motorsports extends well beyond NASCAR. I find great enjoyment in all other types of motorsports, including IndyCar, Supercross/Motocross, Global RallyCross, Drag Racing, etc. Currently, I am a full-time retail employee at Nike. In addition, I'm a full-time college student at Southern New Hampshire University, taking classes online to obtain her Bachelors of Science degree in Sport Management. In my spare time, I enjoy spending time at my seasonal campsite, going kayaking, social networking, singing, working on my fitness, and taking care of my animals. My ultimate dream is to visit each of the NASCAR-sanctioned race tracks across the country. I believe that it is important to take advantage of every opportunity life presents. My personal motto is: "Your life is now. Seize it and make it amazing."​
Each week, the panelists will be fielded two-three hot topic issues in the world of NASCAR. It can be about the race weekend, some of silly season transaction moves, or just some random points of contention. In this case, with some rather prolific action happening on and off the track, we dive right into the action with the week in NASCAR!
Pressing Issues in NASCAR (Michigan Edition)
Question 1
We've seen the Gen-6 car break numerous track records, which makes for a very great amount of publicity on qualifying day. Does it necessarily translate to good racing at the track?
Brincks : Most would agree that Watkins Glen was a pretty good race, but do you realize there were zero on-track passes for the lead? The only passing at the front occurred when the leader pitted, a problem that plagued Indy as well. Pocono was a little better at providing on-track passes for the lead, but not by much. A lot has been said that slowing the cars down would lead to more passing.
I'm no physicist, but the faster you go, the more aerodynamics come into play. Once the leader gets in clean air, he pulls away from the field greatly. We've seen this in most races this season. If the cars are slowed down, hypothetically clean air becomes less important. There are still tweaks that could be made with the car to attempt to help these problems.
Removing the splitter, raising the cars off the ground, smaller spoilers, better wearing tires, etc. There are lots of things that could be done to make the racing better. NASCAR's hyped the Gen 6 car so much and it has not matched the expectations they set. It looks great, but it needs to race better.
Parrack : It has definitely been an exciting year when it comes to qualifying, everyone gets so excited when they see a track record has been broken, speed is always exciting. However, I don't feel like this translates to good racing on track. We've seen our share of good racing this year, but in my opinion we could use some help at certain places. Higher speeds does not always equal better racing when you factor in aerodynamics, the tire they run, and the different track surfaces. A lot of drivers feel there could be some improvements in that department. ​
Kacar : It absolutely does not translate to good racing at the track. If you look at the racing last year with the COT and the racing this year with the Gen-6 car, you would see absolutely no difference. NASCAR needs to slow these cars down around 10 miles per hour. It does not help that Goodyear brings a tire that basically has zero give up throughout a fuel run. Need a tire with lots of fall off to get better racing.​
Tow : Look, I'm no scientist or engineer by any means, but we are seven months into the 2013 NASCAR season and at this point the talks of the Gen-6 car have somewhat started to subside. While teams and drivers are still attempting to figure out this car, they sure have a better handle on it now than they did back in February at Daytona. I don't think that track records should have anything to do with how the cars perform during the race. I think that these cars are still going to be a puzzle for probably the next couple of seasons, but as with any new change, time heals all. There's no question that these cars are better than the previous COT model in terms of everything from speed to safety. That's what's important.​
Question 2
Brian Vickers was signed on to drive the No. 55 MWR Toyota Camry with Aaron's doing a full-time gig with them for the next two years. How pivotal is it for Vickers to be back in the Cup ranks and that we've got a sponsor who'll commit for the entire year in this economy?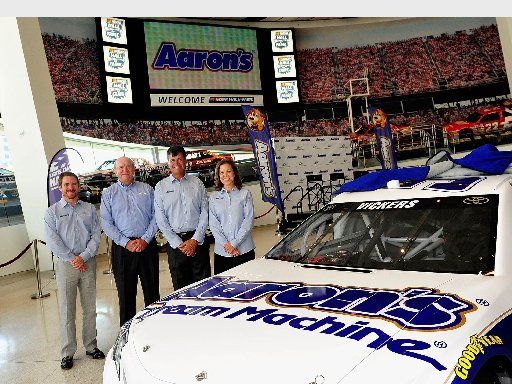 Kacar : It is good to see Vickers have a full time cup ride again after a blood clot almost ended his life and racing career a few years ago. Nice to see Aaron's sponsor the 55 car every race but I bet it is not nearly as much as Hendrick is getting from Lowes for the full season sponsor.​
Brincks : We've all had a good feeling that Brian Vickers would be named the driver for the 55 in 2013. The only stumbling block was Aaron's, who wasn't sure they wanted to commit to Vickers, especially when their other driver Chase Elliott is on his way up to the big leagues. MWR must have done an incredible job negotiating, because Aaron's not only said "yes" to Vickers, committing to two full seasons in this economy is a huge "YES!!!!!"
The win at Loudon for Vickers must have essentially sealed the deal for Michael Waltrip. As far as expectations for Vickers next year, he has to like his chances to make the Chase. In limited starts the past two seasons, he seems to always be running in the top-five or 10. Running well in Nationwide the past month or so and winning at Loudon shows that he can get the job done. Plus, with Truex and Bowyer both close to making the Chase in back-to-back years, Vickers has to enjoy the company he's in.
Parrack : It's great to hear that Brian Vickers will be back in the Cup Series next season, as he's had some trying years and has worked his way back up the ranks. It's very good to see a sponsor like Aaron's support a team the way they have with MWR, and to have signed on for two full years has to give them a lot of comfort and confidence!
Tow : It's extremely exciting that Brian Vickers has found himself back in a solid situation in the Sprint Cup Series with Michael Waltrip Racing, especially considering that Aaron's is going to remain as the title sponsor on the No. 55 car. In a time of uncertainty in our sport, where many sponsors are leaving and many great drivers are losing opportunities, it's promising to hear of news such as this. I'm sure the majority of us knew that it was only going to be a matter of time before Vickers was offered a full-time ride, whether it be with MWR or not.
Nothing against Mark Martin or the man Michael Waltrip himself, but Brian Vickers more than deserves to be the only name labeled atop the windows and front windshield of the No. 55 car. Vickers has proved himself worthy of this opportunity as he's consistently posting top 5 and top 10 finishes. Let's not forget he also won the Camping World RV Sales 301 Sprint Cup Series race back at New Hampshire in July. He's making a serious run for his money.
In regards to Aaron's, there was never any doubt that the company was going to stray away from MWR anytime soon. They are a staple of MWR's sponsorship stable. Ultimately, all drivers will do whatever it takes to land themselves a full-time ride. Vickers was in the right spot, with the right people, at exactly the right time. I hope nothing but the best comes out of this situation.​
Question 3
Austin Dillion has been chosen as at least this weekend's substitute driver for Tony Stewart's No. 14 ride. What would be a realistic goal for the young gun driver in this elite Cup car at Michigan this Sunday?​
Kacar : There should be no realistic goal because he should not be in that car this weekend. He is leading the Nationwide points and is skipping qualifying for the Nationwide race and going to start dead last. We all know how tough it is to pass at a road course. If he loses the title by a small margin, you will probably be able to point to this weekend as one of the reasons he lost. As for the 14 car, I say a top 10-15 finish is very possible.​
Brincks : This one's simple - a top 10. Austin raced at Michigan in June for James Finch in the 51 and finished 11th. In a better car, he should finish better right? I'll give him the benefit of the doubt though and say if he keeps it out of trouble, a top 15 will be a solid outing. Finishing that well in a single-car, essentially sponsor-less, operation in June brings high expectations for this weekend.
Parrack : There has been no lack of news this week! This is a great opportunity for Austin, as it has posed many opinions and thoughts. I think a realistic goal for him would be a solid top 20 finish, but wouldn't be surprised at all if he ended up with an even better finish considering he has experience in the Gen-6 Chevy this season!
Tow : A more than realistic goal for Austin Dillon would be to finish the race in one piece, with preferential treatment going towards a top 20 finish if possible. It's a tough situation all around as Dillon has a job to fulfill, taking on Smoke's ride in the Cup Series this weekend while also keeping his loyalties to his grandfather and his team at Richard Childress Racing. Because of this, communication between Dillon and the No. 14 team is going to be somewhat difficult. Stewart-Haas Racing and Richard Childress Racing are competitors and as Darrell Waltrip stated during Sprint Cup Series Qualifying on SPEED today, SHR will want to keep their communications with Dillon to an absolute minimum as they have critical competitive information that must stay in-house. To sum it up: Dillon's time in Smoke's ride will (more than likely) be short and sweet. I hope for everyone's sake that the No. 14 car will cross the finish line in one piece come Sunday afternoon at Michigan. OK, fine...I'll give him the benefit of the doubt and say a top 15 finish for Dillon. (Nick might have had me convinced with the stat he provided from Austin's finish at Michigan in June while driving the No. 51 car for James Finch Racing.)​
And now panelists....who is your pick for this Sunday's Pure Michigan 400?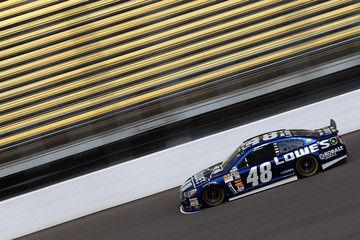 Kacar : Going with the obvious pick this weekend and that is Jimmie Johnson. Tied for most wins this season and he is due for win at Michigan.
He was leading last year with around five laps to go when his engine blew up.​ (Ed.'s Note: Also, he was in the thick of things for the win till crashing with three to go in June of 2013.)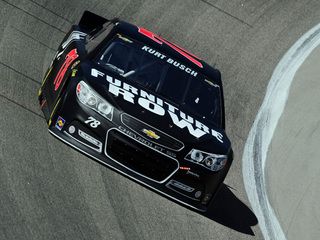 Brincks : Kurt Busch had one of the strongest cars at Michigan in June before crashing out of the event. With pressure to make the Chase, he likely won't be so aggressive to crash.
However, if he's near the front as the race winds down, look out. He's hungry for that first win of the year! (Ed.'s Note : If he wins this race, just imagine how complex the Chase picture gets at Bristol next weekend!)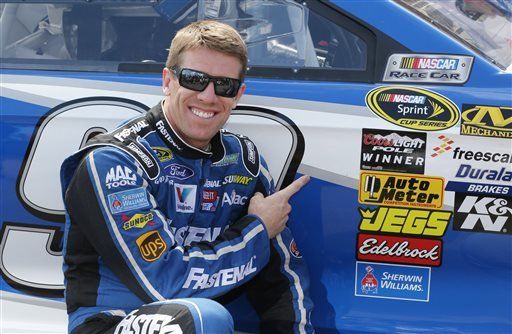 Parrack : My pick for the race at Michigan International Speedway this weekend is Carl Edwards. Yes, that seems completely biased but I feel like the Ford drivers will be strong there. Greg Biffle pulled off the win there in June while Carl started from the pole and finished eighth! Not to mention Carl's stats there are stout. (Ed.'s Note : Carl will miss you this weekend, Shelby.)
Tow : My pick for Sunday's race? Easy: Matt "The Brat" Kenseth! Kenseth has four wins so far this season, all of which took place at oval shaped tracks. Kenseth is no stranger to Michigan. With two wins, 12 top-five finishes and 18 top-10 finishes to his name, Kenseth will surely be the driver to beat. Watch out for him and his No. 20 team to make an appearance in Victory Lane this Sunday.​
And that wraps up this week's edition of "Track Talk!" I want to personally thank Matt, Nick, Shelby, and Jessica for joining the TPF Crew! We'll all be back for a special Bristol edition of "Track Talk" next week. If you'd like to join the crew, tweet me @ThePodiumFinish and say, "Hey, I want to be part of the #TPFCrew!" Join us next week, race fans. Till we meet again!