As the NASCAR Sprint Cup Series drivers and teams prepare for Round 23 of 36, their annual August stop at the 2-mile Michigan International Speedway is more than just a 200 lap/400 mile competition of speed and horsepower. It's bravery and intellect at perhaps one of the most tenacious tracks of the NASCAR circuit, where any reservations or qualms about dropping the hammer on what looks like an inviting track must be put aside. Instead, it's about desire, knowing when to play with the cards that will be dealt with come race day, and preparing for perhaps their toughest battle on both the physical aspect and the machines.
Fuel mileage, high speed, handling, and pit stops will be some of the factors for this Sunday's Pure Michigan 400 (Live on ESPN at 12 PM ET with NASCAR Countdown). Of course, if the fastest car winds up in traffic, it's about having that chassis dialed in to handle the turbulence of being mid-pack while those opting for track position or risky pit gambles take off in clean air. Much like the old Aesop fable about the tortoise and the hare, it's about being the fastest when it truly counts. Names like Kevin Harvick and Greg Biffle come to mind with that, but then there's racers like AJ Allmendinger and Marcos Ambrose who are hungry for their first win on an oval track. Translation: it's bound to be a harbinger of a race!
This weekend's Track Talk is a particularly special one in many ways. Our very own Shelby Parrack is at MIS all weekend while Isabelle Beecy's getting all the action covered at Mid-Ohio for our race fans! Not to mention, for yours truly, it's the 24th anniversary of the "happiest accident" ever - discovering the world of NASCAR! Most importantly, it's the one year anniversary of TPF's longest running feature: Track Talk!
One year ago, Shelby, along with columnist Jessica Tow, and I set off to start off this weekly NASCAR feature as a means of previewing the upcoming Sprint Cup race of the weekend. Nick Brincks and Matt Kacar also contributed as valuable panelists, speaking their thoughts of the world of stock car racing. Today, Shelby, Jessica, and I have seen TPF's Track Talk grow with Isabelle, Ashley Hobbs, Ashley Hull, and Courtney Clement. Past and present panelists have truly made this feature special and the success of it is totally due to each individual's passion with this great sport of racing. I salute you all and we've got great things coming up with this feature in the coming weeks!
Without further ado, let's get to this special edition of Track Talk. As Isabelle Beecy correctly chose AJ Allmendinger first, she's this weekend's host! So let's do it now and talk NASCAR racing, Michigan style on TPF! Track Talk kicks it off with Trending Topics.
Trending Topics by Isabelle Beecy
Question 1
With AJ Allmendinger and the 47 team in the Chase by virtue of their win at Watkins Glen, would you say that the new Chase format is working to perfection?
Tow : So far I'm liking what I see with the new Chase format and I'm glad that wins are ultimately a deciding factor in the matter. I'm really interested to see how this bracket/knockout style is going to play out. I'm glad that now anyone has a chance to win the Championship, so long as they perform to the best of their capabilities. However, I'm not going to formulate a good and/or thorough opinion of the new Chase format until the Champion has been decided at Homestead-Miami in November.
Hull : I must say that this Chase format is amazing! It is certainly doing what it was intended to do, which is give those people who win a chance at the championship. I think that it is awesome to see some different faces in the Chase this year, and that they are in contention. They have worked so hard to get where they are today, and it's amazing to see all the hard work pay off. So while the format hasn't been perfect, it has been fun to watch!
Clement : Yes yes yes! I love the new format and I think it is working exactly how they wanted it to work!
Parrack : It is absolutely working to perfection. I said at the beginning of the season, it was very possible we would see 16 different winners, and we've come certainly close.
Tiongson : NASCAR must be elated with the changes it made this year with the Chase format. Honestly, it's made the first 26 races have the value that they totally deserve. If I'm that family man taking my kids to the June race at Sonoma or Loudon, I now realize this race actually has a huge impact with our favorites' chances of making the Chase Grid. That's all you could ask for and as a journalist, I think it adds more storylines that the sport sorely needs. As for the Chase itself, I think it will be somewhat forgiving to teams who may not be great in a 10-race stretch but still, to put together three straight solid performances is not an easy feat in NASCAR Sprint Cup racing.
Question 2
Does a track like Watkins Glen need to step up their safety protocol after the grinding accident that involved Michael McDowell and Ryan Newman?
Tow : Watkins Glen is definitely a track that needs to continue to re-evaluate their safety measures that they currently have in place. The area where Ryan Newman and Michael McDowell's wreck took place is an area that has seen some really hard impacts between cars and safety fencing....and that's just in NASCAR. It makes me wonder which other types of racing series have witnessed serious wrecks at this track such as the ones we have seen in NASCAR. Ultimately I believe that Watkins Glen should remove whatever type of fencing they have in place there now, install concrete walls and add SAFER barriers to all areas of high impact. I look forward to seeing what type of new safety features the folks at Watkins Glen will have in place for next year's events.
Hull : I think they need to before it's too late. That wreck was scary, and it could have been a lot worse. There should have been a safer barrier there. Thank goodness for the Hans devices and all of the safety advances in the cars. But it still doesn't mean that something can't still go wrong. So they had better step it up before something really bad happens.
Clement : Not necessarily. You can never completely avoid crashes during a race. Keeping protocol as it is would be the best option for each track.
Parrack : I think they do, as generally, when you think road courses, you don't think "wrecks" like you do when you think of Talladega. Looking back at the last four races there we've seen some absolutely crazy wrecks there with incredible carnage. It's definitely time for them to step up their safety program.
Tiongson : I'd have to say that I can understand NASCAR's perspective that not all tracks are suited for the SAFER barrier. In a sport that sometimes reacts after a troubling situation, it's important for the sport and sanctioning body to evaluate not just Watkins Glen, but other tracks where the danger zones are highly exposed. We're fortunate that Michael McDowell and Ryan Newman walked away unscathed from their grinding crashes last weekend but that's a testament to the cars more than the wall technology at the Glen. Still, it's no slam on them, but more of a wake up call for the safety aspect with the track.
Question 3
What are your thoughts on the possible end to Souvenir Row and a system similar to golf with merchandise?
Tow : Although I'm extremely sad to see Souvenir Row disappear, I understand why NASCAR is in the process of attempting to modernize the merchandise and/or souvenir experience. Souvenir Row has been a merchandise experience that is entirely unique to NASCAR and is something that I will always cherish from the very first time I attended a NASCAR race at what was then known as New Hampshire International Speedway. I mean think about it...where else do haulers filled with athlete and industry/league related gear appear? Although the costs continue to rise in terms of transporting these special haulers from track to track across the country, I think this is one of those things that adds allure to the overall at-track experience and provides great memories for fans to take home with them following a race. I'm sure many fans will be disappointed with the updated souvenir experience but as with any type of change, we all must adapt and accept the circumstances. (My guess is that NASCAR will be introducing some type of hauler/pop up shop prototype such as what one sees at IndyCar races....but who knows? Anything goes at this point.)
Hull : I think it's a sad thing for the independent merchants there because that was how they were making their living. However, times have changed, and the majority of NASCAR fans are purchasing their souvenirs and merchandise online, more so than at the track. It's sad fact of the times, and there hasn't been that good of an attendance this year to keep these places afloat anyway. It is what it is sadly.
Clement : I absolutely love Souvenir Row. It's been such a great concept for years now and I honestly cannot picture merchandise being sold any other way. However, if they come up with a good option that will raise sales, I can settle for it.
Parrack : I have two different answers for this one, but I'm most opposed to the idea. If this will lower costs, that would be a positive. In general, souvenir row is half the fun of going to a race track, as everyone shops the haulers. And if the folks who travel the circuit with the merchandise haulers are losing their jobs due to this, I am even more opposed.
Tiongson : It's sad for those who may be working these haulers. It's their livelihood and for others, this is the common fan's way to shop for presents if they don't go online or visit a retail store a Lionel Racing distributor. When we covered the race at Loudon, I saw just how the fans really enjoyed this part of the race weekend. It brought me back when I first started watching NASCAR and made me go, "I really hope if this has to go, that its replacement is going to be as catering to the race fans."
Question 4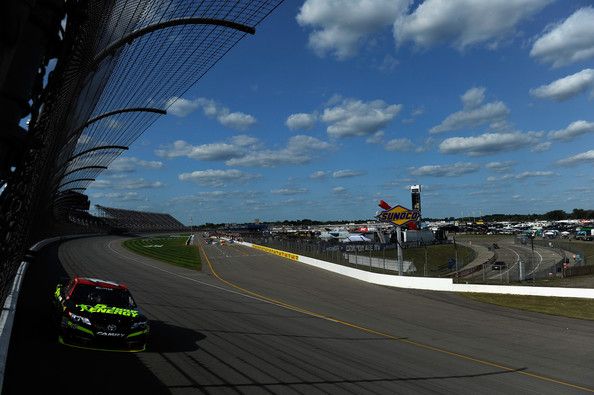 We're headed to Michigan which is a 2-mile track that puts a premium on horsepower and fuel mileage. In terms of winning strategy with car setup, would you aim for maximum horsepower or optimum gas mileage?
Tow : Definitely optimum gas mileage is something I would give high regards to this weekend at Michigan. I would much rather drive a car that has less horsepower, knowing that I can actually finish the race instead of worrying about running up front with higher horsepower. However, teams that are seeking a win in an attempt to secure a spot in the Chase might view this question from an entirely different perspective. While fuel is important, horsepower must be given high consideration in order to run up front and contend for a win.
Hull : You can have the fastest car out there for the entire 199 laps, but if you don't have it together to have enough fuel to run that last lap, that can all change. So why not focus on both, if it is feasible. Work on having the fastest car on the track, but plan to have enough fuel to make it to the end.
Clement : Optimum gas mileage! Definitely do not want to be one of those drivers that runs out of gas at the worst possible times!
Parrack : Definitely maximum horsepower. Look at the two teams who have maximum horse power right now, Hendrick and Penske. And look at how many wins there are between these teams! No brainer for me!
Tiongson : I'm old school and I'd have said fuel mileage is key. However, I've seen how the teams turn 9500 rpm's as they approach the corners, which makes me totally amazed at how these cars, and most of all, the engines can withstand such extreme conditions. It's truly speaking for those engine builders back in the race shops, who are able to create these durable but powerful motors. That said, I hope this race doesn't come down to an engine issue marathon but more of good hard racing on the track, and Michigan is finally starting to have it with the asphalt aging some over the past two years.
The TPF Track Talk team has spoken their thoughts on this weekend's Trending Topics from Isabelle! Before we reveal our race picks, let's take a look at the TPF Points Standings as we head into Round 23 at Michigan:
Rob Tiongson - 805 points (4 wins)
Ashley Hobbs - 790 points (2 wins)
Shelby Parrack - 792 points (3 wins)
Isabelle Beecy - 777 points (2 wins)
Ashley Parris Hull - 760 points (2 wins)
Jessica Tow - 724 points (2 wins)
Courtney Clement - 709 points (1 win)
​And now, it's the moment of truth. We'll be giving it all, but not quite Karate Kid style. Without further ado, here's our race picks for Sunday's Pure Michigan 400!
Tiongson : After seeing two races in which a third and fourth win (possibly) faded away, I think this No. 24 team, although locked in the Chase, is going to have all hands on deck through Homestead-Miami in November. That being said, I look for Jeff Gordon and the No. 24 Axalta Chevy team to capture the checkered flag for a third time in 2014 at Michigan.
Hobbs : Gotta go with Jeff Gordon!
Tow : Jeff Gordon - Although Gordon suffered unforeseen circumstances with a car power outage last weekend at the Glen, he will be able to bounce back this weekend at Michigan which is considered to be one of his stronger tracks. Look for the No. 24 team to be back in Victory Lane this Sunday.
Hull : My pick to win the Pure Michigan 400 is last year's winner, Joey Logano!
Parrack : I'm going with Brad Keselowski in Michigan. 1. Because of the horse power I previously mentioned. 2. Because it's his home track and he is so deserving of a sprint cup win here. And last but certainly not least, it's because I will be there and want to see my driver in VL in person!!!
Clement : My pick is Matt Kenseth!
Beecy : Greg Biffle, I choose you!
There you have it, race fans! The Track Talk crew has spoken and given their thoughts on round 23 of the NASCAR season. How about you? What do you think are the biggest storylines heading into Sunday's race at Michigan? And who is your favorite to win the Pure Michigan 400? Tweet us now @ThePodiumFinish and tell us now! Thank you, Isabelle, Shelby, Ashley Hobbs, Ashley Hull, Courtney, and Jessica - let's go racing! And as always, the opinions and thoughts express in Track Talk are solely of the authors and do not reflect on the organizations mentioned, FanVsFan, or of TPF. This weekly feature is strictly for entertainment purposes and are not indicative of TPF, the organization, and its staff.