Ever driven on that old bumpy road that gets you jumping on your car seat but felt familiar to a point that if it ever got repaved, you'd feel a bit disappointed? Perhaps that's what the 42 NASCAR Sprint Cup drivers and teams feel like with Kentucky Speedway, which hasn't been repaved since Keanu Reeves was still Neo in The Matrix. Sure, that sounds like a long time, because it was, but it means fresh awesome racing for tonight's Quaker State 400 in Sparta, KY! And who doesn't like awesome racing?
Alright, so the number of lead changes went from 20 in 2011 to 17 in '12 and 11 last year, but anticipate a lot more swaps for that number one spot as drivers who are hungry to make the Chase Grid are going to start making like Kenny Rogers and being like "The Gambler" for track position and most importantly, the win. So far, Kentucky's rough surface has welcomed Kyle Busch, Brad Keselowski, and Matt Kenseth into Victory Lane, and they're all known to have an affinity towards dropping the hammer in primetime. It's no surprise that the first three winners are three of the sport's most aggressive racers but could that trend change tonight?
A track that's often seen the Chase field's momentum change, look for some of the major players for the Grid to move closer towards soldifying their place in the Sprint Cup postseason while others are just hoping to punch their ticket to the backmarker seats of the train. Who might have what it takes to get there? Before we delve into our race picks, Track Talk and TPF statistician guru Ashley Hobbs hosts this weekend's edition of Trending Topics, and this time, she challenges Shelby Parrack, yours truly, Nick Brincks, Courtney Clement, Ashley Parris Hull, Jessica Tow, and Isabelle Beecy with some great topics to discuss and without further ado, let's get to those right now!
Trending Topics by Ashley Hobbs
Question 1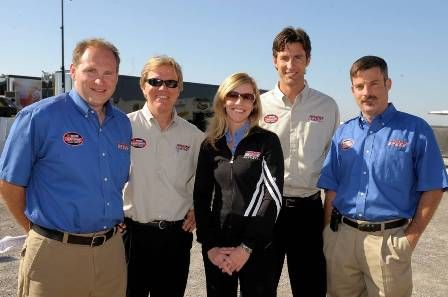 If you could put together your own race analyst team of booth reports, and pit road reporters, who would you put in and why do you think they make such a great impact on the race coverage?
Brincks : My ideal team would look like this: Allen Bestwick, Larry McReynolds, and Jeff Burton in the booth. I'd give Chris Meyers and Jeff Hammond the prerace show. Pit reporters would be Steve Byrnes, Matt Yocum, Marty Snyder, and Dave Burns. Kyle Petty could tone back on the word "Incredible," but I would include him in the broadcast somehow because he is the one current broadcaster we currently have that isn't afraid to speak his mind and criticize NASCAR. He straight up called a debris caution a B.S. caution on the air and I love that honesty.
I've always been a fan of Allen Bestwick because he's knowledgeable and exciting in his call, all with a very easy voice to listen too. I would have included DW because he offers a lot to broadcasts in my opinion, but he's obviously biased and is too much of a "personality" to make the show about the race, not himself. I think Burton will bring some of Kyle Petty's honesty to the NBC broadcast, without the annoying overuse of incredible vocabulary. I thought Fox had a great show with Chris and Jeff so I'd put them back together for the prerace show. Byrnes and Yocum are great reporters while Snyder and Burns have a unique sense of humor that they tie into their reports, which I enjoy.
Parrack : I would definitely put Rick Allen in the booth, hands down he's on the top of my list, I feel like he's one of the most under rated broadcasters in our sport. I would also put Steve Byrnes and Kenny Wallace in, these three in my opinion would bring the most to the table. You have entertainment, in depth analysis, professionalism, and they definitely know how to get a crowd/audience pumped up for a race.
Clement : I would pick a small team - one booth reporter and one pit road reporter. I would have Mike Joy as a booth reporter. I love his commentating style and he does a great job with it. And for pit road reporter, I would have to pick Steve Byrnes. On the other hand, I personally wouldn't want Darrell Waltrip to be in my analyst team. I think, especially when he's on pit road, he doesn't focus on the actual race and how the drivers race as much as he should.
Hull : I LOVE this question, and I have thought about this many times. I think that I would go with Rick Allen first of all in the booth. He is not only a class act, but a very good reporter. I always enjoy him during the truck races. For the other guy, I would absolutely LOVE to bring Ned Jarrett out of retirement and have him in the booth. I grew up with him on TV, and he was truly the best. Finally, I really think that Jeff Hammond would be awesome too. As for the pit reporters, I think Marty Smith would be amazing, as well as Jamie Little. Those people would be my dream team. They would all bring a different side to the sport, as well as the class that is needed to cover this sport!
Beecy : For me, this is a no brainer – although I'm cheating a bit since I'm using open-wheel racing commentators. I would put in Leigh Diffey, David Hobbs, and Steve Matchett as booth reporters with both Will Buxton and Robin Miller as pit road reporters. They've all been doing it for years and often have great insights on races. It also helps that David Hobbs used to be a driver and that Steve Matchett used to be a Formula One mechanic, so they understand much of what actually happens in the garages. Plus Robin Miller is funny as hell, so he would be a great added bonus to the team.
Tiongson : In terms of today's talents, I wouldn't mind seeing Eli Gold back in the booth with Buddy Baker, Dale Jarrett, and Larry McReynolds in the booth. On pit road, let's have Krista Voda, Mike Massaro, Matt Yocum, and Steve Byrnes with Dr. Jerry Punch, Dave Burns, and Nicole Briscoe as our hosts. That would be cool. And I'd not mind seeing Kaitlyn Vincie doing some races as well.
Tow : In terms of current broadcasters/pit reporters I would select the following to be on my team, either in the booth or on pit road: Allen Bestwick, Steve Byrnes, Krista Voda, Bob Dillner, Mike Joy, Andy Petree, Dale Jarrett, and Kenny Wallace.
Question 2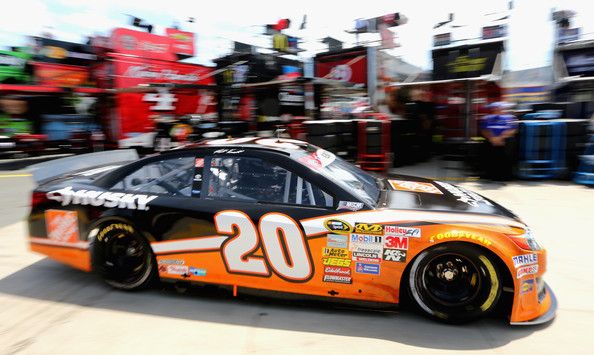 Although we just saw Jeff Gordon pick up a brand new sponsor, Home Depot is all but out the door as a sponsor. With big name sponsors leaving, or cutting on the their support, what does this hold for the future of current, and new, sponsors, and even the sport of NASCAR?
Brincks : When sponsorship costs continue rising despite falling attendance and TV ratings, I don't blame any sponsors for wanting to leave. It's too expensive and they aren't getting the bang for their buck, as they once did. And that's just in the Sprint Cup Series. It's way worse in Nationwide and the Truck Series.
Parrack : When you look at it from that aspect, it doesn't look good. But then you have sponsors such as Napa who have basically latched onto a young driver like Chase Elliott. I don't feel like the sports in trouble, it's all cyclical!
Clement : Current sponsors should be a little worried. NASCAR has had the same sponsors for as long as we can remember. However, this shows that the sport is changing. With new sponsors coming in, we can expect new changes overall rather than sticking with routine we've been used to!
Hull : This is kind of unsettling. I heard just today that for the first time since 1996, there will be less than 43 cars starting a race. This says a lot. First and foremost, we see a lot of empty stands at the race because it costs way too much to go to a race nowadays. Now, we are seeing that there are big name sponsors either cutting their funding, or leaving entirely. This sport is getting expensive nowadays. I am not sure what can be done to lower the cost. It is sadly the sign of the times, where our economy is less than stellar. I think that NASCAR will still be a sport, but it is changing so much year after year.
Beecy : I don't think NASCAR's going anywhere any time soon, given that it's the most popular, if not one of the most popular, spectator sports in the United States. However, I think it might become more difficult to get huge name sponsors into NASCAR with the continual loss of sponsors like Home Depot. The teams and the sport may need to think of different incentives to keep the big names as sponsors and to gain other big name sponsorships.
Tiongson : It's a bit troubling considering how easily sponsors were wanting to be in the sport in the late 1990's-mid 2000's. In some ways, it may explain why we have a 42-car field today. Hopefully this is just a lull if anything else for the sport.
Tow : I actually just read an interesting article about this in the Sports Business Journal (see link here) for my sport marketing class. Although quite a few big name sponsors are cutting ties with NASCAR, there are plenty of other companies and sponsors stepping up to take their place. According to said article, over 60 new sponsors signed on with teams last year. So while it's sad to see some prominent companies leave, there is still hope for the future.
Question 3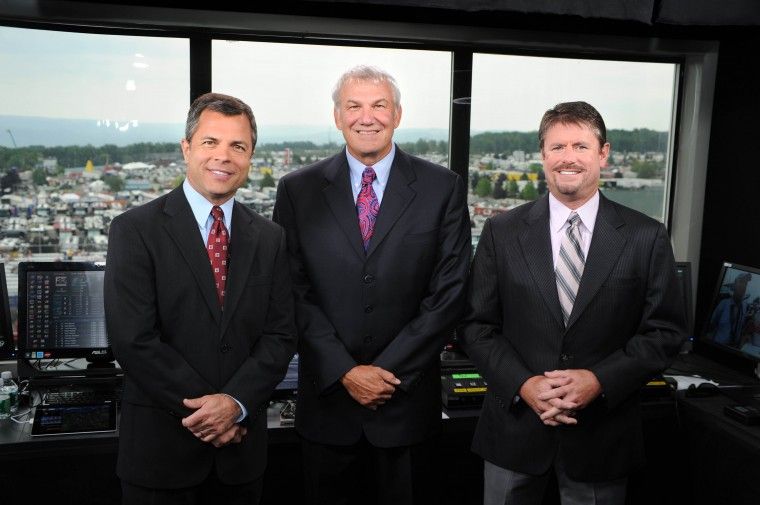 ESPN's final run is coming very soon, and they just announced their news show, NASCAR Now, is canceled (it was originally on hiatus for the FIFA World Cup coverage but they released a statement saying it would not be coming back at all). What do you hope ESPN will delivery to the fans in their final year, and what do you expect they will deliver? What, if anything, will you miss from ESPN when the season is over?
Brincks : Let's all be honest for a moment. ESPN moved NASCAR Now to after midnight a while back. Not just a rerun, but the actual show itself. The writing was on the wall. FS1 and NBCSN have NASCAR shows so it's not like we have zero options anymore. The two things I will miss most once ESPN's gone are Allen Bestwick as lead announcer and side-by-side coverage for the last half of Chase races.
Parrack : I'm not ESPN's biggest fan. I hope to see less un needed bantering, less of Brad D, and more actual knowledgable, professional thought. I expect nothing more or different from what we've seen in previous years unfortunately.
Clement : I hope that ESPN ends the season with a bang and I expect that they will!
Hull : First of all, I really hope limit the amount of commercials they air. It is getting tiring as a race fan to just watch 5 minutes of the race, then have a commercial break. A lot of fans are feeling the same way. Other than that, I don't see a problem with how they are doing things now. I will definitely miss ESPN. I thought out of the three networks that carried the race, they were the best because of the analysis. I am however, excited about what NBC Sports brings to the table, because they have an excellent team.
Beecy : I'd expect a final surge in NASCAR coverage from ESPN, or at least the same amount of coverage as usual. They're still under contract so they still have to perform their job of providing coverage at least somewhat decently. However, with the cancelation of NASCAR Now, it sounds like they have a bad case of senioritis and are just ready to be done with NASCAR coverage. Because of this, I'm expecting minimal coverage from them.
Tiongson : I think ESPN will do their due diligence during race coverage and perform as usual, although SportsCenter might just bury it in the covers right away in favor of trade talk or by the time they take over the coverage, a lot of NFL news. That said, the NASCAR personnel on ESPN will do excellently, it's more or less how their peers at the mothership in Bristol, CT or Los Angeles, CA fare with it all.
Tow : More than anything, I'll miss the broadcasting team. ESPN always delivered great coverage in regards to broadcasters and pit reporters. For the most part their pre-race segments were good too. With NASCAR Now being canceled, I'm unsure how that is going to affect their final year of coverage. It is my hope that they'll go out with a "bang" and really go above and beyond for the fans as a thank you for their dedication throughout the years...I guess we'll see!
Question 4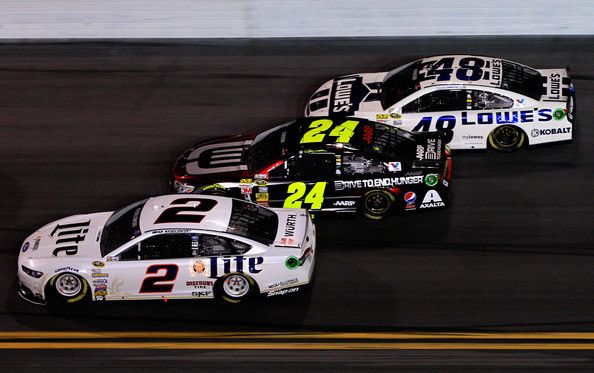 Now that we are over half way through the regular season, we are really starting to see what drivers have it in them to contend for the championship, and what drivers may not be there at the end. After 16 races (10 to go before the Chase is set), who do you see as the final 4 drivers heading into Homestead, and which one will come out on top?
Brincks : I'll go with Johnson, Harvick, Jr, and Keselowski for now, but I believe that we'll see one, if not two drivers in the hunt at Homestead that we aren't giving much credit quite yet.
Parrack : Final 4: Jimmie Johnson, Kevin Harvick, Jeff Gordon and Brad Keselowski. I really want to throw Dale Jr on there as well bc all five of these drivers have just been super consistent so far this year, they're always the ones up front leading. I really can't make a choice on who I think will take the cup at this point though. It's just too close.
Clement : My final four picks: Gordon, Johnson, Earnhardt, and Keselowski. Jimmie Johnson coming out on top!
Hull : The four drivers I see contending for a championship are : Jimmie Johnson, Carl Edwards, Kevin Harvick, and Dale Jr. They all have had a good season. I think honestly though it could come between Kevin Harvick and Jimmie Johnson, and to a lot of people's dismay, it will be Jimmie Johnson who wins another championship.
Beecy : I'd probably say Jimmie Johnson, Carl Edwards, Kevin Harvick, and Dale Earnhardt Jr all become the final four drivers headed into Homestead. All have been strong enough in seasons past to make it into numerous Chases (Dale Jr has seen the least amount of playoffs with 6 Chases under his belt) and all sit within the top five of the Chase standings at the moment. I'd expect them all to be competitive when it comes to the final race. I believe Jimmie Johnson will come out on top now that he has momentum again this season. With three wins within five races, he seems pretty unstoppable at the moment.
Tiongson : The inaugural final four will be Jeff Gordon, Dale Earnhardt Jr., Kevin Harvick, and Brad Keselowski. They've all shown the ability to overcome adversity, and call me crazy for not considering Jimmie Johnson, but I just think that these four teams will know what it takes to hold back and play their true best cards in the fall. Only time will tell!
Tow : Jeff Gordon, Jimmie Johnson, Matt Kenseth, and Dale Jr. - I foresee all four of these men being in the top four come Homestead. I would really like to see Dale Jr. win the Championship just because this is his year and it would be great to see him bring home the hardware before Steve Letarte's tenure as crew chief ends. Although I wouldn't be opposed to Gordon or Kenseth either. Johnson...well, if he earns it, he earns it.
In recent times, Shelby Parrack has shown some affinity towards her position as the points leader in the TPF Track Talk Championship! Trailing behind her is Mr. TPF himself but we've got ourselves quite the race! Before revealing our race picks, here's the standings heading into race 17 at Kentucky!
Shelby Parrack - 544 points (1 win)
Rob Tiongson - 543 points (2 wins)
Nick Brincks - 508 points (2 wins)
Ashley Hobbs - 501 points (1 win)
Courtney Clement - 218 points (1 win)
Ashley Parris Hull - 197 points (1 win)
Jessica Tow - 161 points (1 win)
Isabelle Beecy - 53 points
Alright friends! It's about that time - here's our race picks for tonight's Quaker State 400 at Kentucky Speedway!
Tiongson : Gotta like that Jeff Gordon and Team 24 are going to bring their Kansas car to Kentucky. While this track is far bumpier, this is the best chassis in their stable and I anticipate a historical moment come Saturday night in SPARTAAAAA! (Yes, a 300 reference.)
Hobbs : Jeff Gordon has killer stats that make it quite possible for victory at Kentucky and has been pretty much been on beast mode.
Brincks : If I asked you who has the 5th best average finish in the last 5 weeks, would you guess Jamie McMurray? Probably not. Since his All-Star win, he has 2 top 5s, 3 top 10s, and an average finish of 8.8. He finished 2nd at Kentucky last year and I like his chances for this win this week.
Clement : My pick is Kyle Busch!
Beecy : I'm going with Joey Logano.
Tow : Also going with Joey Logano!
Parrack : Putting my pick in as Brad Keselowski. Kentucky hasn't been on the map for a large chunk of time. When I think Kentucky, I think Keselowski. Guys with one win have been going on to get a second recently so hopefully BK can get a second sticker above the door panel this weekend!
Hull : My race pick is Brad Keselowski!
There you have it, race fans! The TPF crew has spoken and given their thoughts on round 17 of the NASCAR season. How about you? What do you think are the biggest storylines heading into Saturday night's race at Kentucky? And who is your favorite to win the Quaker State 400? Tweet us now @ThePodiumFinish and tell us now! Thank you, Isabelle, Nick, Shelby, Ashley Hobbs, Ashley Hull, Courtney, and Jessica - let's go racing, girls and boys! And as always, the opinions and thoughts express in Track Talk are solely of the authors and do not reflect on the organizations mentioned, FanVsFan, or of TPF.