When Neil Diamond sang that spring became the summer, he must've been talking about the intense NASCAR racing action picking up from Daytona Beach, FL to Brooklyn, MI. From the high banks of Daytona International Speedway, we've seen short tracks at Martinsville, VA and Richmond, VA as well as the quad-ovals at Fort Worth, TX and Concord, NC. This weekend, the Sprint Cup tour finds itself at Michigan International Speedway, nestled in the Irish Hills, or specifically at Brooklyn, MI. At 2 miles in length and with asphalt that's about as new as the last time the Los Angeles Kings winning the Stanley Cup (deja vu much?), it's the fastest stock car venue, with average lap speeds easily going at 204 mph. Does this typically mean good racing? Last year's races may have not produced memorable finishes, but as is the case with a facility with aging asphalt, plus a new tire combination by Goodyear, it's possible that we'll see a slightly competitive Quicken Loans 400 than the past few seasons.
Engines, tires, and fuel mileage will be the main three factors of Sunday's race. As Track Talk panelist Ashley Hobbs pointed out in her article, the Chevrolet teams may be at a higher risk than the Ford and Toyota teams at this fast mammoth track, with its long straights and winding corners. Then again, like the Cup drivers and teams, our panelists, including Hobbs, as well as Ashley Parris Hull, Courtney Clement, Jessica Tow, Nick Brincks, Isabelle Beecy, and yours truly are ready to take on the fast frenzy of this speedway in The Wolverine State. Hosting this week is Track Talk points leader Shelby Parrack, who just happens to be at the track all weekend long!
Tires will be a factor as well, but not in the way it was during the Auto Club 400 race in late March. Instead, we'll be focused on seeing those new compounds working to make a slightly more competitive race or if it's one where it's going to force teams into a no tire or two tire change for the last pit stop. Lastly, there's the dreaded fuel mileage game that we may see on Sunday. Due to this, we may see more of that confusing see-saw pitting strategy, unless we see a rash of cautions in the second half of the 400-miler.
Now that we've set up the scene and scenario for this week's race preview, let's get to our Trending Topic questions for this week, with Shelby Parrack as our host!
Trending Topics by Shelby Parrack
Question 1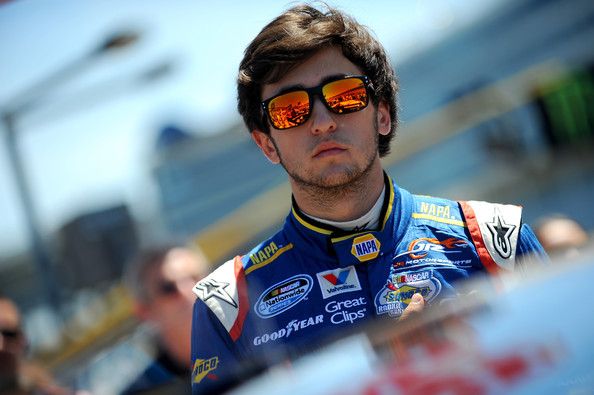 With so many rookies now in the Nationwide series, who do you think will be the next one to make the move to the Sprint Cup Series? And how do you think they will fare?
Hobbs : The obvious choice here is Chase Elliott. He is such a strong competitor, having won multiple times already, and seems to have everything lined up for success. With his Nationwide team of Jr. Motorsports being under Hendrick Motorsports, it is still not crazy to see Chase end up in the HMS organization in a few years. If this is the case, Mr. Hendrick will wait until he feels Chase is at the best point in his career to move up into Cup and contend each week with the veterans. When Chase does move up, I expect great things from him!
Hull : I think the most obvious one who will move up eventually will be Chase Elliot, and with his continued success in the Nationwide Series, he has shown that he has talent, and could potentially be a champion in the Sprint Cup someday. I also see Ty Dillon eventually going to the Sprint Cup, and he would do well, though I don't see him winning a championship. But they all have potential to move up.
Clement : I would have to say Chase Elliott. The number 9 car has been doing great this season. Especially his win at Darlington, when he passed Sadler on the final lap. I think he could really hold his own in the Sprint Cup Series. I think it's his time!
Tow : I'm thinking Chase Elliot is going to be the next rookie promoted to the Sprint Cup Series. Elliott's performance in the Nationwide Series in 2014 has been stellar with nine Top-10 finishes and two victories after 12 races. Those statistics alone are a surefire sign of many great things to come from the son of one of NASCAR's greatest legends. (Although, let it be known that Ty Dillon is definitely an honorable mention.)
Brincks : I'll go with the logical choice of Chase Elliott because he pretty much has a Hendrick car already secured. My other bet would be on Ryan Blaney. Penske has room to expand and I can see him running a 3rd Penske car in the next two years.
Beecy : I'd probably say Chase Elliott would be likely to move up. He's gotten two wins and nine top tens so far this season and I believe this is his first full season in Nationwide. That's pretty impressive, especially when Cup drivers go down to Nationwide races sometimes. It might take him a few years to get up to speed in Cup, but I'm sure he'd be doing well once he gets used to constantly driving with the Cup guys.
Tiongson : Most of us have pointed out to Chase Elliott as the next Nationwide Series graduate to Sprint Cup, and likely, we'll see him in a Hendrick car within two years. I also think we'll see Ryan Blaney and Chris Buescher moving on up, and let's not forget that Ty Dillon is looking about as ready to get his RCR ride too in Cup in say 2-3 years. Can't forget Bubba Wallace, Kenzie Ruston, and Ben Kennedy as well!
Question 2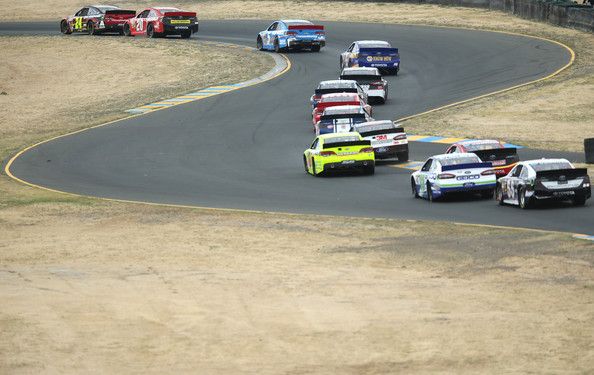 We have finally hit the summer stretch of the season, which comes with some pretty fun tracks. Which race are you looking most forward to this summer and why?
Hobbs : I look forward to the road courses! They are not the typical track by any means and provides a whole new dynamic of racing. Now, I am still a fan of throwing a road course into the Chase so the drivers have to prove their ability on all types of courses; but until that time comes, Watkins Glen and Sonoma are ALWAYS highlights on my NASCAR calendar.
Hull : My favorite race coming up is Sonoma, simply because it's a road course. Road courses really prove who is an exceptional driver, and most of all, they are super fun to watch. I personally think that a road course should be in the Chase because it will prove who can race anything, anywhere.
Clement : Easy. Can't wait to see these cars at the Brickyard! I love the Indianapolis Motor Speedway because of all it's history. And, of course, I'm looking forward to the Chicagoland race in mid-September.
Tow : Ahhh the TNT Summer Series is finally upon us; a schedule that never disappoints in terms of on-track action....Honestly I'm biased when I say this but I'm really looking forward to the Camping World RV Sales 301 at New Hampshire Motor Speedway on July 13th. I can't wait to see where my duties as a marketing intern will take me throughout the course of that weekend. However, from a strict TV watching perspective I'm excited for Sonoma and the Coke Zero 400 from Daytona. Because road course and because restrictor plate night racing. (*insert thumbs up*)
Brincks : I'm always looking forward to Daytona because of its unpredictability and the same could be said about Sonoma. These are the two I'm most looking forward to.
Beecy : I'd probably say the Brickyard 400. I've grown up believing Indianapolis Motor Speedway is the holy ground of racing. Because of that, I love having ANY kind of racing at IMS, whether it's two wheels, open wheel, or stock car. I'm excited to see what happens that weekend. Plus the Brickyard 400 has fallen on or around my birthday the past couple years, so that makes it even more special in my eyes!
Tiongson : I'm truly looking forward to Loudon and Indy this summer. Loudon always put on a great show and we saw a great surprise winner in the July race last year in the form of Brian Vickers and Ryan Newman winning the Brickyard 400 was really sentimental stuff.
Question 3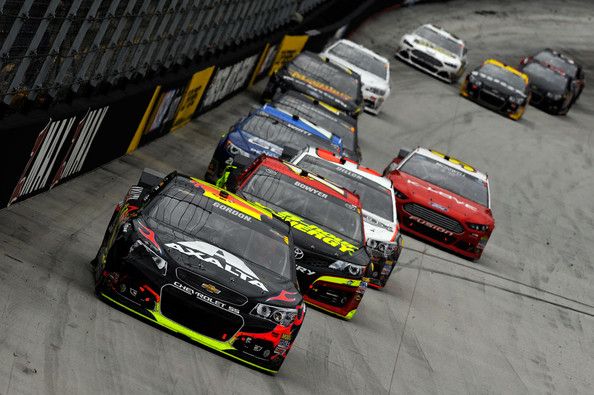 What is your position on fans who root for a manufacturer before they cheer for the driver? Some fans only root for a driver due to the manufacturer that they drive for, how do you feel about this?
Hobbs : If a fan is loyal to a brand, then so be it. I root for Chevrolet because of Hendrick Motorsports but I also have some Ford and Toyota drivers I root for as well. If Jeff Gordon ever left Chevrolet, I would follow and support him there. Again, that is just me. I mean, if a fan choose to root for the manufacturer, then that is their choice. I am not against them doing that.
Hull : ​Personally, I am the type of fan who roots for a driver, regardless of what manufacturer he/she drives for. As long as they are talented, and excellent to their fans, I fall in love with them. There are people who do root for a manufacturer over a driver, and that's their choice to do so. I don't agree with it, but NASCAR has diverse fans, and they have every right to root for whoever they want for whatever reason.
Clement : I think that those kinds of fans are interested in the races for different reasons than those who root for the driver. They're more focused on the car and how they run compared to the rest of the cars, rather than being focused on the driver and how they compare to the rest of the drivers. We all know and understand that if the car isn't running well, the driver ain't gonna run well either!
Tow : To each their own. A fan is a fan; they have their right to root for whichever manufacturer they want regardless of which drivers drive what. At the end of the day, as long as this sport has fans that's all that matters.
Brincks : I've personally never been a big manufacturer guy, as I typically root for whoever my driver races for. When it comes to manufacturers, all I hope for is for some parity and no one make dominating.
Beecy : I'd say whatever gets them watching the race. If rooting for a manufacturer makes the races interesting for them, then that's what makes it interesting for them. It's like those who root for a team over a driver or manufacturer. It's just their preference on who they root for. But then again, I come from a couple racing series where manufacturers and teams are just as important and high profile as the drivers. For example, F1 teams are often from a certain car manufacturer - Ferrari, Lotus, Mercedes, and McLaren all have teams in F1, just to name a few. IndyCar also has its own manufacturer competition with Honda vs Chevy. So it's not surprising to me if fans root for the manufacturer over the team or driver.
Tiongson : It's almost like fans who are sponsor loyal, and by that, I mean that if their favorite driver is sponsored by Pepsi or Coca-Cola, they're likely going to buy that product to support both the team and sponsor. If we want to truly get this topic in full rage, just saying the manufacturer name of Toyota crosses some old school traditionalists, proving this third question to be true.
Question 4
Some pretty notable names have yet to win this season (Kasey Kahne, Tony Stewart, Greg Biffle, Ryan Newman). Do you think we will see these drivers get to VL before the Chase hits? Or are those who have already won and showed strength going to hog the winning column?
Hobbs : This question never gets old (sarcasm, maybe, a tad). I have said it before, most of these drivers don't win until the summer hits any way and I will break down those mentioned drivers for you (again, using my statistics dating back to Chase inception aka 2004).
Kasey Kahne: Kahne averages his wins by race 16.4 (median of 14.5). The earliest he has won a race is the 4th race of a season (that was his season of rattling off wins might I remind you) and his longest he has gone before he got his first win of the season is 35 races. Talking the Chase, of his 16 wins, 14 (87.55) have come before the Chase starts. Conclusion: Kahne tends to win in the summer, end of June/start of July is when he will hit his stride. If this does not happen, that is the worry mark.
Tony Stewart: He is not washed up, he is not losing his abilities; rather, he is waiting for summer! Stewart averages his wins around race 21.9 (median of 21). That is cutting it close to the Chase cut off, but he can get it done. The earliest Tony has won is a season is the third race and the latest is the 30th race. Of his 31 victories, 20 (64.52%) have come before the Chase kicks off. Conclusion: Just like Kahne, Stewart gets going once the heat of the summer is upon us. He is a late bloomer, but once he does, he is off and running.
Ryan Newman: Newman has lost his edge over the past several years and to see him not being close to a win yet does not surprise me. Newman averages his wins around race 15.75 (median of 17), so in the next few weeks if he is going to win. Newman has won the Daytona 500 but has also waited until race 27 of the season to get a victory. Of his 8 wins (8 wins in 10 years is not great but with the Jimmie Johnson era, it is not horrible; it is just ok), 6 (75%) of those have come before the Chase begins. Conclusion: If Newman wants to win, he has to be competitive and that does not seem to be the case right now.
Greg Biffle: The average race in which Biffle gets a win is race 20.4 (median of 22); like Stewart, he is a late bloomer. Biffle has won as early as the 2nd race but as late as the 29th race. With 18 victories, 11 (61.11%) have come before the Chase kicks off. It is very possible, especially at tracks such as Michigan, for Biffle to flex his muscles and get a win or two. Conclusion: Biffle is waiting the same way Tony Stewart is. He will win before the Chase.
Compare to last year, Matt Kenseth not having a win is indeed the most surprising. His average win is race 15.08, the earliest of the above drivers (median of higher at race 12). He has won the Daytona 500 but has also waited until race 24 to get his first victory (the only driver of the 5 mentioned here to get his latest victory BEFORE the Chase kicks off). He has 24 victories and 18 of those (75%) have come before the Chase. Conclusion: 2015 is not 2014 and that is clearly showing for Kenseth. However, he will surely get a victory before the Chase, especially since his teammates already have victories.
Overall conclusion: Kenseth is the favorite to win of the 5; Newman is the least favorite. Do not fret if you are a Stewart, Kahne, or Biffle fan either as they all have great opportunities coming up!
Hull : I think that we could see one of the eventually. I see Greg Biffle winning at MIS this weekend, and since there are a couple of road courses coming up, we can see different people win at those places. We may also see another win or two from the people who have already won. You just never know. NASCAR is such an unpredictable sport, that we will have to wait and see.
Clement : I think we will see some of these drivers get to victory lane soon. It's only a matter of time that some of these names get that win.
Tow : Yes, I do think that we will see at least one of those drivers make it to Victory Lane before the Chase kicks in. Just look at Jimmie Johnson...his 2014 winless streak didn't end until Charlotte. That being said, I have full faith in any driver who has yet to make it to Victory Lane this season.
Brincks : I still think there are a few more winners in the bag including one or two surprises. Kenseth will win for sure, but guys like Stewart, Kahne, and Biffle have work to do. Don't count out the likes of Ambrose, McMurray, or Truex though.
Beecy : I would love to see some big names finally get a W and make it to Victory Lane before the Chase. I think with the competitive nature of this season, though, that we may not see that happen. Nine different drivers already have wins within the first half of the regular season, which means time is running out for the big names left without a win to finally get there. It's just up in the air about if, when, and where.
Tiongson : I'm thinking we'll see a few surprise winners. Brian Vickers will win this summer, but it won't be a surprise. However, I think we'll see Kasey Kahne win at Richmond, and that win alone is what propels him into the Chase in that last transfer spot.
Shelby Parrack has gotten quite used to the points lead as of late! She's got quite the heavy competition behind her but still, she's gotten that consistency down like Carl Edwards and his back flips. Let's take a look at the Track Talk TPF points standings as they are after Michigan:
Shelby Parrack - 488 points (1 win)
Rob Tiongson - 462 points (2 wins)
Ashley Hobbs - 437 points (1 win)
Nick Brincks - 421 points (2 wins)
Courtney Clement - 159 points (1 win)
Ashley Parris Hull - 130 points (1 win)
Jessica Tow - 85 points (1 win)
Isabelle Beecy - 23 points
I'd say it's about that time we do it up on Track Talk - indeed, let's reveal our race picks for Sunday's Quicken Loans 400 at Michigan International Speedway, right here, right now!
Parrack : My pick this weekend is going to be Carl Edwards. I don't need to see any practice or qualifying to make this pick for this Sunday. Michigan is a very strong track for the Ford drivers and with putting stats aside--- I just really want to see my favourite driver win in person!!
Hobbs : It's time for another back flip - Carl Edwards FTW!!!
Beecy : Going with Carl Edwards, since he usually does well there.
Hull : My pick to win Michigan is last year's winner Greg Biffle.
Clement : I'm going with Greg Biffle this weekend! He has some pretty good history on this track!
Tow : Kevin Harvick is a no-brainer for me! In addition to starting from the pole for this weekend's race at Michigan, Harvick is dominant on intermediatetracks. He has finished second in the last two races at such tracks so far this season. As long as pit crew and engine issues are kept at bay, look for Harvick and his No. 4 Budweiser team to be celebrating in Victory Lane.
Brincks : He's the new fastest man in NASCAR, but we've known that all season. I'll take Kevin Harvick this week.
Tiongson : He's having his best season yet and with Superman by his side, it could be win number three for Dale Earnhardt Jr. to get his third win at MIS, who starts third on Sunday!
There you have it, race fans! The TPF crew has spoken and given their thoughts on round 15 of the NASCAR season. How about you? What do you think are the biggest storylines heading into Sunday's race at Michigan? And who is your favorite to win the Quicken Loans 400? Tweet us now @ThePodiumFinish and tell us now! Thank you, Isabelle, Nick, Shelby, Ashley Hobbs, Ashley Hull, Courtney, and Jessica - let's go racing, girls and boys! And as always, the opinions and thoughts express in Track Talk are solely of the authors and do not reflect on the organization or of TPF.