Spring has finally arrived in the United States and with that comes a very exciting racing weekend from a small, 0.526 paperclip shaped short track called Martinsville Speedway, the heart of NASCAR's true hardcore racing. Unlike last weekend's race at Auto Club Speedway at Fontana, CA, it's not about tires, high horsepower, and aerodynamics. Instead, it's about brakes, patience, and good coordination, much like some dancing show on ABC. That said, two of those three qualities will be on full display but patience will be at a minimum, especially towards the end of the STP 500 this Sunday afternoon (Live on FOX at 1:30 PM EST).
The best in NASCAR Sprint Cup racing often rise to the occasion at this burly venue in Virginia, as they are the races who often race with a balance between aggression and precision, especially when the drivers navigate around the tight corners for at least 500 laps. Imagine trying to brake along a tight, dangerous turn on a sideroad but having to do it 1,000 times total, twice in a lap and one could imagine the fatigue that this track places on the drivers for four hours. That said, it's when those who truly step up in stock car racing show up and don't mind the paint trading, tight navigating, and the occasional finger gesturing that may occur when push comes to shove, especially as the laps wind down.
For the record, Track Talk: Fontana Edition produced a tie for the win as yours truly and Ashley Hobbs correctly picked Jimmie Johnson as the highest finishing racer in last Sunday's Auto Club 400. Johnson placed a "wonderful" 24th place, as our race selections struggled towards the finish of the waning laps in Fontana. Starting with this weekend's race, tiebreakers are determined by the panelist who chose their race pick earliest and in this case, yours truly chose Johnson on March 19th while Ashley submitted her pick on the 20th. Unlike last year when the panelists would split the questions in the event of a tie, only one panelist will "host" during the Trending Topics segment. In the event that at least two panelists pick the race winner, both panelists would be credited for the win, but the credit for "hosting" Trending Topics would still go to the earliest submission. Like NASCAR racing, changes will be made not for the sake of reacting, but for the betterment of our participants (with a prize TBA).
Before any of us get Dead or Alive's "You Spin Me Right 'Round (Like a Record)" stuck in our heads when watching Sunday's STP 500 at Martinsville Speedway, let's get to this week's "Trending Topics" and look at the hottest issues this week in NASCAR racing, right here, right now with Nick Brincks, Matt Kacar, Ashley Hobbs, and Shelby Parrack, aka the Track Talk Team!
Trending Topics by Rob Tiongson
Question 1
Jeff Gordon came so close to winning his first race of the year before the last caution came out. Does he come out of the bat fast and win at Martinsville?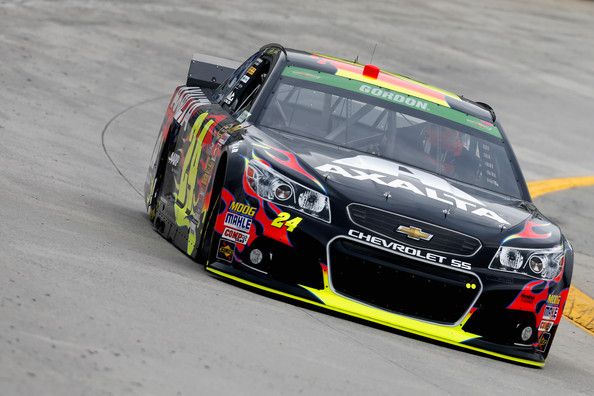 Brincks : Jeff will have a good shot at winning this week but he'll have his Hendrick teammates to contend with. They're so good here, so if he doesn't win, there's still a good chance a Hendrick car still will. Don't overlook Kenseth or Hamlin though.
Kacar : There is a good chance that could happen. This is the best start to season he has ever had. Plus add in how many wins he has at Martinsville and would not shock me if he wins on Sunday.
Hobbs : Yes! :)
Parrack : I'd say he has a good chance! If not this weekend it's bound to happen soon because he's really hot right now!
Question 2
We recently interviewed David Ragan regarding his Chase chances and it seems like we could see more than 10 race winners this year. Do you like that the Chase may include some of the underdog teams in the circuit?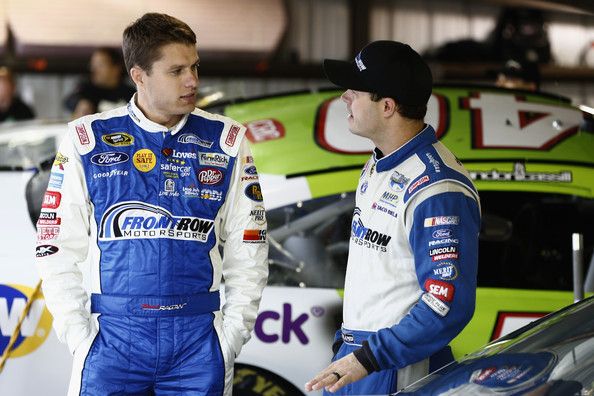 Brincks : I don't have a problem with underdogs getting in. Since NASCAR opened up the Chase to 16 race winners, there's a good chance a Talladega or Daytona winner could sneak into the Chase. They won't stand a chance one they get there though. The only cars they'd beat in the first round are those with DNFs.​
Kacar : I do like that the Chase gives underdogs a chance to compete in it. However, the likelihood of that happening is very very remote. The only real chance they have is a 'Dega and usually the big Cup teams win that race as well.
Hobbs : Definitely, especially when it comes to plate tracks and road courses. Plate tracks virtually allow anyone to grab a victory and when it comes to road courses, Marcos Ambrose will be there at the end.
Parrack : I do like it, it mixes things up and makes things interesting! Hopefully well see a few surprises in the Chase this year!
Question 3
Denny Hamlin has to feel pretty fortunate all things considered after a setback with a metal in his eye caused him to miss the race at Fontana. How do you think he'll fare at Martinsville this Sunday?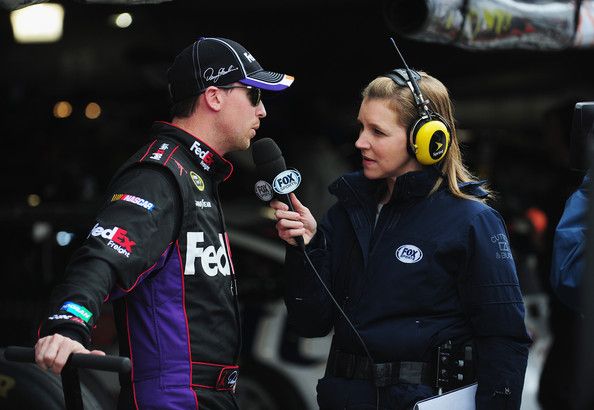 Brincks : For not being a Hendrick driver, Hamlin is pretty good at Martinsville. Now that the piece of metal is out of his eye, I think he'd be okay with confetti in his eye this weekend.
Kacar : Hard to tell with that team. Last year, he was not that good at Martinsville compared to 2012. But it is his best track so a very real possibility that he could win that race and basically lock himself into the Chase.
Hobbs : Like Jeff Gordon, he is out for some redemption; and since Hamlin is one of the top drivers at Martinsville, expect more fire than ever from him.
Parrack : Well he seems to think he's the one to beat this weekend. So I'm with him! Last time he called his shot (September 2012 at Loudon), he was right!
Question 4
I'm sure you're all tired of hearing it but tires were the story at Fontana. Was it more to do with the aggressive set up or the compound that Goodyear brought?
Brincks : It was the teams' fault. Goodyear recommended an air pressure and many teams ignored it so I don't feel bad for the teams at all. It created one of the best overall races we've seen in a long time and it would not have happened if Goodyear brought a hard tire or Auto Club had fresh pavement. On that note, I really hope they don't repaved the whole track. If they repave anything, hopefully it's only the back stretch.
Kacar : I would say it was a combination of the two. There were teams that had the left side air pressure eight pounds less then the minimum that Goodyear recommended. You do that and there are going to be tire issues.
Hobbs : Goodyear gave their numbers that should be run and it was reported that the teams that had an issue were running well below the recommended pressure; even outside the range. Statistics say you should always stay within your ranges or risk failure; those teams risked failure and failure found them.
Parrack : Everyone has been giving different opinion on this but I think it could be a bit of both. And then factor in that the back stretch at Fontana needs to be redone or reworked. I think as a combination is what caused the problems.
Safe to say that Denny Hamlin and Jeff Gordon are men on a mission to win on Sunday at Martinsville. Will they both vie for the win at the famed short track and go for that grandfather clock? We'll find out by Sunday afternoon. Before revealing our race picks, here's a quick glance at our points standings:
1) Rob Tiongson - 186 points (1 win)
2) Shelby Parrack - 166 points
3) Nick Brincks - 156 points (1 win)
4) Ashley Hobbs - 155 points (1 win)
5) Matt Kacar - 129 points
Fontana has separated the field from a 40 point difference between first and fifth to a 57 point margin heading into Sunday's race at Martinsville. Who makes up the most ground and which one of us gets an imaginary grandfather clock? Let's reveal our picks now!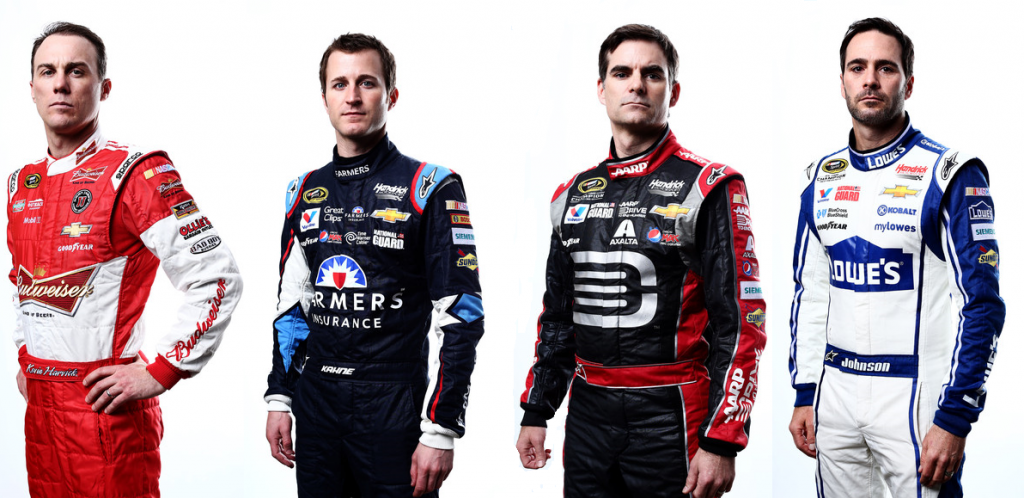 Brincks : I think this is the week Kevin Harvick finally avoids trouble and finishes at the front for the first time since Phoenix.
Kacar : I'm going with Kasey Kahne​.
Hobbs : Ed.'s Note : TPF's favorite Floridian is going with Jeff Gordon.
Tiongson : Four-Time wants to become eight-time at Martinsville - count on Jeff Gordon to win the STP Gas Booster 500 at the paperclip short track that we all love and know. Did I mention that he's got a chip on his shoulder after Sunday's race at Fontana? Sure, I did now!
Parrack : My pick to win on Sunday is Jimmie Johnson, for not other reason other than I haven't picked him yet this year and he's good here! (Where isn't he good though?)
There you have it, race fans! The TPF crew has spoken and given their thoughts on round five of the NASCAR season. How about you? What do you think are the biggest storylines heading into Sunday's race at Martinsville? And who is your favorite to win the STP 500? Tweet us now @ThePodiumFinish and tell us now! Thank you, Nick, Matt, Shelby, and Ashley - let's go racing, girls and boys! Also, our thoughts and prayers are with the Petty and Waltrip family on the passing of their loved ones in Lynda Owens Petty and Bobby Waltrip. Love and mercy today and tonight.