There's the old saying that everything's bigger in Texas and if that's the case, then the racing action at Texas Motor Speedway is bound to be huge for the NASCAR Sprint Cup Series. With wide, inviting grooves in the corners, high exit speed on the straights, and of course that new Big Hoss HDTV set on the backstretch, there's a lot to see, experience, and enjoy with racing at this 1.5-mile superspeedway. Since joining the NASCAR circuit in 1997, TMS has been a track that's known for high speed action, the multi-car crashes, and exciting finishes, most notably the 2012 fall race between Jimmie Johnson and Brad Keselowski. To say the least, it's a track that certainly is, well..."big" with its on-track product for the competitors and fans.
One of the headlines heading into this race will be the Goodyear dual tread zone tires, which will certainly have a lot of attention on race day. Will this "new" tire perform and be satisfactory for the teams compared to the debacle at Fontana two weeks ago? Time will tell but one thing that's certain is NASCAR will not let Goodyear take the blame for any tire failures that occur, as they've allowed the team to have free reign on the air pressure and overall set-up with their rubber. In other words, the teams will still press on the direction of being aggressive with their set-ups but it's the team that balances between that line of danger and brilliance that'll stand tall in Victory Lane.
Speaking of Victory Lane, the hottest topic has been the number of winners on the Cup trail for 2014. Due to the new Chase format with the top-16 teams earning a berth in the playoffs, essentially, a team that wins a race can be considered as a "lock" into the postseason battle. Will we see another "new" race winner come Sunday afternoon at Texas? If the trends stay in the direction that our Ashley Hobbs pointed out in her Texas race piece, we'll definitely see another face in Victory Lane, which we'll reveal along with the picks of Matt Kacar, Nick Brincks, and yours truly in this week's edition of "Track Talk!" Our resident Carl Edwards and Brad Keselowski enthusiast Shelby Parrack won last weekend's edition of Track Talk with her race pick of Jimmie Johnson for Martinsville, so that means she'll fire up the "Trending Topics" to us...starting now!
Trending Topics by Shelby Parrack
Question 1
Six races; six different winners so far this season! How likely do you think it is that we see close to the full 16 spots in the chase being 16 different winners?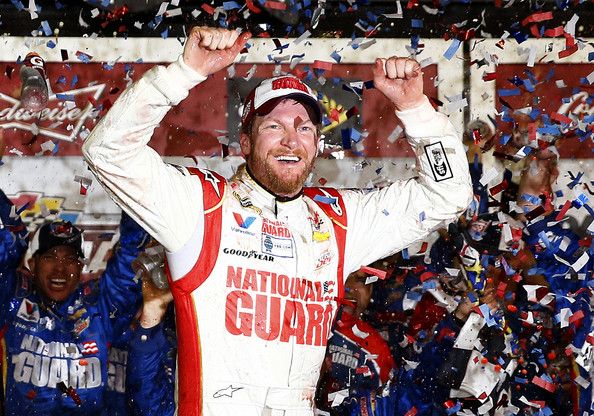 Hobbs : Unlikely since there really aren't more than 16 top contenders. There are still those few races where a non-top tier driver could find themselves with a victory (plate tracks and road courses), but outside of that, very soon we will start seeing some repeat winners. Though I am hoping for more than 16 winners to really make it 'winning means everything' this year.
Kacar : I still think it is very unlikely. Last time it happened was over a decade ago. There are many drivers like JJ and Kenseth that are going to get multiple victories. It would be great if it happened but probably won't happen.
Brincks : It's very unlikely, but it sure would make things interesting. I'd say there's a 10-15% chance of more than 16 winners.
Tiongson : I actually think we'll flirt with that number but at most, get to 14-15 different winners this year. Perhaps the more interesting race will be which drivers on the bubble make the field. We'll likely see some of the favorites on the cusps of the lower eligible seeds for the Chase who will get in without a win, but will prove to folks that NASCAR is still a sport about consistency.
​Question 2
What are your thoughts on the major gap between Camping World Truck Series races? We start in Daytona and then wait a month for Martinsville and then practically wait another month to get things rolling! How does this affect the teams and drivers as well as fans and spectators?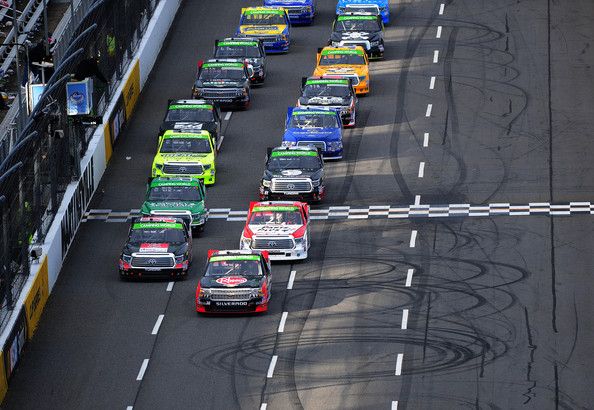 Hobbs : With those gaps, unless you are a DIE HARD fan, you never really know when they are going to be racing again. It must be hard for the teams to get into a rhythm knowing very soon they will be 'on vacation'. I think all schedules across NASCAR need some tweaking to be more optimal and make more sense.
Kacar : The early season truck schedule is beyond dumb. First three races all a month apart makes no sense at all. Doesn't really affect the teams but as a fan, there are times early in the season that I forget the trucks even exist.
Brincks : I hate the gap because it kills all forward momentum that Daytona might create. I think it presents a great opportunity for the trucks to visit tracks that don't host Cup races. They tried Rockingham so I think they should try to race at North Wilkesboro between Daytona and Martinsville.
Tiongson : I really don't get the gap at all. It'd be neat to go to the West Coast to some races at say, Infineon or Portland like we used to back in the first few years of NASCAR Truck action. It was fun watching the Truck teams battle on the short tracks of the West which is what I noticed in a tweet by Mike Skinner and Ron Hornaday Jr. this past week. Seems like some of us are reminiscing back to the innocent days of Truck racing and we sure could have them back again.
Question 3
What is the deal with Martin Truex Jr? Why do you feel like things just aren't going like he and most fans had hoped they would? Is it just bad luck or is there a deeper reasoning do you think?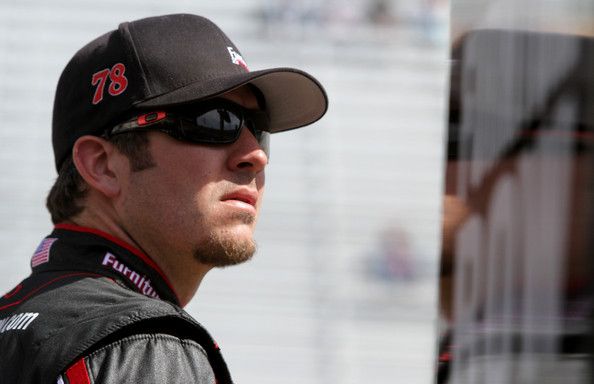 Hobbs : Martin Truex Jr. is not in the best equipment out there to be honest. Throw that in with him being new to the team, things still need to be figured out. Once that team gets their rhythm going with Truex Jr. as the driver, it will provide a better look as to how the team will do this season and beyond.
Kacar : It is a combination of bad luck and the team he is on. I just don't think he is that good of a driver so does not surprise me that he is doing bad this year.
Brincks : He has had some awful luck this year, but he hasn't had very good runs when he wasn't running into issues. I think Kurt's success gave too high of expectations for the 78 team this year. I think its safe to say that Kurt was the No. 1 reason for that team's success last season.
Tiongson : Bad luck and just simply getting used to his new surroundings are some of reasons for the No. 78's struggles. This team is solid but they're not quite up to speed yet. There's plenty of time to make up for the lost ground thus far in 2014 for both Martin Truex Jr. and the Furniture Row Motorsports team - they just need to put all hands on deck and focus on establishing consistency and chemistry.
Question 4
What do you think about how early we go to Bristol and Martinsville when the two tracks can see such cold temperatures and crazy weather so early in the season?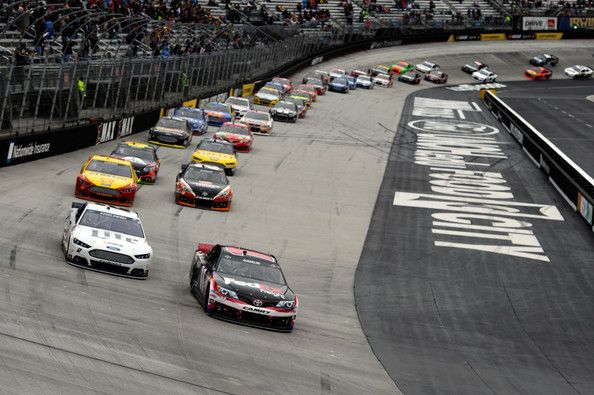 Hobbs : I think Bristol and Martinsville are too close together on the schedule in general. They are 2 of the best tracks on the schedule and they should be separated a bit. Throw in the weather factor (outside of rain), southern and west coast races would be better to have during the first few weeks; maybe start off Spring with Bristol and wait a few weeks before we go to Martinsville for another day packed full of short track racing.
Kacar : It is not ideal to go to Martinsville and Bristol this early in the season but there really are not other good options. They can't race at any of the northern tracks because of the weather. Those races have always been this early in the season so I have no issue with them being there.
Brincks : I think it's unrealistic to have beautiful weather 38 times a year. Some races have rain and some might be cold; it's just going to happen. I don't see it as a big issue.
Tiongson : I'll agree with the team here in saying that it's always been this way but perhaps having Martinsville and Bristol in March as opposed to April isn't the elixir with the schedule right now. I'd put those two races back to back in April and move the Texas race to late March while getting the West Coast races out of the way in March. In the spring, it's the Southern swing at Martinsville, Bristol, and Darlington - now who wouldn't love that?
It's not a Saturday night special like in years' past with Texas because of the Final Four. But no matter, we have our own version of the "Final Four" here on TPF with our race picks! Before revealing our choices for the Texas 500 winner, here's the points standings heading into TMS for the panelists:
1) Rob Tiongson - 218 points (1 win)
2) Shelby Parrack - 209 points
3) Nick Brincks - 193 points (1 win)
4) Ashley Hobbs - 187 points (1 win)
5) Matt Kacar - 150 points
Shelby's been on fire as of late and she's perhaps a race winner away from that first spot! Meanwhile, Nick and Ashley are hot on her heels while Matt can gain some valuable points with a solid race pick. Now the moment we've awaited for...here's our picks for the Texas 500!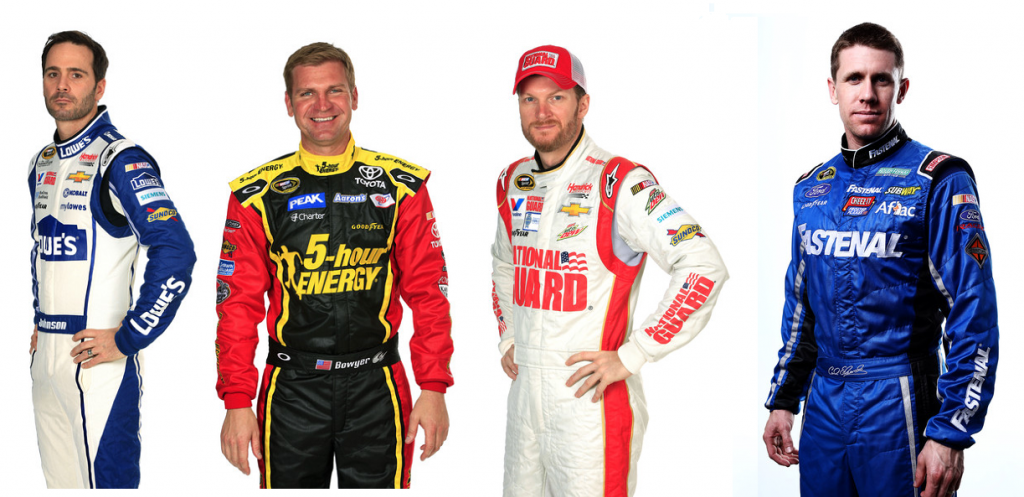 Hobbs : The stats point to a close race between Jimmie Johnson and Matt Kenseth; Johnson comes out on top and I am hoping he comes through for me this time!
Kacar : Going with Clint Bowyer.
Brincks : His first Nationwide and Cup wins came here and he's on a roll this season. I like Dale Earnhardt Jr's chances this weekend.
Tiongson : I can't help but think of how solid Dale Earnhardt Jr. was at this track last fall and aside from Jimmie Johnson, the No. 88 car was on a league of its own. Thinking this time, he capitalizes on a good race weekend in....the That Race 500 at Texas!
Parrack : This week in Texas, I'm going with Carl Edwards. When I think Texas, I think RFR and Carl is as good a pick as any, as he was fast here in November; sitting on the pole (before issues occur). Hopefully he can get it done.
There you have it, race fans! The TPF crew has spoken and given their thoughts on round five of the NASCAR season. How about you? What do you think are the biggest storylines heading into Sunday's race at Martinsville? And who is your favorite to win the STP 500? Tweet us now @ThePodiumFinish and tell us now! Thank you, Nick, Matt, Shelby, and Ashley - let's go racing, girls and boys!