There's a lot more to just waving a flag or assisting the on-track crew. Jessie Lynne Honigs knows a thing or two about working the track!
It's truly human nature for us to have dreams, aspire to chase them down, and to actually realize them. Some are meant to actually happen while others serve as precursors to bigger and higher aspirations with life and one's destiny professionally and personally.
When one's in pursuit of a goal, there may be adversities and struggles tied together that filter out those who are meant to continue their journey while others head back to the drawing board. In the case of Jessie Lynne Honigs, she's living out and realizing her dreams and despite encountering those difficulties which would otherwise derail most folks, she's on track and loving it!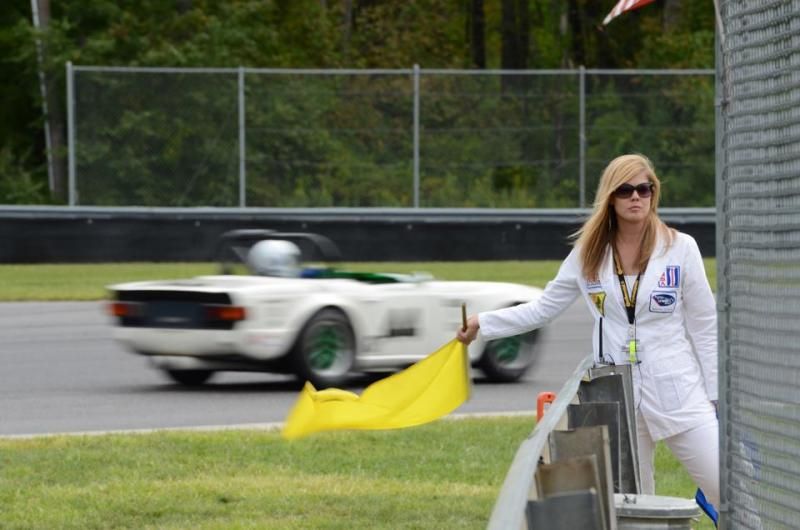 She's worked diligently and feverishly to earn the opportunities and experience all that she has at the one place most, if not, all of TPF Nation can only imagine being at: the racetrack. Sure, there's struggles, and yes, there's been caution flags (no pun intended, of course) in her personal road course of the racing industry and world. Yet, there she is, volunteering to help the track crew to help make race day possible.
Honigs absolutely has the racing bug, as she enjoys various forms of motorsports like NASCAR, Global Rallycross, and sports car road course racing series. If it's got wheels, involves a trophy and a set of flags are used at the asphalt arenas, you can bet she's there, either as a fan or working the track as a voluntary member for a track! She'll do it all and absolutely love it like it's the first race of her life.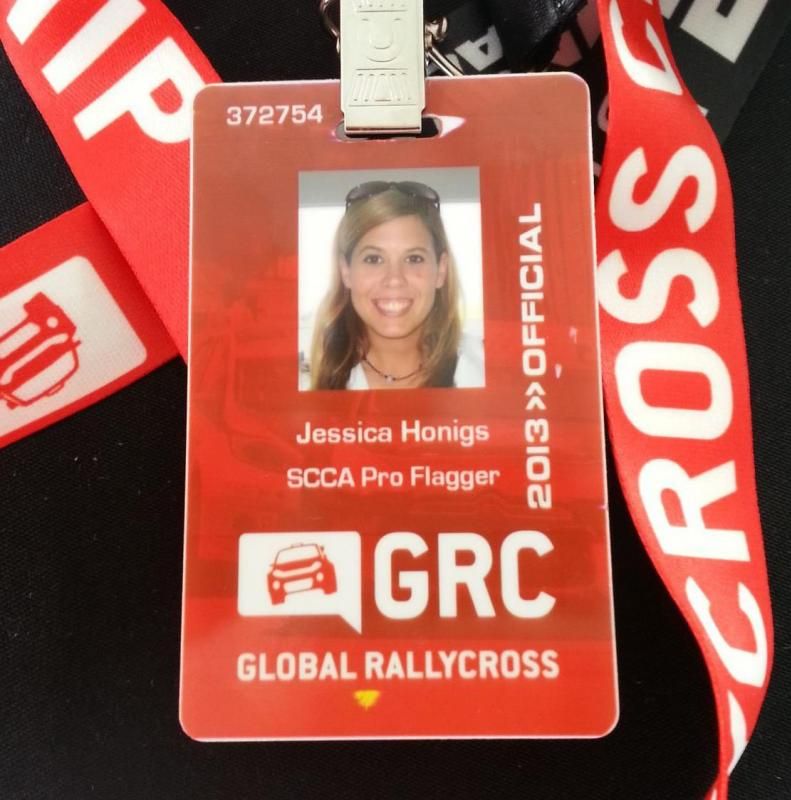 A lot of what Honigs says in this interview struck a chord personally, as I could feel and understand exactly what she's experienced, the enthusiasm for this wonderful sport, as well as finding the place we all want to be in the racing world. As wonderful as racing is, it can be quite the epic adventure to find out exactly where we belong and what capacity suits us in motorsports.
While it may seem like she's found her home in racing, I get the feeling that there's a mansion awaiting her one day!
As for what she's up to in the present day and how she got to where she is in racing, well, let's head to the track and start "Unfurling the Flags with Jessie Lynne Honigs, SCCA Pro Flagger" right here, right now on "TPF!"
Rob Tiongson : First of all, for the fans and racing enthusiasts at home, tell us a bit about yourself and how you got your break into auto racing.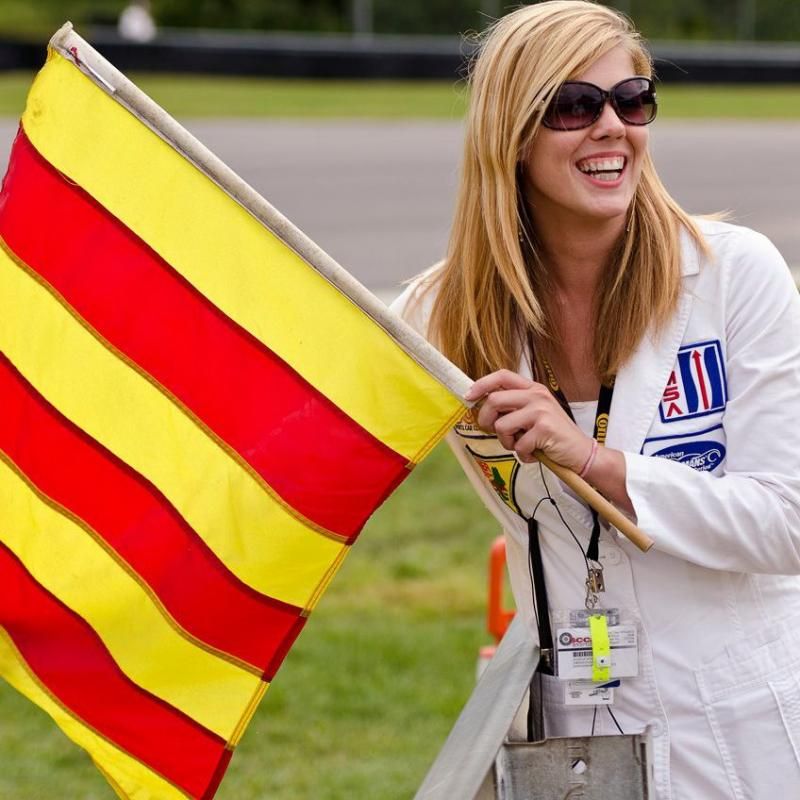 Jessie Lynne Honigs : I guess I'll start from when my addiction began. A dealership I used to work for sent me with a car to Summit Point for a day. When going out on track for my first time, my instructor told me he'd be in control of the steering wheel - I'd just be in charge of the pedals and shifting. I thought he was nuts! We made the first lap around the track, him reaching over to steer from the passenger side the whole time. What an adrenaline rush! I took control of the wheel and decided I wanted to spend the rest of my life at the race track.
After that, I ran a bunch of track days, but couldn't afford to race on a road course. I bought an oval track enduro car and raced for a little while. Wrecked, blew up, and needed something to do while I saved up for a new car. I went to a race with an ALMS team, got to help during the pit stop, and realized that being involved (not only driving) can be a ton of fun also. I spoke with a flagger (a.k.a. corner marshal) that weekend who told me all about volunteering. I never knew that flaggers weren't paid and weren't compensated for travel. Thanks to him sharing his passion, I am now a volunteer as well.
RT : Currently, you flag races across the country, locally here at New Hampshire Motor Speedway amongst other tracks. Does it ever still blow your mind when you arrive at the track and despite it being your work place, know that you're part of the racing action?
JH : Every single time. Like, a kid in a candy store? Or, a teenage girl meeting a boy band? I don't know the best way to explain it, but it's really... really... amazing.
RT : You're currently part of a unique, fresh campaign that sponsors flaggers, helping raise funds for marshals working the races. How'd the idea come about and what future events/projects are in store for this project?
JH : To be honest, working at the track made me broke. It was disappointing that I couldn't afford to volunteer as much I wanted. I was listening to a drivers meeting at an SCCA Club Race a while back - they were asking drivers to work corner stations between their race sessions because they didn't have enough flaggers to run the event. So, we need volunteers, but some volunteers can't afford to help. That sounds ridiculous, right? I thought I'd try to solve that problem.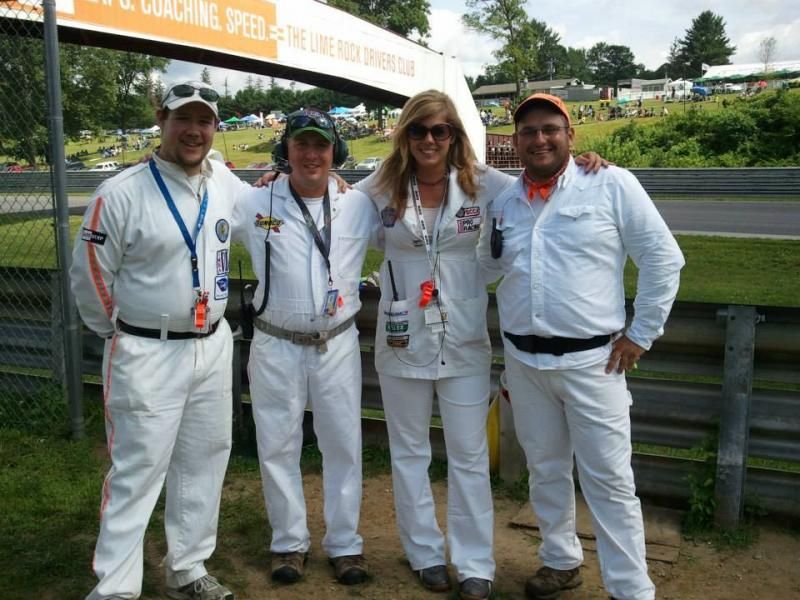 Regarding future plans, It'd be nice if we could help recruit and fund enough people that there will never be a shortage of volunteer workers at any track. That may be a little more work than I can handle, but with my buddies Tim and Russ helping me, hopefully we can at least make a noticeable difference.
Hey everyone, go to www.sponsoraflagger.com and buy a shirt if you'd like to help out!
RT : While you do work the races, it's clear that you have a passion and enthusiasm for motorsports. What draws you to the racetrack and are there any particular racers that you look forward to seeing at the races?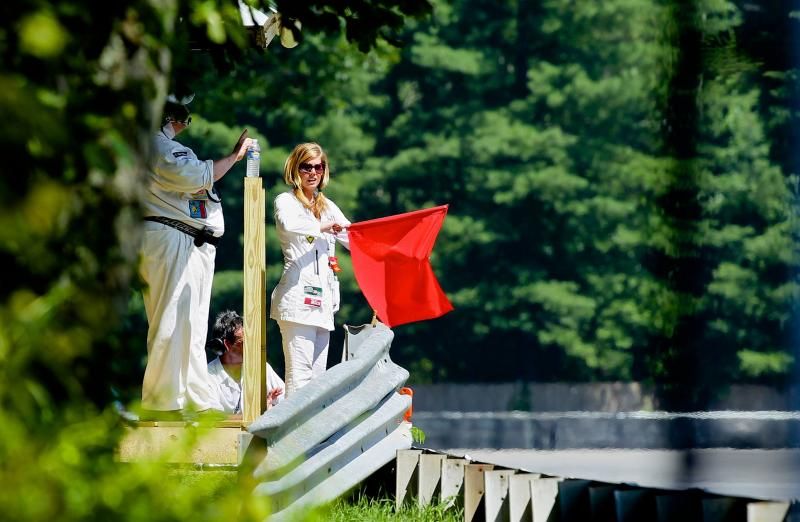 JH : What draws me there - the smell, the sounds, the cool looking cars, appreciation of hard work that goes into running a race, seeing crazy obsessed racing fans. As far as racers in particular - I always like watching Greg Biffle. I wasn't into NASCAR at first - turning left, easy, right? (Don't get mad, I know better after racing on an oval.)
Anyway, I went to a Daytona 500 party about seven years ago. I pulled Greg's name for a door prize. I didn't win anything, but I was really into the race and paid attention to NASCAR after that. So, he's been my favorite driver since then.
You know what's cool? This weekend while volunteering for NASCAR at Watkins Glen, I might get the chance to talk to him - it may be a using a flag, but that counts! Other than him, there are so many talented drivers who are interesting to watch that I'd be afraid to list them all in fear that I'd leave someone out.
RT : Does the travel to each track get difficult, especially if it's away from the East Coast?
JH : That depends what you mean by difficult. I love traveling, so it doesn't bother me to go to tracks that aren't local. The difficult part is the money and time away from work.
RT : Just how close are you with your fellow marshals and is there a certain rapport/chemistry that's present with the team you work with?
JH : There are a lot flaggers who I haven't met, but I feel like they're all family. We're all instant friends, it's really great being around people who have the same passion that you do.
RT : For those who are looking to be in racing and are struggling to make that dream come true, what advice do you have for them?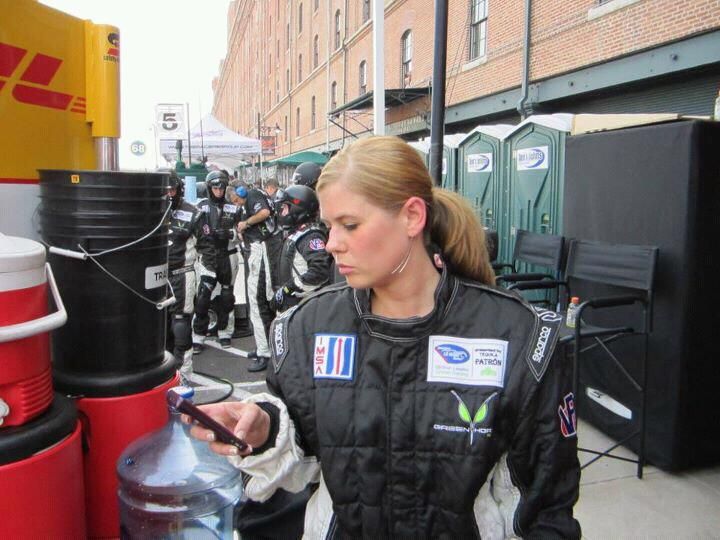 JH : Have people in your life who will help you and support what you do - you can't do everything on your own. Reach out, connect with people, and remember that social media is your friend. Oh, and go to www.sponsoraflagger.com to contact me if you want to try flagging!
RT : Ultimately, where do you see yourself in the racing community and sport in the near future? Are you looking to make a career permanently as a marshal and perhaps even standing atop the flag stand at the track?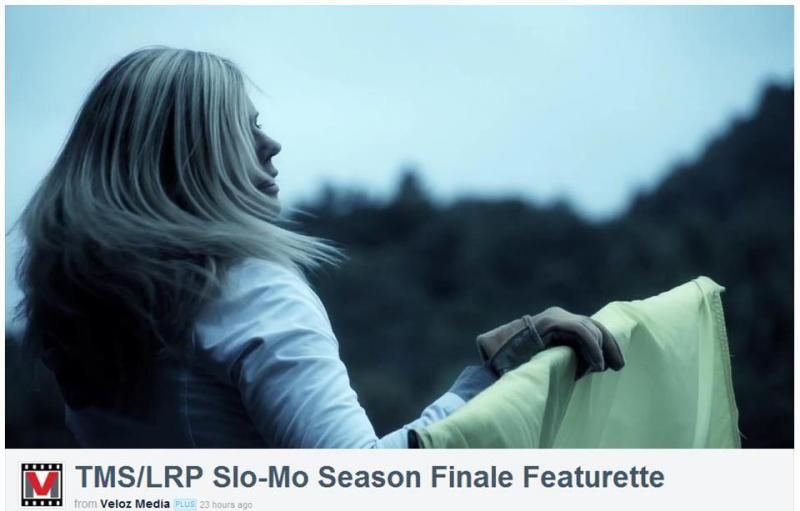 JH : Is this a trick question? Is my boss at my dealership reading this? Are you trying to get me in trouble? I REALLY love being a BMW Warranty Administrator. Fortunately, my dealership is very understanding - they put up with my random Fridays off for flagging and let me cover my office walls with race car photos.
I'd love to have a career in racing - and yes, waving the checkered flag for a NASCAR race would be incredible. Someday...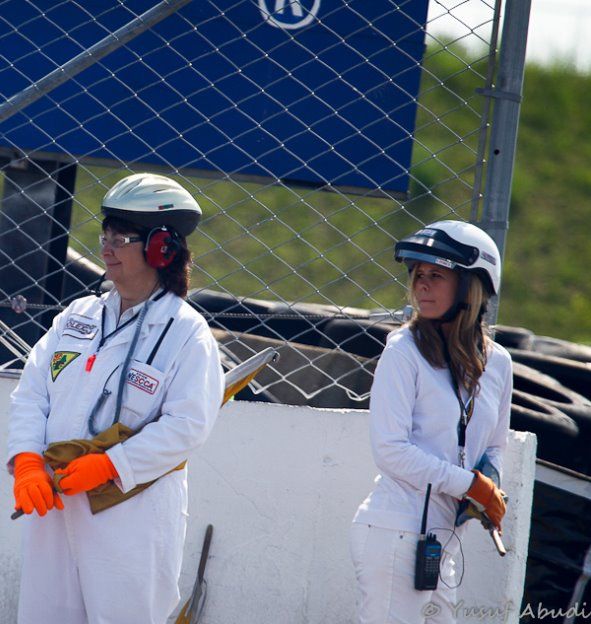 Author's Notes : Very special thanks to my friend Jessie for taking the time for this interview and for the wonderful pictures accompanying the piece! Those dreams are being lived and many more are in store for you!
If you'd like to learn more about Jessie, "Follow" her on Twitter as well as her "Sponsor a Flagger" account as well as on "Sponsor a Flagger's" official website!
While there, consider buying a t-shirt to support one of the hardest working crews in all of the racing world today!