Jeff Burton, Mark Martin, Bobby Labonte, and Ken Schrader may have seen better days, but come Sunday night, it may be their final Cup starts before new ventures await this legendary quartet!
It's crazy to realize that when the checkered flag waves to conclude this year's running of the Ford EcoBoost 400 at Homestead-Miami Speedway, it may be the final NASCAR Sprint Cup act for Jeff Burton, Bobby Labonte, Mark Martin, and Ken Schrader, four of the sport's top racing talents who have a combined total of 86 series wins and one championship. This talented quartet (along with Jeff Gordon) are among the only remaining active drivers who placed in the top-10 in the 1997 Cup points standings, a year in which this fantastic four were competitive, often leading races, and holding their own against the top Cup teams of the time.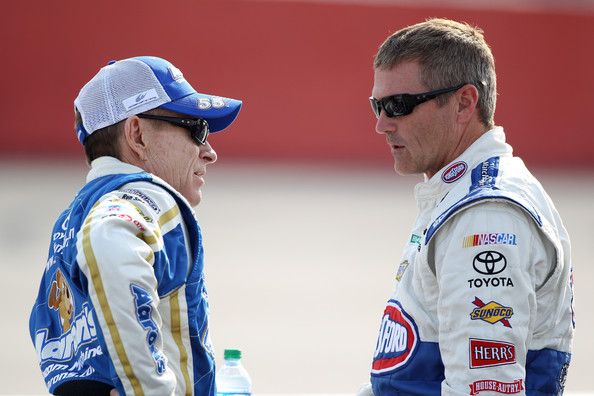 Sure, maybe the performances for Burton, Labonte, Martin, and Schrader have dwindled over time, but they're amongst the most passionate racers that anyone could find in the garage area. Often tinkering with their cars, voicing their opinions to improve the sport, and usually making their presence known amongst the race contenders in the 1990's-early 2000's, they're some of NASCAR racing's living legends who've contributed a great deal to this grand sport.
From Martin's unique driving style and physical ftiness regime to Labonte's and Schrader's sense of humor as well as with Burton's "senator-like" charisma, a part of the NASCAR personality may change greatly if the final curtain's drawn for this tandem. Each of them had courage under fire, overcame adversities, made their legacies known with many trips to Victory Lane, and are cited as the cleanest drivers in Cup. Nary did their peers officially complain about their driving styles on the track, and each have made a remarkable impact to the Cup ranks.
It'll be a strange realization that when the checkered flag unfurls this Sunday evening at Homestead-Miami Speedway, it's possibly the end of an amazing era in NASCAR racing history. While some new school fans may not appreciate or realize their legacies when this four-pack were at their prime, it's an enthusiast or history buff that'll soak in each lap and cherish this truly changing moment when we see Ken Schrader circling around and telling a good joke to his pit crew on the radio.
Often a jovial but passionate wheelman, Schrader, at age 58, will put his attention towards his grassroots racing efforts in the ARCA and dirt tracks across the Midwest. Although some fans may overlook the pride of Fenton, MO, he was often a consistent top-10 points finisher (1987-'91, '93-'94, and '97), including a fourth-place result in '94 when driving for Hendrick Motorsports. Perhaps Schrader's biggest moment was in 1988 at Talladega Superspeedway, with astute crew chief tactics by the late Harry Hyde that urged his No. 25 Chevy to Victory Lane.
It might be that 28-year-old racing fan from Boston, MA who'll be fully realizing far too late how much of an amazing career that Bobby Labonte has compiled since 1991. Maybe each of us who've been watching the sport for at least the past 15-20 years may shed a tear when we realize that, as the saying goes, "you don't know what you got till it's gone." Originally perceived as just Terry's brother, the pride of Corpus Christi, TX would establish himself as quite the balanced driver, never reaching that point of a stroker nor pushing his car like a qualifying lap in 2013. Instead, it was like listening to Oasis' album (What's The Story) Morning Glory? and jamming to each tune, from "Hello" to "Champagne Supernova" when watching Labonte race at his peak.
Who could ever forget his stellar 2000 campaign, which saw four wins (including the Brickyard 400 at Indy and the Southern 500 at Darlington, SC) and the Sprint Cup championship that got clinched during the penultimate race at Homestead-Miami Speedway? Scoring the first Cup championship for the No. 18 Joe Gibbs Racing team, while Dale Jarrett may have been the founder of that team's success, it was really Labonte who'd get JGR the likes of Tony Stewart, Denny Hamlin, Kyle Busch, and Matt Kenseth to carry on the winning tradition of this solid group.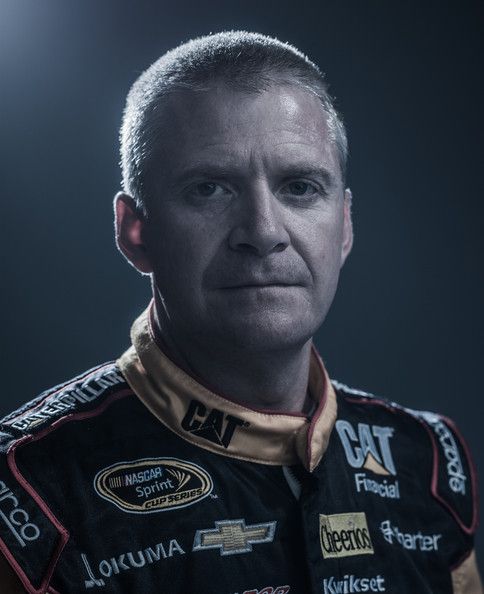 If NASCAR had a senator or representative that had the sport listening to words and taking heed to such opinions, it'd be with Jeff Burton. Outspoken and often being the voice of reason for the drivers, Burton's journey in the sport has been long but rewarding. More than just Ward's brother, Burton would prove himself in the sport through diligence and skills, emerging from South Boston Speedway and Nationwide Series to a legit Sprint Cup star who'd make annual wins (it seemed) at New Hampshire Motor Speedway (1997-'99) and Darlington Raceway ('99). Burton would come close to tasting a championship, coming home in third in the 2000 season.
Meanwhile, there's the strange case of Mark Martin, a driver who's had some of the sport wondering if he'll truly retire. In recent weeks, Martin has indicated that he will not race in 2014, a strange realization that will unfortunately come to fruition during Daytona Speedweeks. Most will recall the Batesville, AR native as being a fitness guru, waking up at five in the morning devoted in the gym, but some may not realize how his earlier and darker chapters in racing.
Overcoming his problems with alcohol and struggles in his initial foray with NASCAR in the early 1980's, the stock car world got acquainted with its own version of Dan Marino, Randall Cunningham, and Jim Kelly - sensational athletes who are missing that championship ring.
Martin has pulled the retirement talk before, only to be talked out of it by racing part-time as a mentor figure or full-tme with Hendrick Motorsports for his last complete season in 2011. A gentleman, a champion in his own way, and an amazing enigma when it comes to music, one could say that Martin's a driver that's never slowed down with the times. Currently on Twitter as a very interactive driver to the fans and media, it's safe to say that this Cup legend will certainly see his name and likeness in the NASCAR Hall of Fame as a first-time ballot entrant.
Ultimately, Sunday evening's race will be about the sport's triple title threat of Jimmie Johnson, Matt Kenseth, and Kevin Harvick, and rightfully so as there's a championship to be decided. However, it'd not be a prudent idea to keep an eye on the Nos. 14, 31, and 32 cars on Sunday. Although Labonte will not compete at the season finale, there's still this race for Martin, Burton, and Schrader to compete and make their (at press time) final Cup start for some time. They've all realized that their Cup time window is dwindling.
Similar to today's Cup young guns like Kyle and Kurt Busch or Joey Logano, it's a safe bet that Martin, Burton, and Schrader will give it all they have to put on a respectable showing. NASCAR racing will move on, but it'll feel stranger for fans of this four-pack to no longer be a full-time, championship season entrant from point onwards. Until then, we'll have the great stories and memories of each icon. For as long as they're still roaming the garage area, while they may not have a Cup ride, their voices will still be heard, their actions will be felt, and their presence means all the better for the future of this wondrous and exciting sport that's called NASCAR.
Thank you Jeff, Mark, Bobby, and Ken! Hats off and cheers to you!